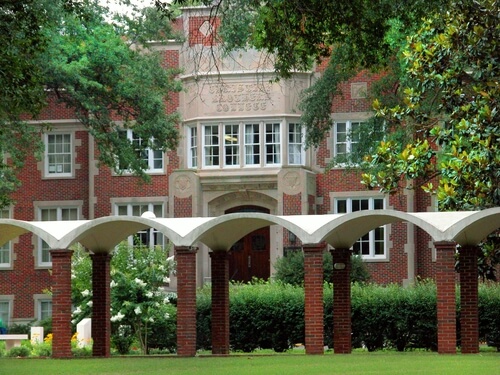 Christian Brothers University was founded in 1871 by members of the Institute of the Brothers of Christian Schools. For many years, the Memphis clergy wanted to establish a Catholic education that not only included elementary and high school students but advanced to higher education as well. They invited the Christian Brothers to the area after many unsuccessful attempts to achieve their goal.
The Memphis Female College on Adams Avenue made property available for a new school, but it was actually the Great Chicago Fire that allowed for the creation of Christian Brothers College. After the fire in 1871, the Brothers Academy was destroyed and several Brothers were available to help create the college. Brother Maurelian Sheet came from Pass Christian, Mississippi, along with several others to create the new college.
The college struggled initially as recovery from the Civil War was slow-going. In addition, an outbreak of yellow fever and financial difficulties let the school to struggle. The college barely survived the financial panic of 1873. Initially, the school taught all grade levels, from elementary to college. World War I put a strain on the college due to the number of young men who enlisted for the war effort. The lack of enrollment led the school to cease awarding college degrees in 1915. Elementary classes were dropped in 1922 and the school operated as a high school for the next 18 years.
Even during the Great Depression, the school's enrollment grew to the point the Adams Street facility was no longer large enough. Christian Brothers conducted a joint fundraising campaign with St. Agnes Academy, another school that wished to move out of downtown Memphis. They were able to raise $452,000, well more than their $250,000 goal and purchased a plot of land on East Parkway. Kenrick Hall was completed in 1940.
The school added a junior college in 1942, but it was forced to close after the outbreak of World War II. It reopened in 1947 as many veterans returned from the war and took advantage of the G.I. Bill. In 1953, the college expanded into a four-year college. Enrollment continued to grow and, in 1960, Christian Brothers became integrated when Ernest Donohue transferred from LeMoyne-Owen College. In 1970, women were accepted as students, spurred by the closure of Siena College, a local all-female school in the area. In 1961, land on Walnut Grove Road was purchased and Christian Brothers High School moved to its own location.
Today, Christian Brothers is ranked among the best Southern universities by U.S. News & world report and ranks in the top 20 percent of colleges in Forbes Magazine. It is honored as a college of distinction by the publishers of Colleges of Distinction and is ranked among the top ten Southern universities by College Choice. The Princeton Review ranks it as one of the best Southeastern colleges.
Christian Brothers University Accreditation Details
Christian Brothers University is accredited by the Southern Association of Colleges and Schools Commission on Colleges. Accreditation indicates that the school strives for excellence in education in all programs and implements improvements where necessary to insure students are getting the best education possible. In addition, programs are accredited by the following industry-specific organizations and agencies:
Accreditation Review Commission on Education for the Physician Assistant
Commission on Collegiate Nursing Education of the American Association of Colleges of Nursing
Engineering Accreditation Commission of the Accreditation Board for Engineering and Technology
National Council for Accreditation of Teacher Education
Christian Brothers University Application Requirements
Freshmen who have not obtained college credit after high school graduation must either complete the undergraduate application or the Common Application and pay the applicable fee. Students must provide official transcripts as well as official ACT or SAT scores.Transfer students who have earned college credit after high school graduation must submit the admissions application and official transcripts from all colleges and universities attended. Graduate admissions are different for each program at Christian Brothers. Students are encouraged to speak to an admissions counselor before applying for graduate programs. Students must hold a bachelor's degree or higher in order to apply for most programs.
Tuition and Financial Aid
Full-time tuition at Christian Brothers University is $14,995 for undergraduate programs. Part-time tuition is $445 per credit hour. Graduate tuition varies depending on the program chosen with an average cost per credit hour of $600.
Financial aid is available in the form of grants, scholarships, loans and work-study programs. More than 90 percent of undergraduate students receive some form of financial assistance. Students must complete the Free Application for Federal Student Aid (FAFSA) in order to qualify for assistance.
Student Experience
Christian Brothers University offers a Sports Management degree program that prepares students for one of the fastest growing industries in the world. Students develop an understanding of event management, facility management, sponsorships and sales as well as marketing, public relations and the legal aspects of sports management. Graduates of the Christian Brothers University Sports Management program have found positions in such well-known organizations as NASCAR, NFL, NBA, collegiate athletic programs, health and fitness agencies as well as in corporate sports marketing firms.
The program is offered under the College of Business and many students develop advanced leadership skills in the student organizations available to them at the college. Delta Sigma Pi is a professional, co-educational fraternity that fosters the study of business, encourages scholarship and social activity while helping students in their mutual advancement through research and practice. There are many college athletic options to chosoe from at Christian Brothers as well, including baseball, basketball, cross country, golf, soccer, tennis as well as track and field for men. Women can participate in basketball, cross country, golf, soccer, softball, tennis, track and field as well as volleyball. Students can gain experience in event and facility management through the Canale Arena, Signaigo Field, Nadicksbernd Field or the Band Field where college sports are played.
There are many student activities available on campus as well, including intramural sports. Sports included in intramural sports are handball, dodgeball, flag football and quidditch. These sports programs provide students with activities outside collegiate sports that help build teamwork skills and guide them in their Sports Management education.
Christian Brothers University offers an education based in the Lasallian tradition. Students are offered an active campus life both on campus and off. Some programs are designed with flexibility in mind to allow adult students who may have social, work or family obligations meet their higher education goals.
Related Resource: What Can I Do with a Golf Course Management Degree?