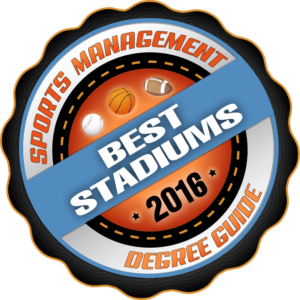 July 2016
Dedicated fans have always made pilgrimages to significant sports-related locations. Just as baseball fans might follow their favorite team around the country for a season, or a tennis fan might trek to Wimbledon for the famous Open, so too can fans of college sports make a pilgrimage.
On this list, you'll find the most amazing college stadium in every state. While most stadiums to make the cut are those dedicated to football, that's about where the similarities end. Each stadium has its own history, its own traditions, and even its own chant for when things get really exciting. But each of the 50 stadiums are amazing, and worthy of a visit for sports lovers.
Alabama
Bryant-Denny Stadium at University of Alabama

On Saturdays during college football season, the Tide rolls at Bryant-Denny Stadium in Tuscaloosa, Alabama. Named as a tribute to legendary head coach Paul "Bear" Bryant, the stadium is worth a visit simply to stand on the sacred ground of one of the winningest programs in college football history. Still, it has plenty of impressive sights that are sure to please any college football fan. For starters, the visiting team's locker room is named The Fail Room. Though technically, the locker room is named after 'Bama alumnus and donor James M. Fail, the aptly named room seems to have the desired effect — Alabama has won about 60% of its home games since moving to this stadium. Bryant-Denny Stadium holds more than 100,000 fans, making it the third largest in the SEC and the seventh-largest in the country.
Alaska
George M. Sullivan Arena at University of Alaska, Anchorage
Football may not be so popular in Anchorage, Alaska, but hockey sure is! The Seawolves, the University of Alaska Anchorage's hockey team, play their games at The George M. Sullivan Arena, better known as "The Sully." The stadium is able to seat 6,251 (with standing room for another 6,000), a good thing because the Seawolves can really pack in the fans. Unlike many other college hockey arenas, The Sully is unique in that it houses an Olympic-sized ice rink (200 ft.x98.5 ft.). This is hugely beneficial, as the arena also hosts the Alaska Aces, the region's professional hockey team.
Arizona
Sun Devil Stadium at Arizona State University
Those who only get to watch Arizona State University's football team play at Sun Devil Stadium on television are missing out on the beauty of the real thing. Built in 1958, Sun Devil Stadium in Tempe, Arizona has been called the most underrated stadium in the Pac-12. Previously, it was the home of the NFL's Arizona Cardinals, though since then it has reverted to the stadium of only the Sun Devils. Likewise, the seating capacity has decreased from 74,000 to 64,000. Besides football, the beautiful stadium has been a favorite football-themed filming located for Hollywood; it has appeared in such films as Jerry Maguire, U2's rockumentary Rattle and Hum, A Star is Born, Raising Arizona, and the finale episode of The Amazing Race 4.
Arkansas
Donald W. Reynolds Razorback Stadium at University of Arkansas

One of the oldest college stadiums in the country, Razorback Stadium was built in 1938, when it held only 13,500 fans. Since then, the stadium has undergone a number of renovations. In 2001, in an attempt to keep up with the rest of the SEC, the seating capacity was increased to 72,000, and a massive 30 ft. x 107 ft. LED screen and scoreboard was added to the north end zone. Even more recent is the addition of 5,000 extra seats to the north end zone that is currently under construction. In 2012, the big screen was made even larger. There's no need for binoculars at Razorback Stadium — the "PigScreen" is large enough to give even the nosebleeds a great view.
California
The Rose Bowl

Perhaps there is no college stadium as iconic as the Rose Bowl in Pasadena, California. Since opening in 1922, the stadium has grown from 57,000 seats to its current capacity of nearly 100,000 seats. A good thing, considering the Rose Bowl is one of the most active in the nation. In addition to the annual Rose Parade and Rose Bowl [game], the stadium is a National Historic Landmark and has hosted five Super Bowls, two Olympic events (in 1932 and 1984), and several World Cup and Women's World Cup matches. It is also the home of the UCLA Bruins, and on Saturdays during football season, the stadium comes alive with chants of "U-C-L-A Fight! Fight! Fight!"
Colorado
Falcon Stadium at the Air Force Academy

The Air Force may be better known as a military academy than a big-time football school, but the impressive Falcon Stadium could lead one to believe otherwise. On Saturdays during college football season, 46,000 Air Force fans head to Colorado Springs to enjoy an Air Force game. From any one of those seats, the view of the field is clear and convenient. Though the stadium retains much of its mid-century charm, the last two decades have seen the addition of a new scoreboard, an added lighting system, field irrigation updates, and new skyboxes.
Connecticut
Rentschler Field at University of Connecticut

Pratt & Whitney Stadium at Rentschler Field is University of Connecticut's (UConn) home field for both its soccer and football teams. Rentschler Field may be on the smaller side for a NCAA Division I stadium, but it's still pretty impressive. Of its 40,642-person capacity, 38,110 of that comes in the form of permanent seating, while the field itself is uniquely surfaced with perfectly manicured Kentucky Bluegrass. The Field has a neat history, too.   Rentschler Field was originally an airfield. Pratt & Whitney used this 75-acre site in the 1930s to run test flights for its aircraft products.
Delaware
Delaware Stadium at University of Delaware

The University of Delaware's Fightin' Blue Hens play at Delaware Stadium, a 22,000-seat multi-purpose stadium. The University is a big-time sports school (known especially for ice-skating), and the stadium is actually part of the much bigger David M. Nelson Athletic Complex, which includes the Bob Carpenter Center, Fred P. Rullo Stadium, the Fred Rust Ice Arena, and the Delaware Field House. Visitors to Delaware Stadium will be greeted by massive, 30-foot posters featuring past stars of Delaware football, including Joe Flacco, Eddie Conti, Daryl Brown, Chuck Hall, Conway Hayman, and Rich Gannon. A Wall of Champions banner that lists the accomplishments of the Fightin' Blue Hens is also worth a look.
Florida
Ben Hill Griffin Stadium at University of Florida

Over the past two decades, University of Florida's football team has won a whopping 90% of its home games, giving it the best record in Division I college football. And where better for a team called the Gators to win than a stadium that's affectionately referred to as "The Swamp?" Just like a real Florida swamp, outsiders to Griffin Stadium can feel like they're in a bit of a dangerous situation. With 88,548 seats and an at-capacity crowd for nearly every game, things can get a little crazy in The Swamp. When the rival team is preparing to hike the ball, it's often too loud for them to hear their own quarterback, while the Gator band frequently plays the Jaws theme and leads the crowd in a collective raised-arm gator chomp.
Georgia
Sanford Stadium at University of Georgia

The University of Georgia football team may not be winning too many national titles these days, but 93,000 Bulldogs fans still show up every football Saturday to fill Sanford Stadium to capacity. The Stadium has undergone a number of renovations since first opening in 1929, including changes made ahead of the 1996 Olympic games held in nearby Atlanta, during which Sanford Stadium played host to men's and women's soccer games. But Sanford Stadium is perhaps best known not for its state-of-the-art stadium features, but for its hedges. Playing at Sanford is commonly referred to as playing "Between the Hedges" because of the privet hedges surrounding the field.
Hawaii
Aloha Stadium at University of Hawai'i

Aloha Stadium in Halawa, Hawaii (near Honolulu) is both the home of the University of Hawai'i's Rainbow Warriors Football team and a place for major events on the island of Oahu. Every Wednesday, Saturday, and Sunday, hundreds show up at Aloha for the popular swap meet, while yearly events include the NCAA's Hawai'i Bowl and the NFL's Pro Bowl. Because of these popular events, Aloha Stadium is pretty big compared to other Hawaiian landmarks, and holds 50,000 people when at capacity.
Idaho
Albertsons "Bronco" Stadium at Boise State University

Not only did Boise State University's football team crash the Bowl Championship Series, where small schools just aren't supposed to be, they then upset the much bigger Oklahoma in the bowl game. Now, their stadium, known as Bronco Stadium, has upset that of their biggest rival, University of Idaho, for the most amazing college stadium in Idaho. When most fans think of Bronco Stadium they think of its trademark blue playing field, affectionately nicknamed the "Smurf Turf." A football game played on blue grass is a sight indeed, perhaps beaten only by Boise fans' typical call-and-answer chant: "And that's another Bronco . . . first down!"
Illinois
Ryan Field at Northwestern University

Ryan Field, previously known as Dyche Stadium, is often compared to another important Chicago sporting venue: Wrigley Field. While visitors may not find any ivy-covered walls at Ryan Field, they will find unique features like rooftop seating, where Northwestern Wildcats fans get a bonus view of Lake Michigan. Originally opened in 1926, Ryan Field has retained much of its old-timey, nostalgic feel. In fact, the stadium is such a unique place it was chosen as a main filming location for the film "The Express" about 1961 Heisman Trophy winner Ernie Davis.
Indiana
Notre Dame Stadium at Notre Dame University

There may be no other college football stadium in the country more recognizable than that of Notre Dame University. With its famed golden dome, "Touchdown Jesus," flag-waving leprechaun, and Irish Guard precision marchers to rile up the crowd, Notre Dame Stadium is nothing if not totally iconic. Joe Montana played here, and Knute Rockne coached here. In fact, the latter is responsible for the current stadium, constructed in 1930. Home games almost always sell out, and 80,000 Fighting Irish fans walking from Mass at the chapel through the gates of the stadium while chanting "Go Irish!" is a sight indeed.
Iowa
Kinnick Stadium at University of Iowa

Since hosting its first Iowa Hawkeyes game in 1929, Kinnick Stadium has been one of the most iconic fields of the Big Ten. A major renovation in 2004 brought Kinnick into modern times with the addition of everything from seating arrangements to more concession stands, and upgraded press boxes, scoreboards, and sound systems. But perhaps the most unique addition is the pink visitor's locker rooms, meant to psych out opposing players before and during games. The renovation may have been costly at $100 million, but it's attracted the fans in droves. On every game day, upwards of 70,000 Hawkeye fans pack into Kinnick Stadium hoping to see a great game.
Kansas
Bill Snyder Family Stadium at Kansas State University

Named after Kansas State football's most influential coach, the Bill Snyder Family Stadium has been renovated into an impressive addition to the Big 12 Conference. Recent updates have included a five-level press box, new luxury suites, new locker rooms, a new gym area for athletes, and additional seating. The limestone Stadium is a popular stopping point for college football fans passing through Manhattan, Kansas, all of whom are greeted upon arrival by an 11-foot statue of Bill Snyder himself.
Kentucky
Papa John's Cardinal Stadium at University of Louisville

Located right down the street from Churchill Downs, home of the Kentucky Derby, Papa John's Cardinal Stadium is pretty impressive visually. The stadium itself is new, and is the only on-campus stadium in the country in which every seat is of the chair-back variety. But even more impressive than Cardinal Stadium's aesthetics is its traditions. Two hours before every home game is the "Card March," during which players enter the stadium to the music of the marching band and are greeted by fans and the famous Lady Card cheerleaders. At 10 minutes to kickoff, the Cardinals' mascot parachutes from a plane onto the field. Finally, the players run onto the field for game time, touching the legendary Johnny Unitas Statue as they go.
Louisiana
Tiger Stadium at Louisiana State University

Another stadium known for its traditions is LSU's Tiger Stadium, which ESPN named the "scariest place" to play. Though the stadium technically holds 92,000 fans, games here are almost always packed to the gills, and hit capacity at just over 100,000. And it's a rowdy 100,000, too! Nicknamed "Death Valley," Tiger Stadium once set off the Richter scale because its fans were so loud during their trademark "L-S-U…L-S-U" chant. Such rowdiness is part of the culture, though. Game days are party days, and by the time an evening game rolls around, most fans have already been partying since sun-up.
Maine
Whittier Field at Bowdoin College

Bowdoin College is home to Whittier Field, one of the most historic and well-known stadiums in the country. Built in 1902 and named for Frank Nathaniel Whittier of the Class of 1885, Whittier Field welcomes guests with a brick demi-ellipse archway entrance. The field itself is easily one of the most gorgeous settings for collegiate football, with Maine pine trees towering over both the players on the field and the spectators sitting in the historic wooden grandstand.
Maryland
Maryland Stadium at University of Maryland

Maryland Stadium, formerly known as Byrd Stadium, is the most amazing college stadium in Maryland and arguably one of the best stadiums in the Big Ten. The home of the Terrapins is situated mere minutes from Washington, D.C., and on a clear day, those in the grand stand can enjoy views of the nation's capital in the distance. Besides being a beautiful venue, Maryland Stadium is steeped in history and has played host to a number of interesting historical events. For example, in the 1950s, the stadium hosted Queen Elizabeth and Prince Philip to give the royals their first introduction to American football.
Massachusetts
Alumni Stadium at Boston College

It's not surprising that a school as beautiful as Boston College would have a football stadium just as aesthetically pleasing. On its opening day on September 21, 1957, then-Massachusetts Senator (and Boston College benefactor) John F. Kennedy helped  orchestrate the dedication game, a match-up between the College and the U.S. Naval Academy. Today, the Stadium looks much as it did on that day. The charming stadium and grandstand still hold only 44,500 fans, though the field was replaced with the more modern FieldTurf in 2004.
Michigan
Michigan Stadium at University of Michigan

It's only fitting that the biggest stadium in all of college football is included on the list of the most amazing stadiums. Known as the "Big House," Michigan Stadium at the University of Michigan holds a whopping 109,000 fans on any given Saturday. It even hosted the largest ice hockey crowd of all time: 100,000 people! The stadium, which is situated near campus in the charming college town of Ann Arbor, is busiest when Michigan plays its biggest rivals — Ohio State, Michigan State, and Notre Dame — but no matter who the Wolverines play, a trip to Michigan Stadium is a memorable one.
Minnesota
TCF Bank Stadium at University of Minnesota

TCF Bank Stadium, which opened in 2009, is the newest stadium built in the Big Ten and one of the newest on this list. Though the current stadium is impressive enough already to be the shared home of both the University of Minnesota Gophers and the Minnesota Vikings (the latter has a new stadium under construction), TCF Bank Stadium's architects and designers left plenty of room in the plans for future updates and expansions. The record attendance so far has been about 54,000 (when the Gophers played TCU), but a future renovation could up the capacity to just over 80,000 seats. Plus, the stadium has one of the biggest video boards in the whole country (of any stadium or any sport), while the locker rooms are some of the largest in both college and pro football.
Mississippi
Vaught-Hemingway Stadium at Ole Miss

Autumn-time Saturdays in Oxford, Mississippi are devoted to Ole Miss and college football. The parties and tailgating start early, and by game time, hundreds of tents, grills, tailgates, and lawn chairs can be seen for acres around the main stadium. The Vaught-Hemingway Stadium is easily one of the most iconic in the SEC (and even the country). The north end zone is home to the eighth largest scoreboard in all of college football, while the north end zone has uniquely placed luxury boxes and suites that make for a terrific view if you can snag one. On game day, the stadium is known for being incredibly rowdy, and in 2016, the volume is expected to escalate even more as 5,000 additional seats are being added.
Missouri
Faurot Field at University of Missouri

University of Missouri's Faurot Field has been around since 1921, when it was dedicated as Memorial Stadium in honor of the Mizzou alumni who lost their lives during World War I. Since then, the football field has been renamed in honor of longtime coach Don Faurot. The stadium is unique in that it was built in the horseshoe shape that was so popular for stadiums in the early 20th century. At the curved end, a giant block "M" made of painted white stones sits behind the end zone and is easily the most recognizable element of the stadium. More than just the makings of a good photo op, the "M" was built in 1927 by a group of freshman students who used leftover rock from the original construction of Memorial Stadium.
Montana
Washington-Grizzly Stadium at University of Montana

A lot of good football has happened at Washington-Grizzly Stadium at University of Montana, including a 30-game streak of victories at home. Built and opened in 1986, the Stadium originally cost $3.2 million, though a number of costly renovations over the years have increased the total cost. There are 49 private boxes located throughout the stadium, each of which is individually decorated and furnished. Those who aren't fortunate enough to view the game from one of these boxes have a few more options, including the 500-seat "Stadium Club" which features seating both indoors and outdoors, all with a great view.
Nebraska
Memorial Stadium at University of Nebraska

Built in 1922 to honor Nebraska veterans who fought in World War I, the Spanish-American War, and the Civil War, Memorial Stadium at University of Nebraska is easily one of the most amazing places to spend a Saturday watching a college football game. The Cornhuskers have sold out every single home game since 1962 (that's more than 3.5 million people who have sat in Memorial Stadium), and at every game the stands become a massive crush of red. Some of the largest jumbotrons in all of sports ensure good views from anywhere in the stadium, though the most coveted seats are certainly those nearest the tunnel. At the start of each game, the Huskers emerge during the dramatic Tunnel Walk and charge onto the field across the Big Red Carpet.
Nevada
Mackay Stadium at University of Nevada

University of Nevada's football and women's soccer teams both play at Mackay Stadium. Built in 1966 with a seating capacity of 7,500, the stadium has grown along with the success and popularity of the Wolfpack teams. Today, the stadium seats upwards of 30,000 people, with more seating planned to accommodate the massive crowds that show up to each game. The stadium and field have undergone a number of other improvements in recent years, including the installation of synthetic FieldTurf, permanent lighting for night games, and a new press box located on the southwest side of the field.
New Hampshire
Cowell Stadium at University of New Hampshire

Cowell Stadium is the University of New Hampshire's main field for Wildcats sports, including their football, soccer, and track and field teams. Along with the main grandstand, the stadium includes the Field House, the Lundholm Gym, and the Swazey Pool. Currently, Cowell Stadium is on the smaller side, with seats for only about 6,500 people, though it will soon undergo extensive renovations that includes plans for a new seating section on the Eastern End Zone side, new restrooms and concession stands, an updated press box, and additional seating for more than 10,000 Wildcats fans.
New Jersey
High Point Solutions Stadium at Rutgers University

Unfortunate corporate name aside, High Point Solutions Stadium is easily New Jersey's most amazing college stadium. The young campus (it opened in September 1994) is located in Piscataway and enjoys a pretty view overlooking the Raritan River to the south. Rutgers' football team, the Scarlet Knights, draw an average 50,632 fans per game, a big number they can now seat comfortably in a grandstand that was recently expanded to fit just over 50,000 Scarlet Knight fans.
New Mexico
University Stadium at University of New Mexico

Located on the University of New Mexico campus, the aptly named University Stadium plays host to the New Mexico Lobos football team of the Mountain West Conference. The stadium was built in 1960 to replace the older and much smaller Zimmerman Field. From the day it opened, University Stadium has been one of the more unique stadiums in college football; the field was built in the "berm" style of which the playing field actually sits below natural ground level, while the grandstands are built up from moved earth that was then cemented over.
New York
Michie Stadium at West Point

West Point's Michie Stadium is one of the most historic and picturesque fields in college sports. In fact, Sports Illustrated named Michie the third best sports venue in all of sports. Built on the banks of the Hudson River in 1924, Michie Stadium offers fans in the grandstand stunning views of the surrounding areas, including a mountainous backdrop and a reservoir right outside the east wall. As would be expected of a stadium associated with a place as traditional as West Point, Michie Stadium also has a wonderful history. For instance, the stadium was named for Dennis Michie, a former cadet who is credited with starting West Point's football program and putting together the first team in 1890.
North Carolina
Carter-Finley Stadium at North Carolina State University

Walk into Carter-Finley Stadium at North Carolina State and you can somehow feel that it is a place of great tradition and history. Russell Wilson, Philip Rivers, Mario Williams, Ted Brown, Erik Kramer, and Torry Holt have all donned NC State's Wolfpack helmet and called Carter-Finley Stadium home at one point. On the west facade of the stadium, banners displaying the retired numbers of the above players (plus Roman Gabriel, Bill Yoest, Dennis Byrd, Dick Christy, and Jim Richter) hang to remind fans of their team's accomplished past. In the stadium itself, various renovations over the years have consistently improved the facility. The current capacity is now just under 58,000 fans, many of whom can spend the game hanging out in the new north end zone plaza, where new concession stands and awesome views of two large video screens make for a comfortable Saturday afternoon at the game.
North Dakota
FargoDome at North Dakota State University

Owned by the City of Fargo but located on the North Dakota State University campus, FargoDome is the wonderfully named home to the NDSU Bison football team. An indoor stadium that seats almost 19,000 for a football game, FargoDome is multi-surfaced and contains two scoreboards on each end zone, four large video screens, two large electronic message centers, and four stats boards. When it's not college football season, FargoDome also plays host to such events as circuses, WWE shows, USHRA's Monster Jam, and concerts that have included such big-name artists as Katy Perry, The Rolling Stones, Kenny Chesney, Aerosmith, and Taylor Swift, to name but a few.
Ohio
Ohio Stadium at The Ohio State University

There may be no place more exciting to spend a Saturday than Ohio Stadium on the campus of The Ohio State University. The Buckeyes have long been a competitive force to be reckoned with, and on game day their fans in the stadium turn into one massive sea of scarlet and gray. History and tradition play an important role at Ohio Stadium. In the Buckeye Grove, fans can walk among the trees that honor OSU All-Americans, while must-take pictures at a game include the sousaphone player dotting the man-formed "Ohio" and the tolling of the victory bell after each win.
Oklahoma
Gaylord Family Oklahoma Memorial Stadium at University of Oklahoma

For a stadium that is nearly a century old, Gaylord Family Memorial Stadium at University of Oklahoma is looking quite well for its age! A renovation in 2000 (the first since it was built) expanded the stadium's capacity of just over 82,000.  It also improved the conditions of the restrooms, concession areas, and seating, and added new video and scoreboards throughout the entire venue. Upcoming renovations include plans to improve the stadium even more by updating training facilities and press boxes, and adding even more seating for the comfort of Sooner fans.
Oregon
Autzen Stadium at University of Oregon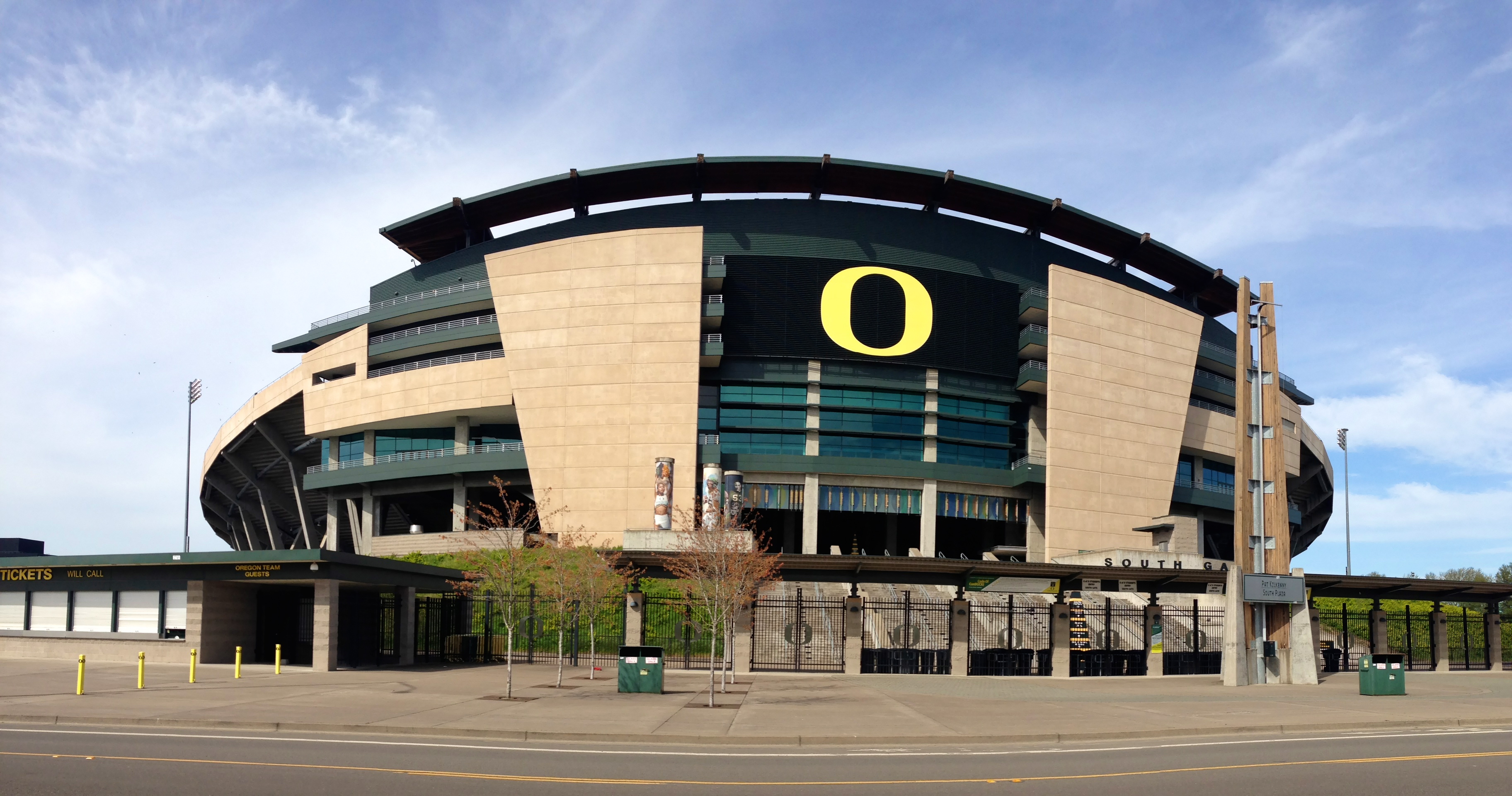 Autzen Stadium at University of Oregon is consistently named one of the best places in the country to watch a college football game. According to coaches, players, broadcasters, and fans both friendly and rival, it is also one of the loudest. During a 2007 game against rival USC, the recorded noise level inside the stadium hit an incredible 127 decibels — an eardrum-shattering number that falls somewhere between a jackhammer and a jet plane. But the fun doesn't stop there. The Oregon Duck mascot does push-ups for every point the team scores, while chants of "Go! Ducks!" draw in just about everyone. If you're set on attending a game at Autzen Stadium, try to make the hyped-up "Civil War" game when the Ducks play their biggest rival, Oregon State.
Pennsylvania
Franklin Field at University of Pennsylvania

More historically significant than anything else, Franklin Field is the oldest college stadium still in use, dating back to 1895. The first scoreboard of college football was here, as was the first radio and television broadcasts of a game. Thanks to a few years during which it doubled as an NFL stadium for the Eagles, Franklin Field was also the first NFL field with Astroturf. The stadium still feels like a throwback to pre-World War I times when football players were still students first and athletes second. "Hurrah! Hurrah! Pennsylvania!" is still the phrase chanted by students and fans during especially tense game moments, while the most cherished tradition of tossing toast onto the field still occurs at the end of each third quarter.
Rhode Island
Brown Stadium at Brown University

Originally known as Brown University Field when it opened in 1925, Brown Stadium is the current home of Brown's football and track teams. The unique feature of the stadium is undoubtedly its trapezoid-shaped main grandstand, a thoroughly modern design when it was built that is no less modern now. The rest of the field is just what one might expect from an ivy-league athletic complex. Several ornate "B" logos, as well as the university's seal, exist around the stadium, while two stone bear heads stand guard on either end of the stands. Indeed, Brown Stadium is so charmingly ivy-league that Abercrombie and Fitch chose the field and grandstand as the location for its 2004 catalog photo shoot.
South Carolina
Clemson Memorial Stadium at Clemson University

There aren't many teams who look forward to playing at Clemson Memorial Stadium. Nicknamed "Death Valley" by some past team that was almost certainly destroyed here, Clemson Memorial is loud, tough, and very orange. On any game day Saturday, thousands of Clemson fans pile into the stadium's grandstand to cheer loudly for the Tigers. Like so many other stadiums on this list, part of Clemson Memorial's charm is its long list of traditions. Before each game, the Tigers rub Howard's Rock for good luck. As the story goes, former coach Frank Howard received the rock as a gift (appropriately, the rock is said to be from Death Valley in California), and turned it into a motivational object during the 1960s when he allegedly told his players, "Give me 110 percent or keep your filthy hands off of my rock."
South Dakota
The DakotaDome at University of South Dakota

The DakotaDome is a 10,000-seat multi-purpose stadium, and the home of the University of South Dakota's football team, swimming and diving teams, and track teams. Like the FargoDome in North Dakota, the DakotaDome also hosts a number of other events including high school football games, the South Dakota high school football championships each November, concerts, and other sporting events. An expansion to the hardworking facility, set to be completed in late 2016, will add a new 6,000-seat basketball arena.
Tennessee
Neyland Stadium at University of Tennessee

Neyland Stadium at University of Tennessee is the fifth largest college football stadium in the nation, with a capacity of a whopping 102,400! Besides being one of the largest, it is also one of the oldest. Constructed in 1921, the stadium has undergone a number of renovations that have improved the facility and made it a must-see for any fan of college football. Just as one would expect of anything having to do with college football in the South, Neyland Stadium is the place to be on a Saturday. While the fact that the Vols tend to win here (they've won more than 75% of home games and have never had more than four straight losses at Neyland), the highlight of a day here might just be The Pride of the Southland Band, which performs a unique and memorable formation called the "circle drill" that is intended to take viewers on a musical trip across the state with stops in Memphis, Chattanooga, Nashville, and Knoxville.
Texas
Kyle Field at Texas A&M

Choosing the most amazing college stadium in a place like Texas was tough, but we settled on Texas A&M's Kyle Field for its long list of one-of-a-kind traditions, overpowering sense of spirit, and cool stadium amenities. In short, nobody does Saturday afternoon in the fall quite like the Aggies. Each game prominently features Texas A&M's impressive Cadet Corps, who turn the games into military academy sporting events. In the stands, students stand for the entire game to show support and earn their nickname as the "12th man." The Fightin' Texas Aggie Band, made up of more than 400 cadets, is the world's largest military marching band, and their intricate drills and movements are spectacular.
Utah
LaVell Edwards Stadium at Brigham Young University

LaVell Edwards Stadium, once known as Cougar Stadium, is arguably the most scenic stadium in all of college football. From just about any seat in the stands, Cougar fans can see beautiful mountains towering in the background. Named after legendary coach LaVell Edwards, the stadium holds 63,000 people on any given Saturday. Recent renovations have continuously upgraded the stadium, and include new video boards, expanded seating, and more. But the coolest thing to come out of all of those renovations? That would be Jurassic-era fossils found underneath the stadium (they're now housed in the BYU Museum of Paleontology).
Vermont
Youngman Field at Alumni Stadium at Middlebury College

Perhaps the smallest stadium on this list, Middlebury College's Youngman Field at Alumni Stadium seats only 3,500 fans. But what it lacks in size it easily makes up in beauty. In fact, Youngman Field has been called one of the best settings in all of New England for sports. The stadium, which is the home field for Middlebury's football and lacrosse teams, is set into the ground with hillsides surrounding the field and providing a perfect alternative place to watch a game — perhaps with a picnic in tow. From these same hillsides, spectators can enjoy stunning views of Middlebury's other outdoor facilities as well as the Green Mountains.
Virginia
Lane Stadium at Virginia Tech

With a seating capacity of 66,000, Virginia Tech's Lane Stadium may be smaller than other schools of its size and power, but it is a heck of a place to catch a football game. Before every home game, the Hokies run onto the field to the music of Metallica's "Enter Sandman."  As soon as the first notes are played, things get really crazy. The crowd jumps to its feet and begins yelling, while "Skipper," the famous cannon, is fired once before the game and again after every touchdown. In fact, things get so loud in Lane Stadium during a game that ESPN has referred to it as the second "scariest place to play."
West Virginia
Mountaineer Field at Milan Puskar Stadium at West Virginia University

Every game day Saturday, 60,000 Mountaineer fans cram into the stands at Milan Puskar Stadium's Mountaineer Field. Let's rephrase that — while the stadium's official capacity is 60,000, there have been numerous instances in which the official attendance has far exceeded that number. Take in a game here, and it's quickly obvious just how serious Morgantown, West Virginia and University of West Virginia take their football.  It's been called one of the most "raucous" environments in all of college sports. Recent renovations have made the experience even better with the addition of new LED screens and renovated locker rooms.
Washington
Husky Stadium at University of Washington

At more than 100 years old, not only is University of Washington's Husky Stadium one of the oldest stadiums in the country, it is also one of the most fun. A metal roof traps most of the sound, making game time cheers some of the loudest around. In fact, a 1992 game against Nebraska supposedly reached a recorded sound measure of over 133 decibels, the loudest ever recorded in a college football game. Another fun fact: Husky Stadium is actually credited as the birthplace of "the wave." As the story goes, in October 1982, during an eventual victory over Stanford, Husky fans organized and started the now-iconic game-time tradition.
Wisconsin
Camp Randall Stadium at University of Wisconsin

What other football team can say they play and practice on land which was once used to train troops during the Civil War? The Wisconsin Badgers may just be the only ones. While the nearly-century-old Camp Randall Stadium is pretty impressive for its size, history, and state-of-the-art amenities, it is one of its unique traditions that solidify it as one of the most amazing college stadiums in America. At every home game, sometime during the third and fourth quarters, the iconic song "Jump Around" comes on and the whole crowd, well, jumps around. The results is a massive shaking of the stadium, and probably, the earth beneath it.
Wyoming
War Memorial Stadium at University of Wyoming

War Memorial Stadium is home to Jonah Field, where the University of Wyoming football team plays every home game. Sitting at a lofty 7,215 feet above sea level, the stadium is the highest Division I stadium in the country, and it has the views to prove it. Renovations over the years have added things like a new surface (currently the Desso Challenge Pro 60 Monofilament Synthetic Turf, the first of its kind in Division I-A football), new scoreboards, new video screens, and 12 new suites in the Wildcatter Stadium Club, those same renovations have also decreased the stadium's overall capacity to just over 29,000.