Fantasy Sports Podcasts 2020: 5 Top Picks
The Audible
Rotoworld Football
DFS Army
RotoBaller Fantasy Sports Radio
The Daily Fantasy Edge
Finding the best podcasts for fantasy sports players isn't always easy, but we've got you covered. The research has been done and time spent, and we've gone on to compile a list of the very best options out there right now. Rated by content, frequency of activity, core offerings, and other factors, the following, five fantasy sports podcasts represent some of the top choices in this particular interest area today.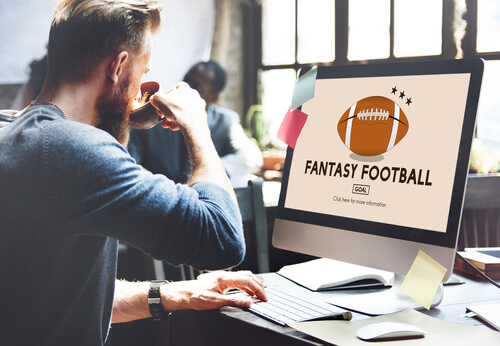 Produced by the people at Footballguys.com, The Audible is a great fantasy sports podcast especially tuned to the football world. Here, renowned fantasy sports figure Cecil Lammey often hosts, and some of the biggest experts in the game come together for talks, interviews, advice pieces, and more. Get your full football and fantasy football fix here.
Breaking news, NFL expert analysis, and often lengthy and deep episodes describe the popular Rotoworld Football podcast hosted by NBC Sports. This one isn't particularly flashy or jazzy but, but it gets straight to the point in covering all things fantasy football for the no-nonsense listener. Hosts Josh Norris, John Daigle, Roto Pat, Ian Hartitz, and Nick Mensio do a great job of always covering the exact topics that count.
DFS Army is a great, all-sport solution to the everyday fantasy sports podcast. Here, personalities CashKeg and Geek work with many others to put on a great show for entertainment and informative purposes alike. Listeners can also look forward to a frequent airing schedule with most weeks seeing at least two podcasts from the team.
A frequent airing schedule, great information, and short but sweet shows are some of the perks to the RotoBaller Fantasy Sports Radio podcast. Fantasy sports fans interested in MLB, NFL, and NBA fantasy leagues can find a great array of subject matter coverage here, and this podcast's four years of tenure means for an always organized and professional show. As of this writing, recent show topics this podcast has covered have included the David Johnson dynasty, early MLB mock draft analysis, and Super Bowl LIV prop bets.
Finally, The Daily Fantasy Edge comes to us via DraftKings and features hosting with three of the top personalities in the industry: Al Zeidenfeld, Peter Jennings, and Adam Levitan. This one airs several times each month and always features the most relevant briefs and debates across all, popular fantasy sports. Lengthy shows are also a perk to this podcast for those wanting more than the typical, quick, daily stat rundown.
Related Resource: 20 Affordable Bachelor's in Sports Communications
Ever since the idea for fantasy sports first emerged, this hobby has continued to grow rapidly around the world. Staying ahead of one's game and rising above the rest of the crowd here, though, requires staying abreast of the current state of the real and fantasy leagues alike. Fantasy sports podcasts can help anyone to do just that. In conclusion, for even more, expert guidance on the world of podcasts for fantasy sports players as well as any other fantasy sports information, the Fantasy Sports and Gaming Association is a leading resource with which you are highly recommended to inquire further.