Back in the day, going to the stadium used to be about the sport. If you were lucky, you got a few simple treats like hot dogs, peanuts or a soda. Now, going to the game is less about the sport and more about the foods you can experience. Stadium foods have become a crazy competition to see who can outdo the other with artery-clogging insanity. The five foods on this list are some of the most insane offerings of 2015.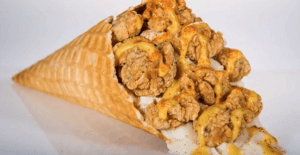 The Chicken and Waffle Cone
The Houston Astros have solved the age-old dilemma of how to satisfy a craving for chicken and waffles while in a stadium watching a baseball game. This ridiculous concoction is a giant, freshly-made waffle cone, stuffed with mashed potatoes and filled with bite-szed pieces of chicken. Problem solved, right? To top it all off, the contents of the cone are smothered in a spicy-sweet honey mustard sauce. This might just be the most delicious, conveniently packaged heart attack a baseball fan could find.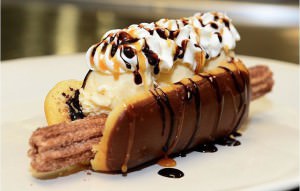 The Churro Dog
It's 2015, which means plain old hot dogs are out, and insane, hot dog-like inventions are in. The Arizona Diamondbacks have thought up one of the sweetest, messiest dogs fans will ever find in a stadium. The Churro Dog is only a dog in name. There is no hot dog to be found in this sweet treat, only a deliciously crispy churro. Instead of a bun, they have substituted in a chocolate Long John doughnut and covered the whole thing in vanilla frozen yogurt, warm chocolate syrup, and rich caramel drizzle. Only 1,200 calories means fans can eat their hearts out.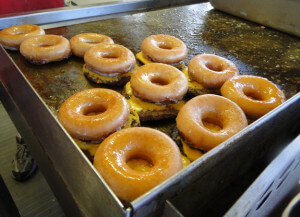 The Infamous "Luther Burger"
The late singer-songwriter Luther Vandross is rumored to have preferred his burgers on a doughnut rather than a bun. This year, several stadiums have made this idea their own. One of the most famous "Luther Burgers" splits a hot Krispy Kreme doughnut, layers it with a thick, beef patty and then tops it with melted cheese, bacon, chili and peppers. Fans may want to ask for extra napkins for this one.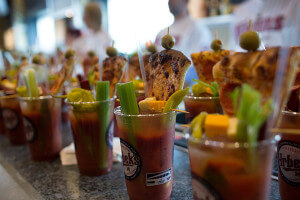 The College Daze Bloody Mary
While a Bloody Mary doesn't usually count as food, much less stadium food, the Minnesota Twins are aiming to change that. This unique Bloody Mary is a full-fledged meal, and one of the most insane stadium foods fans will encounter. For $19, fans are treated to a large plastic cup full of a traditional Bloody Mary topped with a cold slice of pepperoni pizza. In addition to the full slice of pizza, fans also get a generous hunk of celery, a few green olives, a pickle spear and a kabob skewer of pepperoncinis, pepper jack cubes, sharp cheddar cubes and beef sausage snacks.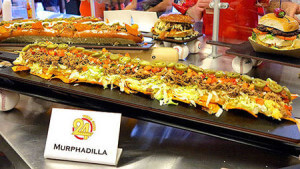 The Murph-a-dilla
Everything truly is bigger in Texas, including the stadium food. Texas is home to some of the most insane ballpark offerings fans could dream up, and the Murph-a-dilla is just one of those crazy inventions. It's named after the Texas Rangers outfielder David Murphy, and the stadium claims it is one of his favorite snacks. The Murph-a-dilla is two feet of deep-fried quesadilla stuffed with Texas-style beef brisket. It's smothered with two kinds of cheese, shredded lettuce, onions, pico de gallo and onions. As if that wasn't enough, the entire quesadilla is nestled into a bed of Doritos. This oversized ballpark food is not for the faint of heart.
For sports fans and foodies alike, the best experience is all about the most insane foods a stadium can offer. To see even more offerings, check out Fortune magazine's list.
Another cool read:
Biggest Sports Management Blunders in History [Infographic]