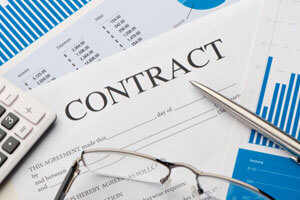 The business environment is packed with formal written contracts that state the expectations of businesses and individuals, and a contact administrator is needed to ensure the compliance of contracts. A contract administrator is a professional within an organization or department that is responsible for the management of contracts, including approval and any necessary changes that may be needed over the course of the contract. He or she also makes sure the parties of the contract adhere to the terms, conditions, and obligations of the contract. A contract administrator commonly works for managers and other upper level professionals of an organization.
Contract Administrator Duties
A contract administrator prepares, evaluates, and negotiates contracts that involve various agreements, such as the purchase or sale of goods. He or she oversees the planning, administration, and revision of contracts to make sure all parties' needs are met. The main priority of a contract administrator is compliance of the contract. He or she ensures all performance responsibilities as outlined by the contract are met. He or she also consistently monitors the performance during the duration of the contract using various tools, such as spreadsheets and electronic document management systems. A contract administrator also maintains detailed records that commonly include original contract documents, correspondence, modifications, and payments. He or she prepares and distributes information to the appropriate individuals regarding aspects of the contract. Once the terms of a contract are up, the contract administrator performs the necessary closing tasks and provides summaries to the related parties.
Required Education to Become a Contract Administrator
Generally, a contract administrator must have at least a bachelor's degree in business, human resource management, or other related area. Common coursework completed includes contract assessment, human resources, contract management, accounting, and business law. Many employers also require a minimum of two years experience in the business field in a related administration position. Many contract administrators begin their careers in entry-level administrative positions and move up as they gain experience. Some contract administrators obtain voluntary certification from the National Contract Management Association to remain competitive in the field and increase pay. The organization offers The Certified Federal Contracts Manager, Certified Commercial Contracts Manager, and Certified Professional Contracts Manager certifications. Minimum education and experience requirements apply for these certifications.
Job Outlook and Salary for Contract Administrators
The employment of contract administrators is projected to rise as fast as average for all jobs in the U.S. According the Bureau of Labor Statistics, this profession is expected to grow 12 percent by the year 2022. More organizations contracting out additional services will fuel the demand for contract administrators. Contract administrators with advanced education and extensive experience will have the best job opportunities. The median salary for level-one contract administrators is around $60,000 per year. The top 10 percent earn more than $67,000 per year, and the lowest 10 percent earn below $42,000 annually. Specific salaries for contract administrators will vary depending on industry, company, education, and experience.
Related Resource: Sports Marketer
Contracts are an essential part of sufficient operation of many types of companies and organizations. They establish the terms and conditions of an agreement and hold all parties accountable. Becoming a contract administrator is an ideal choice for individuals who have excellent communication skills and the ability to negotiate with an array of businesses and individuals.