On the list of prominent positions within the NCAA, being a collegiate coach ranks pretty high. Besides a great salary, these individuals also enjoy a lot of authority over the team and the entire sporting program. They help with recruiting and ensuring that the school gets the best players. Thus, it is fair to say that college coaches have a fun and exciting job.
When looking at some of the current leaders who work in this position, one will probably notice a very common trend. The vast majority of them have playing experience with NCAA themselves. Examples include current and former stars like Pat Fitzgerald, Lovie Smith, Scott Frost, Kliff Kingsbury, and Jeff Brohm. This usually raises the question about the requirements that someone has to meet to land a coaching job in college.
Is Former Experience Mandatory?
Based on the aforementioned, is former experience as an athlete one of the mandatory requirements for someone to become an NCAA coach? The answer is no. College sports hire folks who are believed to be the best fit with the program. Many of them have not been an athlete in the past. Instead, they carry a track record of coaching in other leagues that eventually put them in the spotlight of NCAA scouts. If someone has an outstanding career as a high school coach, per se, it is not unusual for them to slowly transition into the NCAA as one of the coordinators. Once they prove their value within that position, they can hypothetically rise to the head coaching job.
First-Hand Experience
Although not mandatory, being a former athlete is undoubtedly one of the best types of experience for a person that will lead a college team in any sport. The reason why is that it will allow them to know the ins and outs of proper training, conditioning, and strategizing based on their days of playing. Also, it will unquestionably improve the odds of getting hired as many schools prefer to invest in someone that already has connections to the NCAA. After all, according to the Bureau of Labor Statistics, there were over 276,000 eligible coaching candidates in 2016. Hence why hiring the right person is extremely difficult.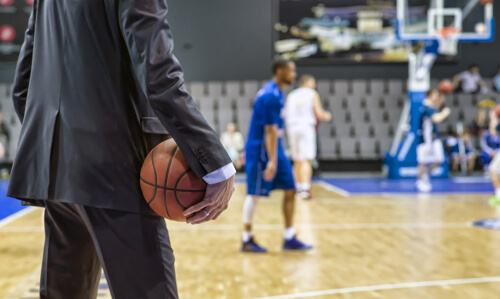 That does not mean that outsiders will not be welcomed, however. Just consider successful college football coaches like Dennis Franchione, Paul Johnson, George O'Leary, Mike Leach, and David Cutcliffe. None of them have ever played in the NCAA. Regardless, they still managed to revamp large programs and achieve numerous accomplishments. So, while having experience is viewed favorably, it is not a clear-cut hiring criterion.
More Relatable
Another extremely important benefit of a collegiate coach having a background in playing is the fact that the team will relate to them a lot more. The key to properly leading players boils down to establishing a relationship with all of them. Having that connection will make it much easier to convey ideas and facilitate open communication. While lack of experience will not necessarily diminish anyone's authority, it could make the athletes question what the person is truly capable of.
Related Resource: 20 Best Online Master's in Sports Coaching
Since the number of colleges that compete in the NCAA is limited and there are thousands of eligible coaching applicants, getting a job here is very difficult. Hence why the compensation is so high and why every collegiate coach must prove themselves over and over.