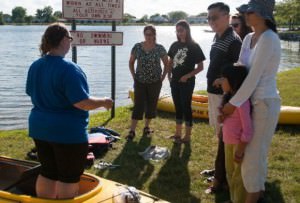 An interest in working with all ages to promote healthy living and well-being can lead some motivated candidates to consider whether or not they are qualified to work for a parks and recreation department with a sports management degree. A degree in sports management builds skills and knowledge that can be helpful in a number of different types of positions.
Sports Management Undergraduate Degree Overview
Sports management programs are growing in popularity across the United States as current and prospective students gain an interest in pursuing careers related to this field. An undergraduate degree program is a combination of course work in general education, sports-management related courses, and business courses.
To begin, students complete general education courses in areas such as the humanities, science, mathematics, and composition. Undergraduate courses are likely to include sports promotions, media relations in sports, fitness management, facilities management, and event management. Additional courses in business such as accounting and organizational leadership may also be required for degree completion.
Graduate Degree Programs in Sports Management
Graduate programs in sports management are also an option for individuals who have a passion for sports and business leadership. With an appropriate undergraduate degree in a business-related field, future graduate students can continue to build on skills that are essential in managing various types of organizations focused on sports and athletics. Common course work in a graduate degree curriculum for sports management include sports management research, internationalization of sports, and mass media marketing for sports organizations.
Transferring Skills to a Career in Parks and Recreation
Completion of an undergraduate or a graduate degree program in sports management helps future professional in the sports management field to gain the skills that are needed to successfully lead an organization. Some of the skills graduates take away include communication, teamwork, leadership, critical and creative thinking, marketing, ethical responsibilities, human behavior, diversity issues, and generating revenue.
Additional information on the skills needed for careers in sports management can be found at the North American Society for Sport Management website. Each of these skills is well-suited to a career in parks and recreation departments.
Activities in Parks and Recreation
Offering sports-related activities to members of a community of all ages is one of the main sources of revenue and services provided by parks and recreation departments. With the skills and knowledge gained with a sports management degree, professionals in this field can help parks and recreation departments improve programs, manage sports events, oversee budgeting, handle marketing and media relations, and generate revenue.
Parks and recreation departments often have various types of sports and athletic activities. Organized sports that take place over the course of several weeks are likely to include baseball, softball, basketball, and soccer. Special events might include tournaments or competitions in these sports and more. Additionally, most parks and recreations departments offer classes throughout the year in activities and sports such as yoga, aerobics, swimming, and dance.
Related Resource: Sports Licensing
There are a number of different types of activities that take place within these organizations that are directly related to management and sports. A passion for sports and an understanding of business operations can help qualified professionals be successful in finding work for a parks and recreation department with a sports management degree.