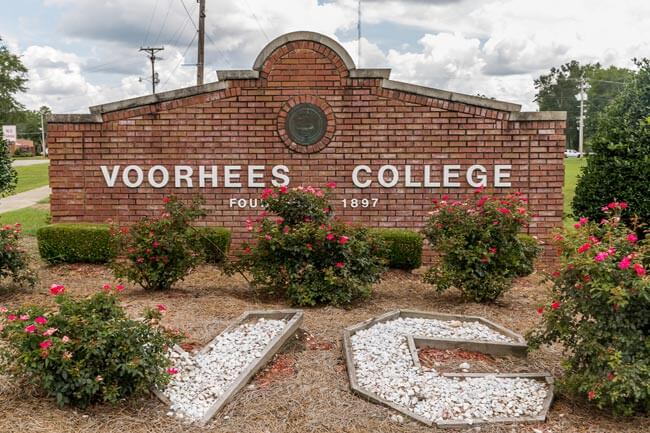 Voorhees College is one of the most prominent historically all-black colleges in South Carolina. Founded in 1897 as the Denmark Industrial School for African Americans, it took over the second floor of a local business and provided education opportunities for poorer black students living in the surrounding rural communities. It received a large donation just a few years later that helped it build its own campus and move its students. Though it briefly offered high school and college prep classes, it served as a junior college for almost 40 years. After adding more senior programs, it became Voorhees College in the beginning of the 1960s.
Despite the growth of surrounding communities, Voorhees College is still on the small side. It has a population of just 600 students, and the majority of its students are African American. A large section of the college is on the National Register of Historic Places. Designated in 1982, this district features several of the first buildings ever constructed on its campus. The college offers just 14 majors in subjects like psychology, emergency management, business administration, child development and and criminal justice. Voorhees College believes that keeping its class size low will help foster skills like independent thinking and working as part of a small team in its students.
Voorhees College Accreditation Details
Two things you should look for when comparing colleges is regional accreditation and specialty accreditation. Regional accreditation usually comes from an organization affiliated with a national organization. This lets you know that there is a governing body looking out for your best interests and that the investment you spend on your education will pay off in the future. Voorhees College has its regional accreditation from the Southern Association of Colleges and Schools (SACS). Not only does the college let students know about the status of its acceptance on its website, but you can find out what the college does to prepare for an upcoming renewal of its accreditation. The college also has accreditation for its business program from the Accreditation Council for Business Schools and Programs (ACBSP). This is helpful for sports management students because it lets them know that the program is accredited and will feature useful classes.
Voorhees College Application Requirements
The admissions office has an online application suitable for undergrads. This application features several key sections. The first section asks for your class status, the program you want to study and whether you will enroll as a full-time or part-time student. In the next section, you answer questions about your background and provide personal information like your social security number, name and home address. The application also asks for background information on your parents. You need to know their names, birth dates and other details to complete this step. The very last section asks for details about your high school and any colleges that you attended. It also asks whether you plan to live on the campus.
When you reach the bottom of the application, you have the chance to save it or submit it. Before you submit that application, click on the save button. This saves you from any hassles if the page doesn't load or you lose your internet connection. It also lets you come in later and verify that all the information you provided is correct. Any errors in your application may lead to the college denying you. After submitting the application check if the department you want to enroll in has any additional requirements. You may need to send in a copy of your resume, request that the testing board submit your ACT or SAT test score or get your high school to mail the college a copy of your transcript.
Tuition and Financial Aid
Tuition at Voorhees College starts at $11,630 a year. This covers the cost of the classes that you take and lets you enroll as a full-time student. Though the college doesn't charge additional fees for nonresidents, it does charge a technology and student activity fee of $1,000 a year. You should also look at the cost of room and board. This can add more than $7,000 to your total costs. Keep in mind that the college holds you responsible for any books or supplies you may need in your classes.
The Voorhees Office of Student Financial Aid can help you find out more about paying for college, but it recommends that you submit the FAFSA before calling or sending an email. The college participates in the federal work-study program that helps you earn a few thousand dollars or more during the school year. You can also take out loans and get grants. Voorhees College has a fellowship program open to incoming freshmen and older students. If you scored 1200 or higher on the SAT or at least a 27 on the ACT and meet other requirements, you can get more than $7,000 a year. The college has a few other scholarships available to those who meet specific requirements.
Student Experience
Voorhees College designed its sports management program to follow eight semesters and include 125 credits of classes. You have the option of setting your course schedule as a freshman and following that schedule in your later years to ensure you meet all the requirements for graduation. It prepares students for working in entry-level jobs or for continuing their studies in a graduate program. The goals of the program including teaching students strong marketing skills, helping them become effective leaders and providing them with leadership and business skills.
The college divided its sports management into four key areas of study. The first section, which consists of 50 credits, helps you fulfill all the general education requirements of the state, including classes on math, English, communications and social sciences. You'll then take 16 credits of business administration courses like business ethics and accounting principles. Students also take 39 credits of sports management courses that may include prevention of sports injuries, sports leadership and sports marketing.
You will get 12 credits for internships that you do in the sports management field. Though some students work for the college teams on-campus, others work for teams and facilities in other cities and states. Voorhees College will even let you complete your internships when you're at home for the summer break.