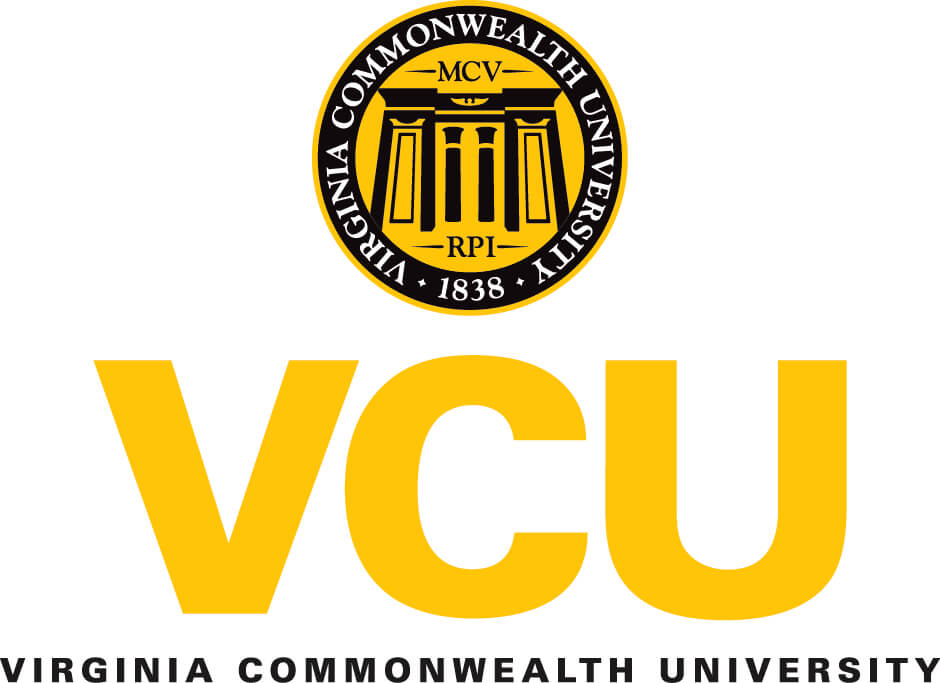 Virginia Commonwealth University was originally opened as the Richmond Professional Institute in 1917 before merging with the Medical College of Virginia 50 years later. Once affiliated with the College of William & Mary, VCU gained its independence in 1968 as a public, four-year doctoral research institution with Carnegie's R1 designation. Belonging to the Atlantic 10 Conference, Virginia Commonwealth now enrolls 24,051 undergrad and 7,191 post-grad Rams. Endowed for $1.638 billion, VCU operates 14 academic schools under President Michael Rao, PhD. Occupying 150 urban acres total, VCU manages the Monroe Park Campus in Richmond's Fan district and MCV Campus in Court End district. Its 182,746 alumni base includes sports greats like Gerald Henderson, John Rollins, Larry Sanders, and Gonzalo Segares.
According to the U.S. News, Virginia Commonwealth is the 164th best national university, 87th top public school, and 117th top high school counselor pick. In particular, VCU holds America's 80th best part-time MBA and 41st best education school. Forbes ranked VCU as the 79th best employer and 176th top research institute nationally. On Niche, Virginia Commonwealth University stands as the 83rd most liberal college and 89th best big college. The CWUR placed the Commonwealth 259th globally with a quality of faculty rank of 150. Diverse: Issues in Higher Education applauded VCU among the top 50 best non-HBCU universities for Blacks. The Center for Sport Leadership was also positioned eighth in North America with the world's 12th highest average salary.
Virginia Commonwealth University Accreditation Details
At Level VI, Virginia Commonwealth University holds the maximum 10-year regional accreditation from the Southern Association of Colleges and Schools Commission on Colleges. Authorized by the Council of Higher Education Accreditation, the SACSCOC reviews institutions for academic integrity, transparency, accountability, and quality improvement from Virginia to Texas. The School of Education is programmatically approved by the National Council for Accreditation of Teacher Education (NCATE) and Commission on Accreditation of Athletic Training Education (CAATE). The Center for Sport Leadership's MBA/M.Ed. also exceeds the standards of the Association to Advance Collegiate Schools of Business (AACSB).
Virginia Commonwealth University Application Requirements
Getting into the Center for Sport Leadership at Virginia Commonwealth University will involve passing the "selective" admission rate of 72 percent. Coordinated by Maggie McFadden, the M.Ed. in Sport Management only selects bachelor's degree holders from regionally accredited institutions with a minimum 3.0 GPA after the sophomore year. GRE waivers are available for those with a 3.2 GPA or higher, two years of progressive industry experience, and three years of military service. Otherwise, VCU Rams need to score above the 50th percentile with a combined GRE score beyond 300. Successful applicants to the Dual MBA/M.Ed. also present an average GMAT of 550. Candidates for the Ph.D. Sport Management Track should have a bachelor's or master's with a GPA of 3.5 or greater.
Prospective online post-grads need to uphold the VCU Center for Sport Leadership's posted deadlines of April 15th for Fall, November 1st for Spring, and March 15th for Summer. On-campus students can only apply for Fall admission between November 15th and May 31st. FAFSA forms must be finished before midnight on June 30th too. Completed applications are submitted online with extra materials mailed to Box 842003 at 1300 West Broad Street in Richmond, VA 23284. Make certain that admission committees receive the following:
• $65 application fee via credit card
• Official, sealed transcripts of college courses
• Three letters of faculty/supervisor recommendation
• Virginia residency form if applicable
• Scores for the GRE/GMAT unless waived
• Professional resume of sports industry experience
• Typed, two-paged personal statement
• Academic writing sample (Ph.D. students only)
Tuition and Financial Aid
Ranked 21st in Virginia by Best Value Schools, VCU charges full-time, in-state master's students $12,779 yearly at the Monroe Park Campus. Non-residents pursuing the on-campus M.Ed. in Sport Management would pay $24,627 per year. Adding in room and board will cost roughly $11,280 annually. Taking the M.Ed. Online option costs distance learning students $569 per credit regardless of residency. Post-grad Virginians seeking the Ph.D. in Education for Sport Management are billed $10,921 yearly. Non-resident doctoral candidates in Monroe Park pay annual tuition of $21,449.
The NCES reports that 82 percent of beginning, full-time VCU Rams receive financial aid packages worth $9,207 on average. Institutional awards, such as the Future Leaders in Sport Leadership, Diversity Enhancement Scholarship, Arconic Community Scholarship, Sica Scholarship, Athletic Scholarship, Fierro Family Scholarship, and Phi Kappa Psi Scholarship, are abundant. The School of Education offers the Higher Education Tuition Assistance Program and $300 Student Travel Grant. Through the Office of Graduate Studies, grant-funded assistantships could provide up to $24,000 yearly. The Dissertation Fellowship covers tuition with a one-year, $18,000 stipend for Ph.D. students. Federal Work-Study could be undertaken on-campus, including in the Stuart C. Siegel Center. Other funding opportunities are Yellow Ribbon military benefits, Grad PLUS loans, Virginia 59 Savings Plans, and TMCF David Stern Sports Scholarship.
Student Experience
Virginia Commonwealth University is a big-name NCAA Division I school where students access 200+ academic programs, including three in the School of Education's Center for Sport Leadership. The 36-credit M.Ed. in Sport Management is delivered on-campus in Richmond or online via Blackboard to prepare post-grads for leadership responsibilities in amateur and pro athletics. The Dual MBA/M.Ed. in Sport Management takes 60 credits over two years full-time for students to incorporate problem-based business training into the sports framework. Since 2016, the Ph.D. in Education has conferred a 48-credit Sport Management Track for developing tomorrow's athletics faculty. VCU courses are taught by PhD-level professors at a 19:1 ratio with guest speakers, such as Greg Carney and Michael Curry, for interactive engagement.
Studying at VCU places post-grads within internship distance of sports organizations like the Richmond Flying Squirrels, Somerset Patriots, Bristol Pirates, Lynchburg Titans, Richmond Raiders, Northern Virginia Eagles, and Hampton Roads Piranhas. The Center for Sport Leadership promotes active community outreach with the Special Olympics, Young Aces Open, Turn 4 Education, and Kickin' 4 Kidz events. The European Model of Sport course includes 12-week trips abroad at varying destination cities from London to Monte Carlo. Rams also gain experience in the VCU Athletics Department, which features the Thalhimer Tennis Center, Sportsbackers Stadium, Cary Street Field, and more. Virginia Commonwealth University maintains 16 varsity teams under athletic director Ed McLaughlin, including a men's basketball team with nine Atlantic 10 championships.