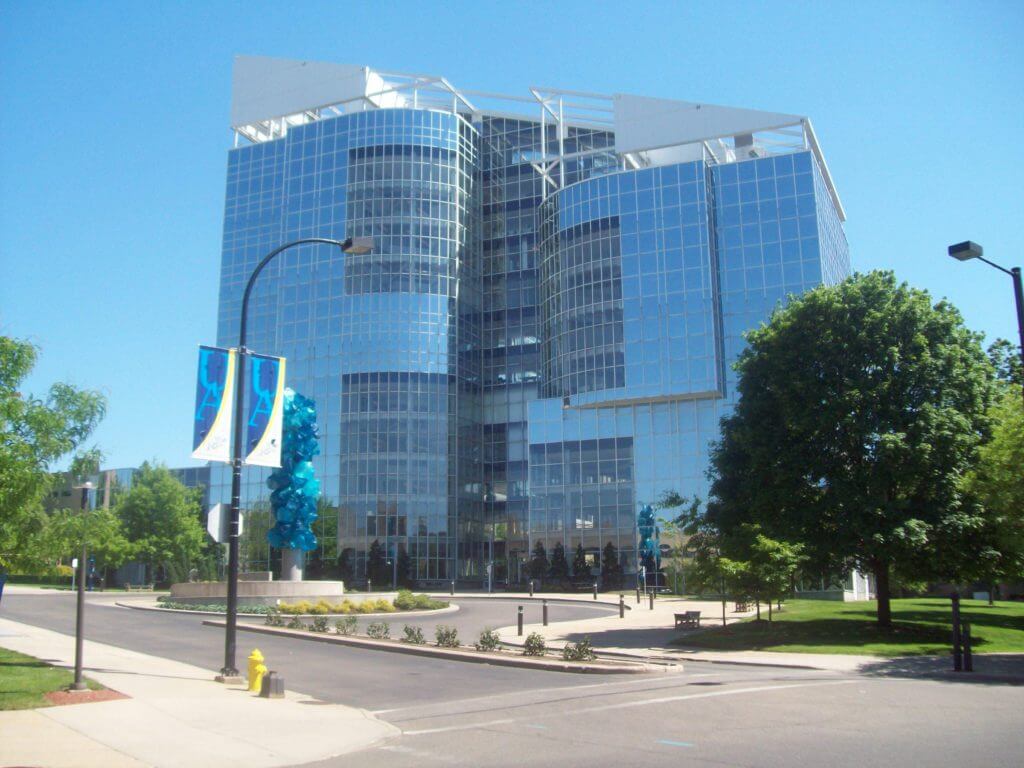 The University of Akron is a public research university with its main campus in the city of Akron, Ohio, where over 20,000 students of diverse backgrounds and interests pursue their futures through UA's career-focused and experiential-based academics. The university was founded in 1870 and since then has earned a reputation for innovative research, competitive varsity athletic programs and a positive economic impact in its region. UA emphasizes what it calls "the Akron Experience," a personalized path to graduation for each individual student that encompasses internships and co-op experiences, academic research, study abroad opportunities, on-campus employment and community service. The university's Sport Studies program is a stand-out program that fully embraces this Akron Experience in its curricula and student activities.
Resource: 50 Most Affordable Urban Schools for Sports Management 2015
University of Akron Accreditation Details
The University of Akron has been accredited by the North Central Association of Colleges and Schools. The Carnegie Foundation classifies UA as a research university with high research activity (RU/H).
University of Akron Application Requirements
Before applying to the University of Akron, it's important to note that deadlines and admissions requirements may change from one year to the next. If you need answers to specific questions about your application, it's best to speak with the university's admissions staff. That said, the following general guidelines were current at the time of publication and can help you to plan the application process.
The University of Akron offers three types of admission to incoming freshmen.
The first is direct admission into a specific department or program. As a direct admit, the accepted student is immediately registered as a major in their chosen program. Admissions criteria for direct admit varies by program but typically includes a high school average of "B" or better and competitive SAT/ACT scores.
The second type of first-year admission is university admission. This is for students who do not meet direct admissions criteria or who have not yet chosen a major. When accepted, these students take general coursework during their freshman year under the guidance of a university advisor, and are admitted into the program of their choice upon completing their general coursework with an appropriate grade point average.
The third type of first-year admission at UA is for students who do not meet minimum admissions criteria but who are able to demonstrate academic potential through extenuating documentation such as letters of recommendation. These students are reviewed on a case-by-case basis for admission into UA's Student Success Program, a freshman year program for students with promise who need a bit of extra help acclimating to college academics.
Students who have completed coursework at another college with a GPA of at least 2.0 and who are in good standing at their previous academic institution are eligible to apply to UA for transfer admission. Each academic college at UA has its own selective admissions criteria for incoming transfer students. The School of Sport Sciences and Wellness requires a 3.0 GPA and 12 credits of completed coursework, including the fulfillment of at least one science pre-requisite class for the Sports Studies major. Prospective students who graduated high school or earned a GED five or more years prior and who have never attended college should apply for "adult admission." Those over the age of 25 will not need to submit standardized test scores.
Admissions Deadlines
Prospective students should apply by March 1 for scholarship consideration.
Students who apply by March 1 are automatically considered for admission into UA's prestigious Williams Honors College. No separate application is required.
May 15 is the application deadline for freshman housing priority. After this date, on-campus housing cannot be guaranteed.
Required Materials
Interested students should submit a completed application, official transcripts and standardized test scores.
UA does not require letters of recommendation or essays from students who meet minimum general admissions criteria.
The university's admissions office recommends that students who plan to attend UA as freshmen take at least four units each of English and mathematics, three units each of natural sciences and social sciences, and two units of a foreign language as part of their college preparatory curriculum in high school.
Tuition and Financial Aid
As of 2016, the annual comprehensive cost of attendance for on-campus undergraduate students enrolled in full-time study was estimated at $26,610 for Ohio residents and $35,141 for non-residents. This amount covers tuition and fees, room and board, books and supplies, and personal expenses. In-state tuition for the 2016-2017 academic year was $10,977. Out-of-state tuition was $19,508. Room and board costs vary depending on the housing option and dining plan chosen. An estimated yearly rate of $12,113 is based on UA's mid-range housing and meal plan costs.
The University of Akron is able to offer numerous financial aid opportunities to students through both the usual federal student aid funds and UA's own endowed scholarship initiatives. Each year, UA awards more than $22 million in aid to its students in the form of thousands of scholarships and grants. Award amounts vary from hundreds of dollars to full-tuition scholarships and are given to students based on factors such as academic merit, valedictorian or salutatorian status, underrepresented background or acceptance into the Honors College. The University of Akron also offers scholarship opportunities specific to non-Ohio residents to help offset the extra costs of out-of-state tuition.
Student Experience
Athletics have a place of pride on the University of Akron's main campus, so it makes sense that many of UA's students would be interested in majors like Sport Studies. UA has a history of sending its former students on to the NFL and to Olympic arenas. In fact, several former UA Zips earned trips to Rio for the 2016 Summer Games. Of course, even students with less elite athletic goals have plenty of opportunities to compete in one of UA's sixteen Division I programs or over two dozen club sports.
The strong presence of competitive sports on UA's main campus also provides Sport Studies students with plenty of opportunities to gain experience in their chosen fields by helping out off the field. Plus, just 40 miles away from campus, the city of Cleveland is home to the NFL's Cleveland Browns, the MLB's Cleveland Indians, the NBA's Cleveland Cavaliers and the AHL's Lake Erie Monsters – meaning that Sport Studies majors have some pretty impressive potential internships and practica to add to their resumes.
The Sport Studies track at UA prepares students to work in professional, collegiate, high school or community-based sport administration or recreation management. The home of the Sport Studies program is the Infocision Stadium on Akron's main campus, where students learn in a state-of-the-art laboratory and assist department faculty with research projects. In keeping with UA's commitment to experiential, career-driven academics, every Sport Studies student is required to complete a practicum experience of at least 150 hours. Service learning is built directly into Sport Studies coursework, and collaboration with sports and recreation professionals is a common occurrence.
Students in this program choose from one of two concentration tracks: sport management or athletic coaching education. The sport management track requires coursework in sport history, sport ethics, sport leadership, sport facility management, sport promotion, coaching principles, PE administration and the legal aspects of sports and PE. The athletic coaching education track includes many of the same ethics, legal and administrative classes as the sport management program, and also requires classes in motor development, sport performance principles, adapted physical education and special topics in coaching.
As a highlight of the real-world, career-driven "Akron Experience" that the University of Akron strives to provide for all of its students, all Sport Studies majors in either track take part in a practicum experience of at least 150 hours.