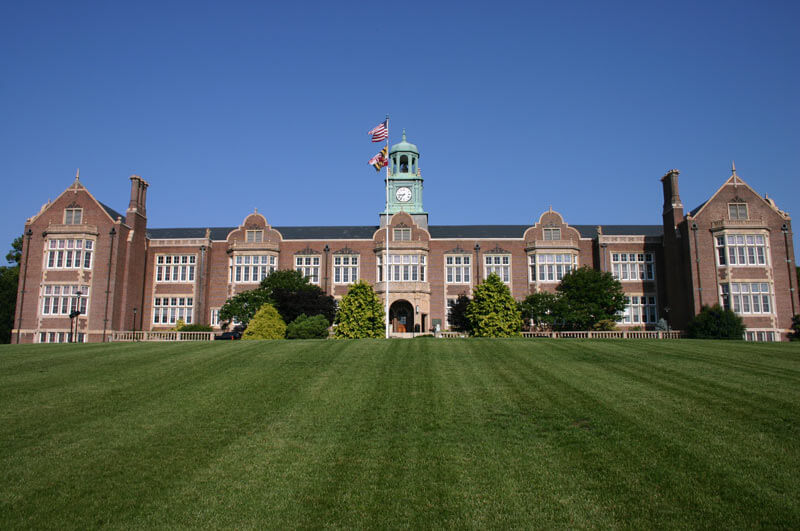 Located in the small Maryland town of the same name, Towson University is a public institution of higher learning. Founded in the 1860s as the Maryland State Normal School, it opened with the goal of preparing and educating teachers who would help future students in the state. The normal school grew so quickly that it found itself forced to build a brand new campus to house its newer students. After the state began requiring that new teachers have a college degree, this school became the Maryland State Teachers College at Towson. The new programs that it later added led to the school changing its name to Towson State College. It did not official become Towson University until the 1990s.
Towson University received some recognition from major publications in recent years. Kiplinger's Personal Finance, which releases a list of the most affordable schools in the country, ranked TU within the top 100. Forbes included the campus on its list of the top 100 schools in the country. U.S. News & World Report also added Towson University to its list of the best graduate schools in the northern region of the country. The university encourages students to help out through the use of service organizations and activities that require volunteers help those living in the Baltimore area. A large number of its more than 20,000 students participate in those activities every year.
Towson University Accreditation Details
Towson University has accreditation from the Middle States Commission on Higher Education. MSCHE accreditation lets students rest easy in knowing that they can use the FAFSA and get financial aid. The MSCHE requires that all accredited schools maintain their accreditation as well. The organization will return to the university at least once every 10 years to ensure that it maintains all the standards required for keeping its accreditation. Students enrolling in specific programs will find that those programs have accreditation as well. The American Occupational Therapy Association granted accreditation for the Towson program in occupational therapy, and the National Council for Accreditation of Teacher Education accredited its teaching program. Towson has accreditation from eight other organizations as well, including:
Association to Advance Collegiate Schools of Business
American Speech-Language-Hearing Association
Accreditation Board for Engineering & Technology, Inc. (ABET)
American Academy of Forensic Sciences
Commission on Collegiate Nursing Education
Towson University Application Requirements
The easiest way to apply to Towson University is with its online application system. Though the university charges a $45 application fee that you need to pay when submitting your application, TU offers fee waivers too. If you need one of these waivers, fill out the payment section of the application. This section will ask you about the type of waiver you need and let you explain why you cannot pay when you submit your application. If you are an honors student and want to enroll in the Honors College, you will need to complete a separate online application.
Towson only requires a few other things of incoming freshmen. You will need to submit both your score from the ACT or SAT and an official transcript from your high school. The university asks for a resume and a short essay as well. If you have a lower grade point average or worry that your application alone will not help you earn a spot in the university, you can also submit one or more letters of recommendation. Towson requires that those letters come from your high school guidance counselor, someone who supervised some of your work in the past or one of your former teachers.
Tuition and Financial Aid
Full time Towson students are those who take a minimum of 12 units of courses each semester. Maryland residents receive in-state tuition rates that come in at around $3,280 per term. Fees and other charges will add an extra $1,400 to your tuition. Students from outside of Maryland are responsible for those same fees and a tuition rate of around $9,100 per term. Those who take fewer than 12 units of courses will pay $283 per credit as a Maryland resident and $768 per credit as a resident of another state. TS also charges students living on campus for a dorm room and a meal plan.
The low cost of attending Towson led to the school ranking as one of the most affordable colleges in the nation. The university recommends that students speak with an admissions counselor and file the FAFSA as quickly as possible. You can even visit the campus and fill out your FAFSA in the financial aid office to get help from a counselor. In addition to loans and grants, the university offers its own financial aid packages. You can apply for scholarships and grants that are only available to students who need more financial support. Towson can also help you apply for a federal TEACH grant, which gives you money in exchange for agreeing to teach in an area that needs help after graduating.
Student Experience
The sports management program at Towson University is perfect for students who want to work as coaches, trainers, business managers, sports agents and in other fields. Students can work with the internship coordinator to find internships that let them work for professional sports organizations, in athletic complexes and in other positions. Those internships are available both in Maryland and in other states. You'll even have the option of spending a semester abroad and attending seminars that help you create a resume and go through mock interviews before you graduate. The university is a member of several leading sports organizations as well, including the Athletic Equipment Managers' Association and the Association for Women in Sports Media. As a sports management major, you may want to join student organizations on campus like the American Advertising Federation or Sport Business Association.
This unique program requires that students take classes through the College of Business and Economics and the Department of Kinesiology. You will need to complete a minor in business administration, which will consist of 12 classes in management, economics, finance and similar topics. The 30 units of sports management courses that you take will include sport marketing, the culture of sports and the society of sports. Towson University also requires that all sports management students take a seminar class during their senior year.