This program appears in our ranking of Top 30 Bachelor's in Sport Management Degree Programs.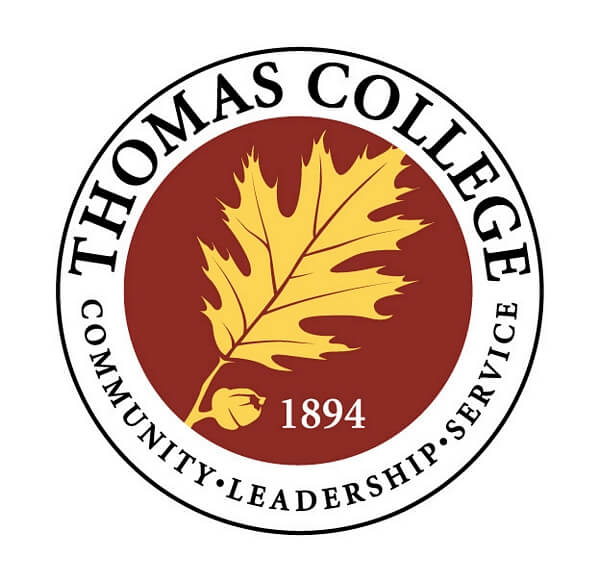 Students with an interest in sports management will find that Thomas College offers two programs in this field. The first is a Bachelor of Science in Sports Management. Students will learn how to manage sports complexes and facilities and how to work with athletes. They also develop strong writing skills that can help them work as sports journalists. Graduates learn how to analyze the different aspects of sports management and how to communicate with others. This sports management program features courses such as Principles of Management, Legal Liabilities in Sports, Sport Marketing Management and Sport Information and Public Relations.
Thomas College students can also earn a B.S. in Sports Management through the college with a concentration in sports marketing. Designed for those who want to work in public relations and marketing, this program features the same required B.S. courses and some marketing classes, too. Students will develop the skills that they need to work for advertising companies and in the PR departments of major sports organizations and companies. They will also take classes that include Principles of Marketing, Introduction to Sports Management, Athletic Administration and Sport Marketing Management.
The college encourages students to learn more about sports management as a whole and to develop more practical skills before they finish their degrees. Most students will do an internship in their junior or senior years. They can also do their internships over the summer and work for companies in their hometowns. Thomas College gives students up to three credits for the internships that they do.
About Thomas College
Thomas College is a small private college in Maine. Most refer to it as a business college because it offers so many different business programs. Students can also earn degrees in other fields, including technology and education. Founded in 1894 as the Keist Business College, the school offered training programs that would help students gain employment in the business field. As the college went through different owners, it changed its name several times and added more programs. The school eventually moved to its current location and became Thomas Junior College as it began offering programs outside of business.
The college now offers more than 30 programs for undergrads and a few graduate programs. Its Master of Business Administration (MBA) is one of the top programs of its type in Maine. The college is also home to 16 different sports teams. Sports management majors can work with the athletes on those teams or join the teams themselves. Around 1,300 students take classes from the college, including both undergrads and graduate students. Many of those students live in one of the residence halls operated by the college, but a small number of students live on their own or with their families.
Thomas College Accreditation Details
The Commission on Sport Management Accreditation (COSMA) is a professional organization that accredits sports management programs. Thomas College has COSMA accreditation that applies to both of its programs of this type. That accreditation lets students know that they will follow the guidelines established by the commission as they take courses and work in the field. The New England Association of Schools and Colleges (NEASC) granted accreditation to the college too. As this is a type of regional accreditation, students have the right to apply for the financial aid packages that they need via the FAFSA. It also grants students the option of bringing credits to the college or taking the credits they earned at the college to another school.
Thomas College Application Requirements
Students can apply to the college and submit their applications by one of the deadlines. The deadline for early action students is December 15, while those applying for priority admissions have until March 1 to submit their applications. All other students can submit their applications at any point because the college has a rolling admissions policy. As long as there is available space in the next class, the college will continue accepting new students. If students submit their applications later in the year, the college may waitlist them until the following school year.
Though the college has its own application, it gives students a few ways to complete it. They can use a paper application and send the form back to the college, or they can use an online version of the application. Thomas College will also accept applications through the Common Application website. That website allows students to create one account and use it to apply to multiple schools.
In addition to the application, the college asks for a letter of recommendation. Students can ask their teachers or guidance counselors to write this letter. Some students submit letters written by their pastors or other religious leaders or from their employers and supervisors. Students must also submit their official transcripts. The college typically informs students of its decision within two weeks of receiving their applications. Students are then responsible for putting down a deposit.
Tuition and Financial Aid
Undergrads pay a little more than $38,000 to attend Thomas College. This includes a tuition rate of nearly $26,000 and some miscellaneous fees. Students must also pay nearly $1,500 a year for a health insurance plan unless they have coverage through their parents. The college estimates that students spend around $1,000 a year on books, too.
Thomas College recommends that students complete the FAFSA immediately after finishing their admissions applications. The college awards 99% of its students financial aid and gives out more than $11 million in aid every year. Those who apply for aid before December will know by the end of that month if they qualify for a package. Most packages will include loans and grants that come from the federal and/or the state government.
When the college receives a student's FAFSA, it will immediately look at the overall need of that individual student. Those who need more aid will often qualify for one of Maine's grant programs and receive money that they can use for tuition and other costs. Students can also work for the college as part of a federal work and study program. The college also offers 11 scholarships for students who demonstrate more merit than their peers. Some of these scholarships go to incoming freshmen, but others go to transfer students. Some of the top Thomas College scholarships award students $5,000 or more.
Learn more about Thomas College at the Sport Management program website.