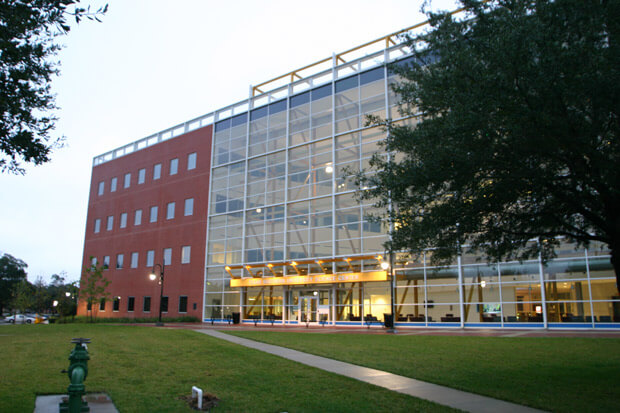 In the Lone Star State, there is one school that stands-out among the rest – Texas Southern University. Historically a black institution, Texas Southern University has become one of the largest and most diverse urban colleges in the country.
Founded in 1927, Texas Southern University has grown at an exponential rate. At one point in time, the University only averaged about 2,000 students per year. Today, the University draws more than 9,700 students from all different backgrounds, races, ethnicities and learning levels across over 45 academic learning centers. Impressively, the University offers over 100 different undergraduate and graduate degree programs, a famed faculty, a number of elite organizations and an impressive alumni network that extends well throughout the world.
Texas Southern University is built on over 150 acres and is nestled in the heart of downtown Houston – one of Texas's most diverse and culturally profound cities. This cultural oasis provides students with unprecedented access to some of the best shopping, local food fare, historical sites and performing arts opportunities in the nation. At Texas Southern University, students are able to immerse themselves in a rich academic and social culture that stimulates personal and professional growth without bounds.
Texas Southern University upholds its mission in providing the highest quality instruction and academic culture; abundant research opportunities regarding urban community issues and plentiful service opportunities that allow students to enrich both their minds and souls while learning, growing and serving the greater good.
Texas Southern University Accreditation Details
Texas Southern University is accredited on a ten-year term by the Commission on Colleges of the Southern Association of Colleges and Schools. While some departments hold separate accreditation, there is no specific accrediting agency for the Department of Health and Kinesiology.
Texas Southern University Application Requirements
Prospective undergraduate students who applying to Texas Southern University must submit the following for consideration:
Application for Admission (online)
A Non-Refundable $42 Application Fee
Official High School Transcripts
Official SAT or ACT scores (SAT score of 820 or higher; ACT score of 17 or higher)
Students must have a high school GPA of at least a 2.5 (on a 4.0 scale) to be considered for admission. Students must also complete the required placement testing to determine their level of readiness for college coursework in the areas of reading, writing and mathematics.
It is important to note, also, that according to the Texas Uniform Admissions Standards, all students are required to meet one of the following to be considered for admission to any four-year public institution within the state of Texas:
Successful completion of the Recommended or Advanced High School Program
Successful completion of a curriculum that is equivalent in content to the above mentioned program at a high school that is exempt from offering such programs
Satisfy the college readiness benchmarks as established by the SAT and ACT tests
For the SAT – 1500 out of 2400 (all sections combined)and for the ACT – 18 English, 21 Reading, 22 Math and 24 Science
Incoming undergraduate transfer students are required to submit the same items; with the exception that they are required to submit official transcripts from previous universities displaying at least 15 completed credit hours and a 2.0 GPA (on a 4.0 scale).
The deadline for undergraduate freshman and transfer admission is July 15th for the fall, November 15th for the spring, May 15th for the first summer term and June 15th for the second summer term.
For those interested in pursuing graduate studies at Texas Southern University, the following items must be submitted:
An Online Application
A Non-Refundable Application Fee of $75
Two Copies of Official Transcripts showing Undergraduate Coursework with a GPA of 2.5 or Higher
GRE or GMAT Scores for Business Majors
Three Letters of Recommendation
Current Resume or CV
A Personal Essay (300-500 words)
Admission deadlines for graduate students vary depending on the program. For those applying to the College of Education/Department of Health and Kinesiology, the deadline is July 15th for fall term, November 15th for spring term, and May 1st for summer term.
Tuition and Financial Aid
When students are admitted into the University, they have the option of selecting a basic tuition structure or a fixed-rate tuition plan. The fixed rate plan guarantees a set payment amount over four consecutive years (12 semesters).
For the 2015-2016 academic years, total undergraduate tuition for residents is $5,062.00 for 18 credits per semester on the basic tuition plan. For the fixed rate plan, the total cost is $5,350.00. For non-resident undergraduate students on the basic plan, the total cost is $12,082.00. For non-resident undergraduate students on the fixed plan, the total cost is $12,270.00. All fees are approximated and may vary according to each student.
Graduate student tuition rates vary based on the department. For those applying to the College of Education, the total cost for residents is $6,736.00 per semester (18 credits). For non-resident graduate students, the total cost is $12,856.00 per semester (18 credits). Graduate online courses also feature mixed tuition rates based on the program.
Financial aid is available to both undergraduate and graduate students attending Texas Southern University. Students are encouraged to fill out a FAFSA form and apply for aid accordingly. Scholarships are also available to students based on academic merit.
Student Experience
If you are looking for a college that boasts a challenging academic curriculum and a diverse student body in the heart of an urban metropolis, look no further than Texas Southern University.
For those applying to the Department of Health and Kinesiology – prepare yourself for one of the most rewarding and self-satisfying academic opportunities in the country. The mission of the Department of Health and Kinesiology is to prepare students – mentally, emotionally, socially and physically – for a successful career in the healthcare industry as well as to further their educational pursuits. Those applying to the program will not only graduate with a deep understanding of our contemporary healthcare system, but will appreciate how integral health promotion, fitness and wellness are to the vitality and sustainability of our nation.
The Department offers courses in health, human performance, recreation and leisure studies and sports management – featuring three Bachelor of Science Degree programs and one Master of Science Degree program in Human Performance. While all of the degree programs prepare students for a rewarding career in the health field, the Sports Management program at Texas Southern University is very well-recognized and nationally renowned. In fact, the department program ranked 19th in the top 50 most affordable Selective Colleges for Sports Management – a profound feat for Texas Southern University. The Department, in its entirety, strives to deliver the most intimate educational experience – delivering a small scale 19:1 student/teacher ratio. Students enrolled in this department receive the highest quality educational care and support as they earn their degree.
Whether pursuing a career in Sports Management or in another area of the health and wellness realm, Texas Southern University prepares students for personal and professional success. Boasting a number of athletic teams (including basketball, football and even a bowling league!), over 80 organizational clubs and a bustling campus in the heart of Houston, Texas Southern University provides a rich and intellectually stimulating environment for students to learn, grow and achieve their dreams.