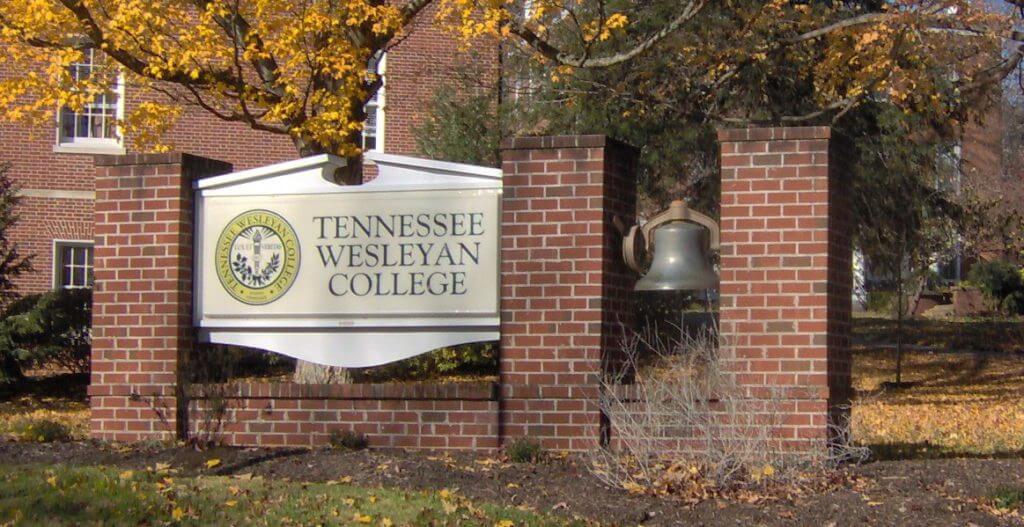 Tennessee Wesleyan University, also known as TWU, is a private university in Tennessee that has an affiliation with the United Methodist Church. Founded as the Athens Female College in 1857, it was one of the first schools in the south to offer college programs for young women. It changed its name multiple times over the years and became the first coed college in the south after opening its classes to male students. After consolidating with a college in Chattanooga, it became a junior college and then split off on its own to become a full university. Though it operated as Tennessee Wesleyan College for more nine decades, it officially became Tennessee Wesleyan University in 2016.
TWU offers more than 20 majors for its students including an individualized study program that allows students to build their own degree programs around their own interests. It also has agreements with six community colleges in Tennessee and in other states that allow students to complete some of their general education requirements on those campuses before moving to TWU. According to U.S. News & World Report, which ranks colleges across the nation in different categories, TWU ranks as the 41st best college in the southern region of the country. It boasts a number of opportunities and activities for students, including 17 varsity teams and a number of intramural sports for both male and female students.
Related Resource: 50 Most Affordable Small Southern Colleges for a Sports Management Degree 2016 (Bachelor's)
Tennessee Wesleyan University Accreditation Details
The Southern Association of Colleges and Schools (SACS) accredited Tennessee Wesleyan University when it was still a college and accredited it after the school became a university. This is a type of regional accreditation, which means that the university can offer students financial aid through both the federal and state government and that students can transfer the credits they earned to other accredited campuses. SACS requires that the university apply for a renewal of its regional accreditation at least once with a 10 year span. TWU also has specialty accreditation for its nursing program through the Commission on Collegiate Nursing Education.
Tennessee Wesleyan University Application Requirements
Tennessee Wesleyan University offers preview days that allow prospective students to tour the campus before they apply. You can visit all buildings on campus, tour the library, sit in on classes and even spend the night in a real dorm room to get a feel for the campus. Whether you take a campus tour or not, you can still apply for a spot in the freshmen class. Prospective students must take either the ACT or the SAT. You must score 870 or higher on the math and critical reading portions of the SAT or 18 or higher on the composite ACT. The university also requires that all incoming freshmen have a minimum grade point average of 2.25 on a traditional 4.0 scale without factoring in AP or other classes.
When you start the application process, the site will give you a personalized key. You can log in with that key to work on your application later. Once you finish the application, the university asks that you mail in an official high school transcript and an official test score. If the university accepts you, you will need to put down a $200 deposit that holds your place in the upcoming class and file the FAFSA. The university also requires that you put down a housing deposit and submit proof that you have up to date immunizations and health insurance.
Tuition and Financial Aid
Tennessee Wesleyan University charges $22,000 a year for tuition alone and an additional $1,000 for fees every year. If you enroll as a part-time student, you'll pay $570 per credit hour. The university also charges one flat rate for both a meal plan and housing on its campus. These plans range in price from around $7,400 to more than $9,000 a year, and some plans give you unlimited meals each week in campus facilities.
More than 80% of TWU students receive some type of financial aid, and many of those students receive a combination of assistance packages that cover many of their costs. The university offers both merit-based and need-based scholarships for those who take a full course load and take classes on its main campus in Athens. There are also scholarships available from the United Methodist Church for students of the same denomination. You'll need to complete separate applications to apply for each scholarship.
You may also qualify for either the Federal Direct Loan Program and/or a Direct PLUS Loan. PLUS loans let parents borrow money and caps the interest rate lenders can charge, while the Federal Direct Loan Program allows students to borrow an amount based on the number of credits they earned in previous years. TWU also has a program available that lets you work on campus and get regular paychecks during the school year.
Student Experience
The Tennessee Wesleyan Bulldogs are a member of the National Association of Intercollegiate Athletics (NAIA) and participate in the Appalachian Athletic Conference. Some of the university's former players competed at the professional level in both soccer and baseball. Its cheerleading squad is open to both males and females, but it also offers sports for just one of the sexes. Male students can join one of nine teams, including cross country, baseball, basketball, bowling, lacrosse, tennis and track and field. Teams open to females include cross country, basketball, bowling, volleyball, tennis and softball. Joining one of these teams will give you a unique perspective on the sports field as you study sport management.
TWU designed its sport management program to prepare students for working in careers as athletic coaches, sport agents, trainers, managers and directors. Some of its graduates even launched talent agencies and sports organizations of their own. The courses in this program are fairly diverse as well, and the university allows students to select the classes that best apply to their future careers. You can take classes in school health, health and aging, health promotions, kinesiology and therapeutic exercise. Some of the sport management classes you may want to take include sports marketing and research for sports and exercise professionals. Tennessee Wesleyan University also recommends that sport management students do at least one internship, and you can earn up to three credits for doing a single internship during one of your last semesters.