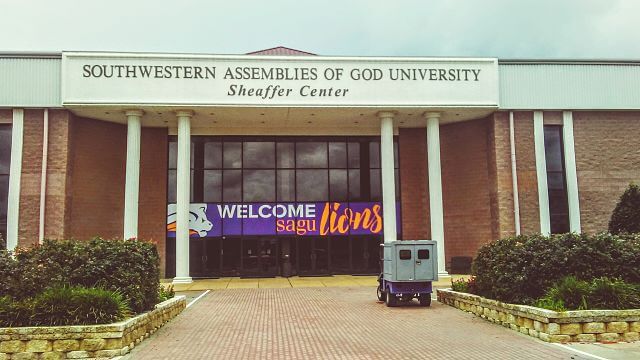 The Southwestern Assemblies of God University is a private university in Texas that is just a short drive from the Dallas and Fort Worth area. Its considers its founding date as 1927, which was when a school called the Southwestern Bible School opened. The Shield of Faith Bible Institute opened a few years later, and the Southern Bible College opened later. All three schools operated independently of each other and struggled due to poor and lowering enrollment rates. That led to the three schools merging together to form one institution. This new school initially moved to Oklahoma before moving to its current location in Texas. It renamed itself the Southwestern Bible College, got rid of the high school classes it once offered and brought in courses to create standard four-year degree programs.
Now called the Southwestern Assemblies of God University or SAGU, it has two separate colleges operating on its campus. One of those colleges focuses on professional studies, but the other offers programs on the Bible and Church Studies. Both colleges require that students follow religious teachings and learn how to use their own faith and beliefs on the job later. SAGU received some recognition and awards over the years. It ranks as one of the top 100 employers in the region, has one of the most beautiful campuses of all Christian colleges in the country and offers one of the top online graduate programs in counseling.
Southwestern Assemblies of God University Accreditation Details
SAGU has accreditation from the Southern Association of Colleges and Schools Commission on Colleges (SACSCOC), which is important for a few key reasons. This form of accreditation qualifies as regional accreditation and allows you to seek financial aid. It also lets you know that the university takes the education of its students seriously and that the classes you take will better prepare you for all future opportunities. This type of accreditation is also important because it applies to all degrees, including the graduate or doctoral degrees that you might seek later. The university is also a member of several professional groups that include the Association of Christian Teachers and Schools, National Association of Colleges and Employers and Texas Education Agency.
Southwestern Assemblies of God University Application Requirements
SAGU accepts all types of students into its programs, including those at the undergraduate and graduate levels as well as home school students and those who took college classes while in high school. Incoming students must have a score of 980 or higher on the newer version of the SAT or score at least 19 on the ACT. To apply as a new student, you must create your own unique account with the application website. Any score you submit must be five years old or newer. The application includes some standard questions and a section on faith and lifestyle. This section requires that you answer questions about your faith and religious beliefs, where you attend church and the name of your pastor.
To ensure that the information listed on the application is valid, the university asks for an official high school transcript. Any student who wants to transfer any credits will need a transcript from the college attended too. The high school transcript must show that you had a GPA of 2.0 or higher and that you graduated. If you haven't yet graduated, the transcript needs to include the date of your future graduation. You also need to pay the app fee and take placement tests that show where you need to start in certain classes like math and a foreign language.
Tuition and Financial Aid
SAGU uses a flat tuition rate that it calls a block rate for those taking classes on its campus. As long as you take 12 credits but no more than 15 credits, you'll pay only $9,725 a semester. The charge for students going over this amount is $695 per credit hour. If you take less than 12 credits, you'll pay $810 per credit hour. You also have the option of taking one or more online classes in any given semester. SAGU charges $575 per credit hour for all online undergraduate classes. The cost of living in a dorm room and buying a meal plan is around $5,000.
The university gives out nearly $30 million in financial aid each year. To see if you qualify for any standard aid like a grant from the state government or a federal loan, you need to use the FAFSA. Filing this form early lets you know by the beginning of spring how much aid you will get. The university reserves some scholarships for student athletes and those who are artists or play an instrument, other scholarships go to students with high test scores and/or a high GPA. SAGU has some grants that it awards incoming freshmen too.
Business Sport Management and the Student Experience
The Southwestern Assemblies of God University sport management program places a high level of importance on the business side of management. All classes offered in the program are small in size but big in knowledge. You'll take courses with just 10 to 15 other students and teachers who will guide you through any upcoming assignments you have. The university also designed its program to be more affordable that others. Its alumni graduate with up to 20% less student loan debt than the average student has.
SAGU wants its students to graduate and feel both comfortable and confident using their religious beliefs around others. That is why its core of courses includes a class on Christian business ethics, which shows you how to make decisions using your own core beliefs. This core also includes classes like principles of financial accounting, survey of economics, international business, business ethics, business law and principles of marketing.
This program includes courses on management studies and professional development too. Management studies classes include nonprofit management, principles of management and human resources management. Professional development classes include introduction to sport management, sport facility and event management, sport marketing and promotion and legal aspects of sport. You'll also need to do two sport management internships. Southwestern Assemblies of God University gives you the option of working for the same organization or agency during both internships or working for different groups to gain more experience in different fields.