This program appears in our ranking of Top 30 Bachelor's in Sport Management Degree Programs.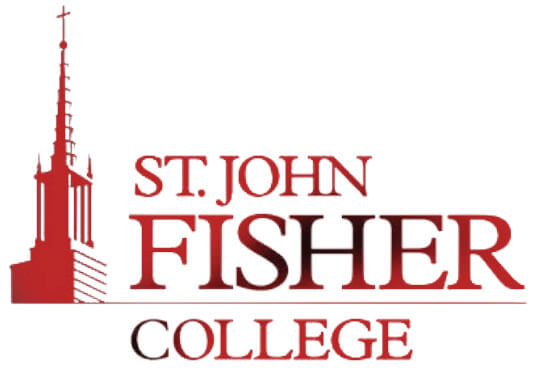 Saint John Fisher College offers students an undergraduate degree in sport management, as well as a minor in sport management from its School of Arts & Sciences. The degree is described as one that will help students understand all sports environments, from those at the amateur level to the professional leagues. In addition to a curriculum that covers a broad spectrum of business-related topics in the industry of sport, students will also get to participate in a 120-hour practical experience during their third year of study and a 400-hour internship during the senior year. Students may enter the program as first-year freshmen students or as transfer students.
As a program accredited by the Commission on Sport Management Accreditation (COSMA), students will earn a Bachelor of Science in Sport Management that will allow them to enter sport-related environments in marketing, event management, sporting goods, facilities management, or sales. Students who choose to minor in sport management at Saint John Fisher College may wish to major in management, marketing, or finance for the most complementary degree experience. Some of the places where students have gotten to participate in internships include Madison Square Garden, the Monroe County Sports Commission, the Empire State Games, the Big Brothers/Big Sisters of America, and the United States Olympic Training Center in Lake Placid.
A sampling of the sport management courses a student will take in the program includes Introduction to Sport Management, Sport Law, Theory and Behavior in Sport Organizations, and Sport Business and Finance. Students will also get to select electives from classes in business and the humanities like Gender and Sport, Psychology of Sport and Physical Activity, and Cultural Understanding Through Sport Film. Additional credits will be available to students in the areas of liberal arts, accounting, and management. Overall, students will take anywhere between 68 to 71 credits in degree classes for their Bachelor of Science in Sport Management from Saint John Fisher College, as well as additional courses in general education areas for a total of 120 credits to graduate.
About Saint John Fisher College
Located in Pittsford, New York, St. John Fisher College is a school of 3,700 students that was established in 1948. The college is a private school that was named after a Catholic bishop from England named John Fisher who was eventually made a saint by the Roman Catholic Church. The school has 23 different varsity teams that play as the Cardinals with a mascot of the same name. The school's official colors are cardinal red and gold, and students enroll in degree programs sorted under five different schools. The school was made coeducational in the early 1970s and became an independent institution affiliated with the Catholic Church in the modern era.
Schools housed within Saint John Fisher College include the Ralph C. Wilson, Jr. School of Education, the Wegmans School of Nursing, the School of Business, the Wegmans School of Pharmacy, and the School of Arts and Sciences. Virtually all students entering their first year at Saint John Fisher College are given some type of financial assistance with several merit-based and need-based scholarships being given out each year. Four of the most popular student-led clubs on campus include the Commuter Council, Student Activities Board, Student Government Association, and the Residence Hall Association. The college was awarded the Carnegie Community Engagement Classification in 2015 for the creation of the Teddi Dance for Love fundraising event, which has raised a million dollars in the past 35 years for children in need.
Saint John Fisher College Accreditation Details
The regional accrediting agency for Saint John Fisher College is the Middle States Commission on Higher Education. The college is also authorized to operate under the Board of Regents of the University of the State of New York. Several programs within the college are also accredited including the Sport Management Program, which has gained accreditation from the Commission on Sport Management Accreditation (COSMA).
Other programs at the school with accreditation include the Wegmans School of Nursing, which has been accredited by the Commission on Collegiate Nursing Education (CCNE), and the School of Business, which has been accredited by the Association to Advance Collegiate Schools of Business (AACSB) International. The Wegmans School of Pharmacy is recognized by the Accreditation Council for Pharmacy Education, and the overall college and its related programs are approved by the American Chemical Society.
Saint John Fisher College Application Requirements
Items required for freshmen applicants to Saint John Fisher College include a completed application, delivery of the student's official high school transcripts to the college, and a recommendation from a counselor or teacher. Students must also submit an essay as part of the common application and may also submit extra letters of recommendation or other types of information like resumes if they choose.
Students who want to apply to graduate level programs at St. John Fisher College will also complete an online application, submit an application fee, and submit evidence of a bachelor's degree and official transcripts from all colleges or universities attended. Students must also submit a statement of personal goals, a resume, and evidence of the TOEFL exam if the student's first language is not English. The doctoral programs at the college require unique application procedures, and students should check with each doctoral program to see the requirements.
Tuition and Financial Aid
Full-time tuition at Saint John Fisher College is $33,500 per year and is the same for all students since the college is a private school and doesn't offer varying rates for residents and non-residents. The school estimates that students will pay $7.940 for a housing plan and $4,460 for a meal plan each year, as well as $1,100 for books, $500 for transportation, and $900 for personal costs. For students who live on campus, the estimated cost of attendance is $49,210. For students who live with their parents, the estimated cost is $38,350. Students in graduate programs at the college will pay a different amount based on the program in which they enroll. For example, the MBA program costs $1,130 per credit while all other programs cost $950 per credit. The doctoral programs cost $1,400 per credit for the Executive Leadership degree, $1,330 for the Nursing Practice degree, and $1,120 for the Pharmacy degree.
Like other accredited colleges, students are eligible for federal student aid when they enroll at Saint John Fisher College and must submit their FAFSA form on time to receive an award letter from the school's financial aid department. The college will receive the student's FAFSA information a few weeks after it is submitted, and the student will then receive an initial award for financial aid. These awards are usually delivered in the second half of February. Not only may students be awarded financial aid in the form of loans, but they may also receive scholarships and grants from the school or government programs. Students are also eligible for private student loans and private scholarships when attending Saint John Fisher College.
Learn more about Saint John Fisher College at the Sport Management program website.