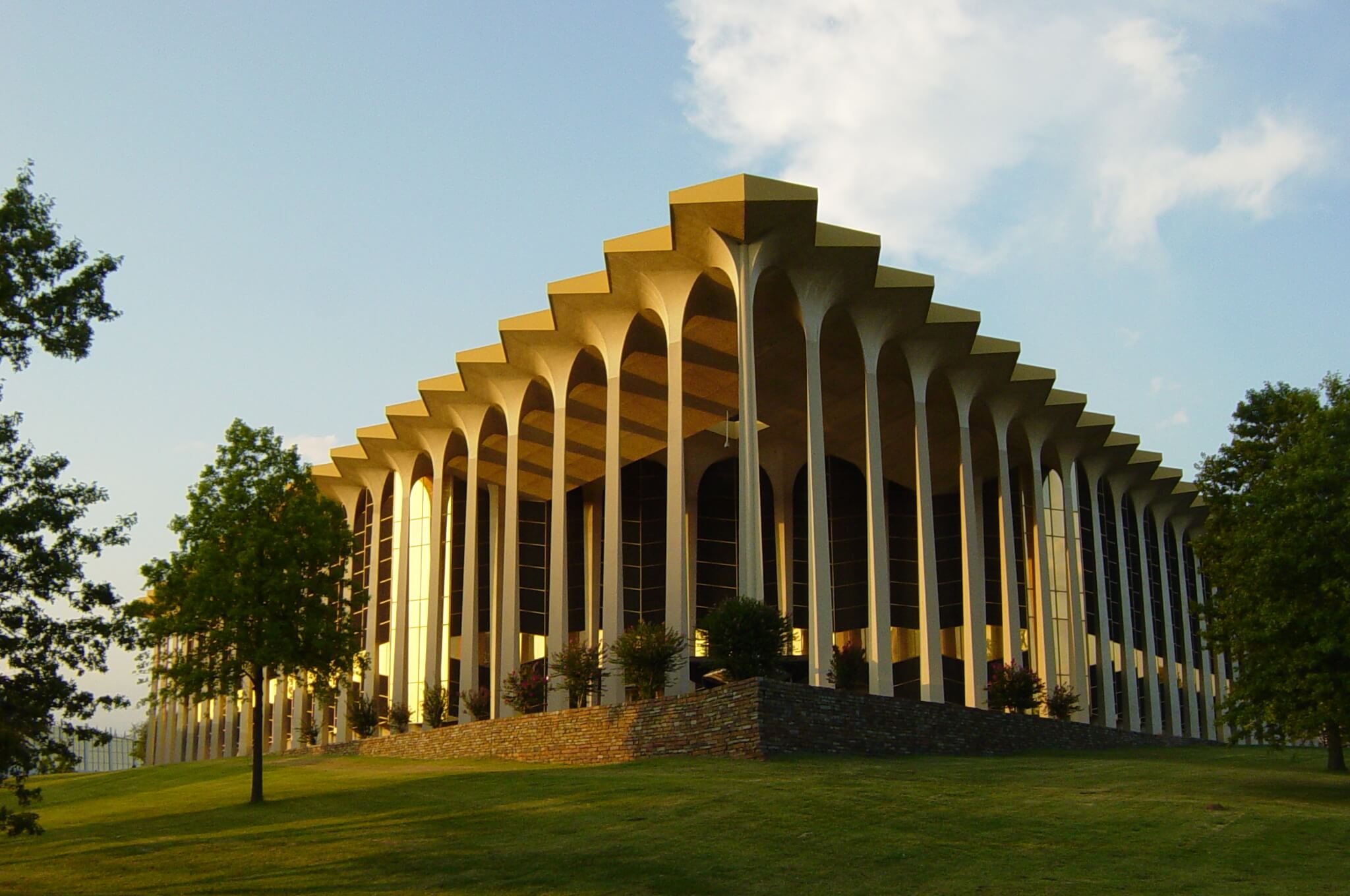 Oral Roberts University is a Christian university and a private college. Named after Oral Roberts, who was one of the most famous evangelists of his time, it dates back to the 1960s. Roberts claimed that God came to him and asked him to build a new school. It opened in 1965 and welcomed its first group of students in 1971. Roberts added a building he called a Prayer Tower near the center of the campus to encourage students to pray in between their classes. Construction increased in the 1970s and led to the campus enlarging its overall size and adding new buildings. Though financial problems led to the university nearly closing in later years, donations helped it reduce its overall debt and continue operating.
Though ORU has an honor code that all students must follow, the university relaxed its code over the years. Male students can now have facial hair, and both male and female students can wear different types of clothing. The code still prohibits students from engaging in certain types of sexual acts and makes them abstain from alcohol and drug use. It has its own radio station that students can work for and multiple athletic organizations that include teams playing under the Golden Eagles name. This is the same name used by the radio station.
Oral Roberts University Accreditation Details
The North Central Association of Colleges and Schools, which is a division of the Higher Learning Commission, accredited Oral Roberts University. It also has specialty accreditation, which is a type that only applies to certain degree programs or subjects. One example is the accreditation it has from the National Council for Accreditation of Teacher Education, which is for its education programs that teach students how to work as teachers. Some of the other specialty accreditation that Oral Roberts has comes from the Accreditation Board for Engineering & Technology, Accreditation Council for Business Schools and Programs, National Association of Schools of Music and Accreditation Commission for Education in Nursing.
Oral Roberts University Application Requirements
When applying to ORU, students have the choice between using an online or paper application. The paper application has the same sections as the online version, but students will need to download a copy, print it, fill out the application and then submit it to the university. All applications include a section on the student's personal information and a section on his or her parent(s). One section on the application asks for the contact details of the student's pastor. The university will contact that pastor and ask about the student's reputation and get a general reference for that student. There is also a section that features questions. Students need to write short essays to answer questions about their religious faith and what they hope to experience at ORU. All students must also sign the academic pledge, which is near the end of the application.
Those using the paper application must pay a $35 fee, but the university will waive this fee for students who use the online application. All students must also provide an official high school transcript and an official ACT or SAT test score. Those who took college classes must submit an official transcript from the colleges they attended. Oral Roberts University will waive this requirement for students transferring in a larger number of credits. The university also asks for immunization records from each student to ensure that incoming students are vaccinated.
Tuition and Financial Aid
Students attending Oral Roberts University full time pay around $26,500 a year. This figure includes the university's tuition and all its fees. Room and board costs an average of $8,700 a year too. The cost of living on the campus can increase based on the type of meal plan a student wants and the dorm rooms they select. ORU estimates that students will spend more than $5,000 a year on other costs such as the cost of transportation, textbooks and all the other supplies that they need.
Any student who needs financial aid will need to submit the FAFSA, which they can now file as early as October of the year before they want to apply. The FAFSA determines the amount of aid given to a student based on his or her overall family contribution. It determines that contribution based on the income that the student's parents or guardians make. The university mails out award letters in the late spring, but students will need to accept their award packages before the fall semester starts. An average award package can include state and federal grants and federal student loans. Students may work on the university campus and/or get scholarships too. Those who need more help can look into alternative student loans as well as parental PLUS loans.
Sports Management
Teams playing under the Golden Eagles name won several national and division titles over the years. Students enrolling in the university's sports management program will have the chance to play on one of those teams or work for one of those teams. This program also helps students find internships and work study opportunities with some of the top professional teams and organizations in Oklahoma, including the Oklahoma City Thunder and Tulsa Oilers. Some students will gain experience as they work for other college teams too.
In addition to declaring a minor, students also have the right to pick a concentration from within the sports management field. ORU offers concentrations in sales and marketing, sports broadcasting, operations and administration. Though students must take 25 credits of electives, they can take classes from any discipline.
The program requires that students take 55 credits of general education classes, 18 credits of concentration classes and 30 credits of sports management courses. Those classes may include sport facility and event management, global perspectives in sports and leisure, promotional management and organization and administration of programs. ORU requires that students pass a swimming proficiency test and that they take a class on first aid. Students also take courses on Christianity and religious beliefs as well as a class on communicating with others in professional settings. Oral Roberts University allows sports management students to do an internship with either a professional or amateur sports organization and can help those students find programs across Oklahoma and in other states.