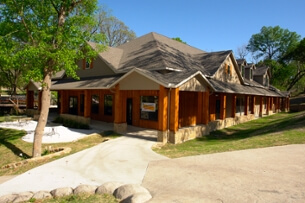 Northwood University – Texas campus is located in Cedar Hill in Dallas County. The university was created in 1966 and sits on a campus of 350 acres that is eighteen miles from urban Dallas. Northwood University is an educational institution that offers management-based majors specializing in unique areas. They offer two-year and four-year degrees in business administration with dozens of concentrations. These include accounting, advertising, economics, finance, entrepreneurship, international business and fashion marketing. They also offer specializations in hospitality, automotive, supply chain, computer information, information systems management. They are one of the only universities that offers a hybrid degree in sports, promotion and entertainment management. The DeVos Graduate School of Management also offers business administration degrees. Their Master of Business Administration (MBA) degree uses case study methods to practice and acquire management techniques.
The Northwood University – Texas campus only has an enrollment of around 1,300 students every year. The school is noted for having a large Hispanic student population and special programs for Hispanic culture and people. Approximately 45 are female and 55 percent are male. Over 33,000 students have graduated from Northwood University. Out of the 500 applicants who apply every semester, around 45 percent are accepted. The Northwood University system has three residential campuses, located in Michigan, Texas and Florida, and eight adult education program centers spread across the country. One of the four joint international degree program includes an academic partnership with a hospitality management institution in Switzerland. Northwood is a member of the National Association of Intercollegiate Athletics.
Northwood University – Texas Accreditation Details
-The university is accredited through the Higher Learning Commission (HLC) and the North Central Association of Colleges and Schools.
Northwood University – Texas Application Requirements
The admissions office offers a free online application and a fee-based paper application for potential students. The admissions application requires a high school GPA and transcript as well as ACT or SAT composite scores. The expected SAT critical reading score is 480 and the minimum is 390. A high SAT math score is 520 and a low score is 430. The low ACT composite is 16 and the high score is 20. Students must also include information regarding their class ranking, work experience, extracurricular activities and community involvement. Conditional admission will be determined for students who do not meet the regular admissions requirements on an individual basis.
Tuition and Financial Aid
Every semester, undergraduates should expect to pay $11,930 for 12 to 17 credit hours. They will pay around $23,860 per year, which includes $890 for student fees and $380 for technology fees. Students who take over 18 credit hours will pay $635 per credit and students who take one to 11 credits will pay $918 per credit.
When it comes to student financial aid, there are freshmen merit scholarships that are based on GPA and ACT and SAT test scores. The Net Price Calculator Merit Scholarship is based on the university's current financial aid policy and cost levels. Eligibility is decided based on official high school GPA, test scores and financial information. The Presidential Scholarship is $13,000, the Freedom Scholarship is $11,000, the Free Enterprise Scholarship is $9,000 and the Entrepreneur Scholarship is $6,500. The Northwood University Grant amount depends on the fund availability each year. In order to qualify for financial aid, students must complete the Free Application for Federal Student Aid (FAFSA). The average Federal Pell Grant amount is $5,800 and the Federal Supplemental Educational Opportunity Grant (SEOG) amount varies every year.
Student Experience
Northwood University – Texas offers a very unique degree program for students interested in the exclusive world of sports entertainment. The Bachelor's Degree in Entertainment, Promotion and Sport Management focuses on business skills and principles related to the sports entertainment industry. There are classes on sports management that focus on law, economics, psychology, sociology, public relations and event management. For example, an introductory class to the sports entertainment environment will provide an overview of the structure of each industry. These classes will segment the sports industry into familiar areas like professional, college and high school sports. The entertainment industry is segmented into areas like film, TV, radio, social media and publishing. Classes on legal issues in sports management investigate current legislation that impacts operations and decision making. Landmark cases are reviewed to understand legal reasoning and associated rights and restrictions. Classes on sports entertainment marketing analyze the many issues faced by marketing professionals and their associated sponsoring companies and organizations.
Classes on event promotion and sponsorship help students gain an understanding of the business concepts and practices behind sponsorship and event planning. Students will apply these theories through developing strategies for a research project and professional presentation. This degree programs offers seminars with experienced instructors who share their real world experiences. This help students understand practical strategic processes and business policy concepts. This degree program includes a mandatory 400-hour internship and one practicum. Student obtain hands-on experience by working with professionals in the field of sports entertainment and management. Past internships have included assignments with professional sports teams, semi-pro sports teams, sports events and even music festivals. Students work with their academic advisor to set the appropriate goals and parameters for their field experiences. After the internship is complete, students will be required to submit a research paper that touches on academic theories, applied experience and internship insights.
Students who pursue this unique degree will have many opportunities to participate in local Entertainment, Sport and Promotion Management Association (ESPMA) activities and events. These will provide many opportunities to network and interact with alumni, industry professionals and entertainment figures. There are also plenty of opportunities to travel to and participate in major sport and entertainment events. The Bachelor's Degree in Entertainment, Promotion and Sport Management offers study abroad tours through the U.S. and Europe. Graduates with this degree may find work as sports bloggers, player managers, compliance professionals and sports market researchers. There are many job opportunities for graduates within the fields of sports brand, season ticket, player appearance and social media management. Northwood University – Texas is a unique university with a unique sports entertainment degree program.