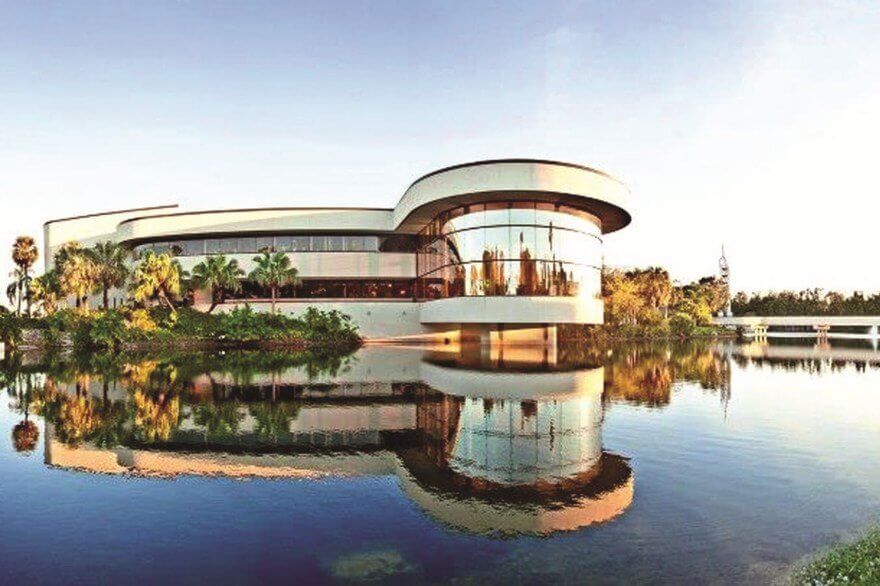 Northwood University was formally established by Arthur E. Turner and Gary Stauffer in 1959 with an inaugural class of 100 at a 19th-century, three-story mansion on Alma's State Street. By 1964, the Institute expanded its operations to Orange County, Indiana, by acquiring a Jesuit theological school. Four decades later, Northwood has gone global with its Hotel Institute Montreux in Switzerland. Endowed for $72.7 million, Northwood now educates 3,631 Timberwolves total as a private, nonprofit teaching college. From its 90-acre main campus in Michigan's Saginaw-Midland-Bay City Metro, Northwood University acts as a "Business School for Busy People" with adult and online programs.
Approaching its 60th year, Northwood University has over 33,000 alums, including Dick DeVos, Candice Miller, Ana Brnabic, and Blake Koch. The U.S. News recognized Northwood for America's 84th best online graduate business and 156th top online bachelor's degrees. On Niche, Northwood stands as the 212th safest college, 263rd most conservative school, and 323rd top B-school nationally. Money Magazine ranked Northwood as the country's 458th best value with an average starting salary of $43,400. Graded "C+" by Forbes, Northwood University is placed 610th by The Economist for value added. The Michigan Veterans Affairs Agency also labeled Northwood a "Certified Veteran-Friendly Silver School."
Northwood University Accreditation Details
Reaffirmed in 2010 under president Keith A. Pretty, J.D., Northwood University maintains regional accreditation from the Higher Learning Commission of the North Central Association (HLC-NCA). This means all Northwood programs from Alpena to Clinton Township and Saginaw are recognized by the U.S. Department of Education. Northwood holds programmatic approval from the Accreditation Council on Business Schools and Programs (ACBSP) Baccalaureate/Graduate Degree Board.
Northwood University Application Requirements
Getting into Northwood University for the Entertainment, Sport, & Promotion Management B.S. won't be effortless with the "selective" admission rate of 70 percent. Garnering nearly 2,200 applications yearly, Northwood requires finishing a high school diploma or GED certificate. Preference is given for freshmen who've completed the Michigan Merit Curriculum or an out-of-state equivalent with four credits of English, three credits of math, and three credits of science. Courses like AP Calculus or Microeconomics would be viewed favorably. On average, first-year Timberwolves present a secondary GPA of 3.16. Admitted bachelor's students also achieve a median SAT score of 1010 and ACT score of 25.
Skipping the freshmen admission process will require transferring 23+ non-remedial credits from a regionally accredited college with a minimum 2.0 GPA. Transfer agreements exist with several Midwest schools like St. Joseph's College, Mid Michigan Community College, Lake Michigan College, and Ohio Technical College. Certain funds like the Freedom Transfer Scholarship will mandate a 3.4 GPA or greater though. International students on F-1 visas are subject to English fluency testing for a minimum TOEFL pBT score of 500 or IELTS score of 6.0. Continuing into the MBA requires accredited bachelor's degrees, cumulative GPAs above 2.75, and GMAT scores.
Northwood University has a rolling admission policy, but housing deposits are due May 1st and SAT/ACT scores are due August 1st. The first step for Entertainment, Sport & Promotion Management B.S. majors is to complete the Undergraduate Admissions Form online. Extra materials might be mailed. Don't forget the following:
• Non-refundable $25 fee ($50 for post-grads)
• Secondary and post-secondary school records
• College admission testing results
• One to three letters of recommendation
• Portfolio for life experience credits if desired
• Personal statement of activities and achievements
Tuition and Financial Aid
Full-time undergrads in Northwood's Entertainment, Sport & Promotion Management program are charged $25,130 for yearly tuition. Living on-campus in Midland will add roughly $9,880 per year for room and board. Northwood suggests budgeting $1,250 for books and $2,838 for other expenses like transportation. Annual cost of attendance for full-time B.S. majors is $30,588 off-campus and $39,098 on-campus. The total price tag for the 120-credit, four-year degree will be $122,352-$156,392. Students in the Accelerated 4+1 track will pay $12,360 for each post-grad semester with 9+ credits.
According to the NCES, 73 percent of full-time Northwood Timberwolves share $22.54 million in annual financial assistance for a mean amount of $10,573 each. Aspiring sport managers could earn institutional awards like the Entrepreneur Scholarship, Free Enterprise Scholarship, Freedom Scholarship, Presidential Scholarship, Phi Theta Kappa Scholarship, James Ayre Memorial Scholarship, Pendell Family Scholarship, and Athletic Scholarship. After filing the FAFSA via code 004072, undergrads could earn the Federal Pell Grant or FSEOG Grant. Many will borrow Federal Perkins, Direct Subsidized, Direct Unsubsidized, Direct Consolidation, or PLUS loans. Living in the Mitten State qualifies you for the Michigan Tuition Grant, Michigan Competitive Scholarship, and GEAR UP Grant. Need-based FWS campus jobs, including in the Bennett Athletic Performance & Wellness Center, pay at least $8.90/hour.
Student Experience
Northwood University is a premier regional, business-oriented school offering 22 bachelor's and three master's degrees, including the Entertainment, Sport & Promotion Management B.S. The adult-friendly, 120-credit curriculum offers daytime, evening, and hybrid online formats for teaching undergrads how to lead in today's $479 billion entertainment market. Chaired by Dr. Jacob Augustin, the program has a 21:1 student-faculty ratio to keep trained professors close in courses like sport sponsorship, revenue generation, sport economics, event production, and sports psychology. Ambitious undergrads might also enter the Honors Program or DeVos Accelerated MBA 4+1 Program.
From day one, Northwood undergrads are introduced to the real world of athletics with firsthand experience in the on-campus Hantz Football Stadium, Bennett Sports Center, Gerace Auditorium, Dean Soccer Field, and Strosacker Athletic Training Program. For instance, the Athletics Department currently offers an in-game promotions internship for 10 hours weekly. Northwood University's location also makes it ideal for garnering internships with the Detroit Pistons, Detroit Tigers, West Michigan Whitecaps, Grand Rapids Griffins, Kalamazoo Growlers, Lansing Lugnuts, Saginaw Spirit, and more. Other hands-on opportunities include volunteering for the Great Lakes Bay Marathon, studying abroad in France, and coordinating Homecoming events annually.
Whether you live on-site in Knights Cove or at home, you'll be welcomed into engaging campus life with 50+ registered student clubs. Sport management enthusiasts might join the Entertainment and Sport Promotion Management Club, United Way, Outdoor Club, Transfer Club, Student Athletic Advisory Committee, Cheerleading Club, Rugby League, and more. Each year, key events like the Stafford Dinner, Northwood Style Show, and Distinguished Women Awards Gala occur. Athletes also compete on 16 varsity teams in the NCAA Division II. In 2016, Northwood University boasted the women's tennis and men's soccer GLIAC Conference champs.