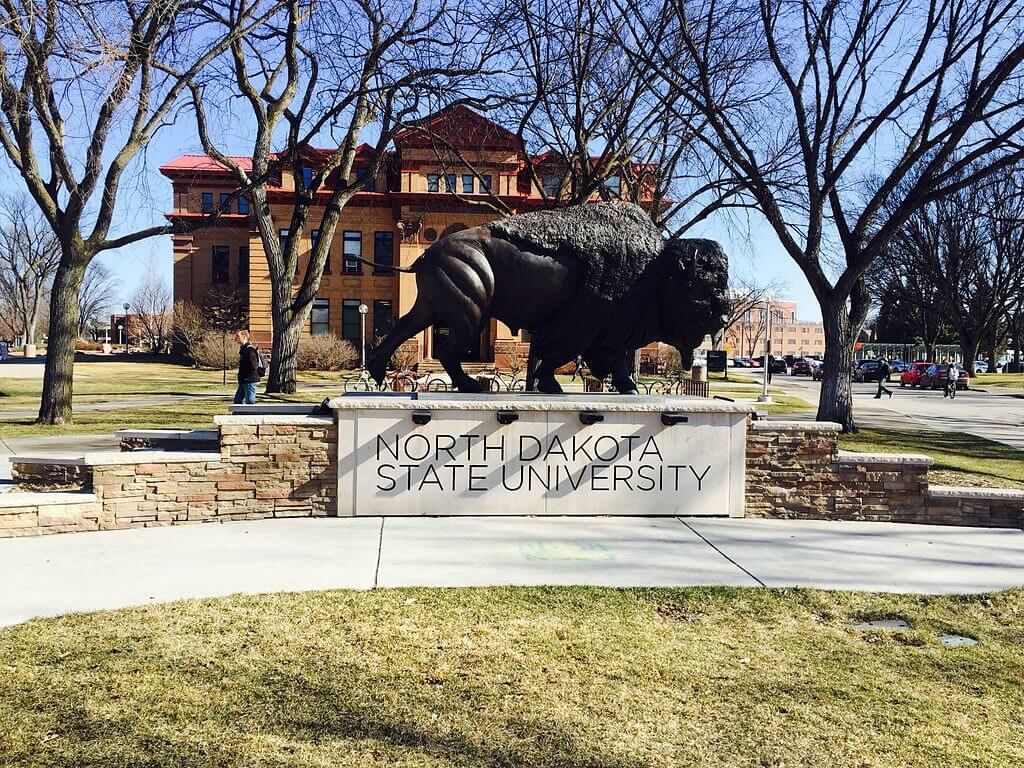 North Dakota State University is the shortened name of the North Dakota State University of Agriculture and Applied Sciences. The federal government had plans to open a college in the Dakota Territory, but it took nearly a decade before the school finally opened in 1890. It was so small during its early days that it actually rented rooms to use for its students. NDSU received its own separate campus a few short years after opening, though one of the oldest buildings on campus actually opened one year after the college did.
Most students today think of the Main Campus when thinking of NDSU. This main campus features some of the newer and more modern buildings constructed by the university. It has more than 200 acres of land and more than 100 buildings. NDSU also operates a downtown campus that has around 4,000 enrolled students and a handful of buildings. The university established nine extension campus that allow students to take courses as well. These centers are in both rural and more urban settings. Despite having a population of less than 15,000 students, NDSU appeared on several lists of the top national schools, including those issued by U.S. News & World Report and Washington Monthly. As part of the North Dakota State University School System, NDSU is one of the state's largest colleges.
North Dakota State University – Main Campus Accreditation Details
North Dakota State University is regionally accredited by the North Central Association of Colleges and Schools. NCACS accreditation allows students to apply for financial aid through the government and complete the FAFSA, but this type of accreditation also guarantees that students will earn a worthwhile degree. NCACS is one of several regional organizations that ensure colleges do everything possible to retain accreditation. It does so through the use of routine check ups that take place every decade. Students interested in the university's dietetics programs will find that those programs have accreditation from the Academy of Nutrition and Dietetics. Other programs also have specialty accreditation, including its programs in couple and family therapy, interior design, music and art. Those forms of accreditation come from organizations that include:
Accreditation Council for Pharmacy Education
American Association for Marriage and Family Therapy
Commission on Collegiate Nursing Education
Commission on Accreditation of Allied Health Education Programs
American Council for Construction Education
National Association of Schools of Theatre
North Dakota State University – Main Campus Application Requirements
Unlike other colleges that require students start classes in the fall, NDSU lets students enroll before the start of the fall or spring semester. Those entering in the fall must complete the application and all requirements by the end of August, but those who start in the spring have a deadline of December. Early admissions students must fulfill all requirements by either January or April. These requirements include the online application itself. As a new student, you can sign up for a free account, choose your own user name and select your own password. This lets you log in and out of the system anytime you need to and finish each section of the application over several hours or longer. Once you finish your application, you will need to submit both a transcript from your school and the score you received on the ACT or SAT.
NDSU highly recommends that prospective students visit the campus before submitting an application. You will have the chance to tour the campus, see the dorm rooms available to freshmen, sit in on classes and even sample the food in the cafeterias. NDSU can also arrange for an overnight visit that lets you spend the night in a dorm room on campus.
Tuition and Financial Aid
The cost of attending NDSU depends on where you lived before enrolling. North Dakota residents pay $6,762 for tuition alone, which rises to around $15,000 a year when you add in all fees, a dorm room and a meal plan. Minnesota residents pay $7,574 for tuition and around $16,400 for all fees and expenses. If you come from outside of those two states, you can expect to pay around $27,000 a year for a dorm room, meal plan, all fees and tuition. NDSU also takes part in two exchange programs that let students from select states in the Midwest and western parts of the country pay less for their classes. Tuition exchange students pay $10,100 for tuition alone and around $18,900 for tuition and all expenses.
NDSU offers merit scholarships to students who earned a 1090 on the SAT or a 24 on the ACT and have a grade point average of 3.5 or higher. Even if you do not qualify for a merit scholarship, you may qualify for a need scholarship. The university will only inform you of your financial aid package when you file the FAFSA. NDSU packages usually include some combination of loans and grants, and you may qualify for a work-study job too.
Sports Management at NDSU
The NDSU sports management program allows students to do internships both in North Dakota and outside of the state. Students previously worked for organizations in Minnesota, South Dakota, Oklahoma and even Arizona. Students generally earn three credit hours for those internships, and the program requires that they do at least one internship. The university also has its own Sports Management Leadership Association that gives students the chance to take field trips, work with other students and gain experience in various areas of both sports and recreation. Before you enroll in this program, keep in mind that you must maintain a GPA of 2.7 or higher as a freshman. If your GPA drops, the university will put you on academic probation and may eventually drop you from the program.
As a sports management major, you must take 40 credit hours of general education courses in topics like writing, communications, science, fine arts and social science. You will then take 42 credit hours of required sports management courses. The university offers classes like sports promotions, social aspects of sports, sports administration and spots law. You must also take 40 credit hours of electives to complete a total of 122 credit hours. North Dakota State University gives students the option of taking electives in and out of the business department.