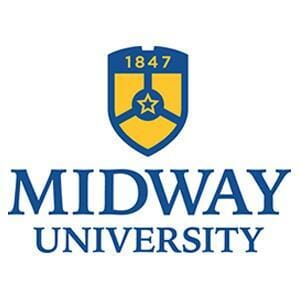 Midway University offers a Sport Management degree program that prepares students for leadership roles in the sport management industry. Students gain an understanding of the industry as well as fundamentals of marketing, events, facilities, finance and management. In addition to 34 credit hours of general education, major courses required for the program include:
Communication in Sport
Facility Management and Design
Financial Applications in Sport
Introduction to Sport Management Theory and Practice
Legal Issues in Sport
Managing Sporting Events
Management and Leadership in Sport
Principles of Management
Principles of Marketing
Socio-Cultural Dimensions in Sport
Sport Marketing
Sport Psychology
Students are required to complete an internship as well. The program was recently named 13th in the country for most affordable Sports Management programs in the country by Sports Management Degree Guide.
Related Resource: 50 Most Affordable Selective Colleges for Sports Management
About Midway University
Initially, Midway University was known as the Kentucky Female Orphan School. The school was the vision of Dr. Lewis Letig Pinkerton, a physician and Christian Church minister. Along with James Ware Parrish, funds were raised to create a school that, at the time, was a revolutionary experiment and the campus opened in 1847. During this era, few women received formal education and were only taught to read because it was thought it important when they became mothers. It was believed that teaching women to read would allow them to read the Bible to their children, and that was the sole purpose for teaching them the skill. Female orphans were often not even provided that small amount of schooling and many faced a long life as a maid or laborer.
Dr. Pinkerton created a curriculum that was designed to address these issues. Many of those who were educated at the college became teachers themselves, providing learning opportunities for other children in Kentucky. Until 2016, the school served women only. In that year, the Board of Trustees voted to become coeducational and now Midway provides outstanding education to both women and men. The school is still affiliated with the Christian Church (Disciples of Christ).
Today, there are 1,217 students enrolled at Midway University. Although the school is affiliated with the Christian Church (Disciples of Christ), students of all denominations and faiths are welcome. USA Today ranks Midway University as the 11th best college in Kentucky while U.S. News & World Report rank it one of the top 100 regional universities in the South.
Midway University Accreditation Details
Midway University is regionally accredited by the Southern Association of Colleges and Schools Commission on Colleges. This accreditation indicates to parents, students and employers that graduates of Midway University are well-prepared for careers in their chosen field of study. It also indicates that the school agrees to periodic evaluations and to address any areas that are designated as needing improvement during those evaluations.
Midway University Application Requirements
In order to apply to the undergraduate Sport Management program at Midway University students must apply online. Students who have not earned college credit after high school graduation are considered first time students. They must provide official ACT or SAT scores as well as official high school transcripts or GED scores.
Students who have earned college credit after high school graduation are considered transfer students. Official transcripts from all colleges and universities attended must be provided as well as an official high school transcript for any student who has earned less than 24 credits. Students who are transferring in less than 24 credits must also provide official ACT or SAT scores. Students must have an overall GPA of 2.0 in all college studies.
Midway University also offers a Credit for Prior Learning option which allows students with learning experiences outside the classroom to get college credit hours toward a degree. Students may obtain credit by providing transfer credit from another accredited college or university, military credit or by taking an examination to determine their knowledge. Students may also obtain credit through a portfolio assessment or credit from a workshop that has been approved by the American Council of Education.
Midway University Tuition and Financial Aid
Tuition for the Sport Management program at Midway University is $425 per credit hour. Financial aid is available. Students may qualify for federal aid which could include Pell Grants and Supplemental Education Opportunity grants. They may also qualify for the Kentucky College Access Program, Tuition Grant, Teacher Scholarship, Education Excellence Scholarship or the Coal County College Completion Scholarship. Students may also be eligible for Direct, Parent PLUS or Grad PLUS loans. In order to qualify for any financial aid at Midway University, students must complete the Free Application for Federal Student Aid (FAFSA).
Midway University began to provide higher education to orphaned women, but today provides both men and women with excellent educational options. The Sport Management degree program at Midway University is available in an on-campus or online format. This allows working adults who may have barriers to traditional methods of higher education to achieve their education goals. Midway College offers flexible online and evening programs so that working adults can move into a new career or advance in a current career.
Learn more about Midway University on the Sport Management Department website.