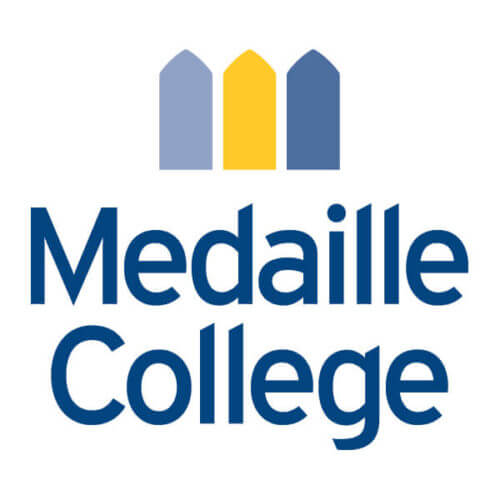 Medaille College is a small college in located in Buffalo, New York, though the school offers a secondary campus in Rochester, as well as an online campus. With an undergraduate population of only 1,400 students, Medaille College offers a few unique qualities to its students including a close-knit atmosphere on-campus and plenty of opportunity to practice new-found skills.
Medaille College Accreditation Details
Medaille College has been awarded accreditation by the Commission on Higher Education of the Middle States Association of Colleges and Schools.
In addition to this blanket college accreditation, Medaille College also offers the following accreditations for individual programs:
American Veterinary medical Association
Council for Accreditation of Counseling and Related Educational Programs
Commission on Accreditation for Health Informatics and Information Management Education
International Assembly for Collegiate Business Education
Teacher Education Accreditation Council
Medaille College Application Requirements
Medaille College is a small college and this allows it to make individual decisions about the applicants that it accepts for enrollment into the college.
To apply for admission to Medaille College, potential undergraduate students must first complete the online application available on the school's website. The school does not require a fee to submit the application.
After the application is submitted, prospective students must send their official high school transcripts along with their SAT or ACT test scores to the Medaille College admissions office in Buffalo. Along with these scores, students should include personal essay and a letter of recommendation. Although the essay and letter is not a required part of the admissions process, both are strongly encouraged by the admissions board.
There are no deadlines for applying to Medaille College. All admission is considered on a rolling basis. Applying early is the best option for making the most of the scholarships and other sources of financial aid available from the school. However, admission continues each year until the class size is fulfilled.
As a part of their individual approach to the admissions process, the admissions board at Medaille College encourages prospective students to make appointments to meet with the members of the admissions team. This can happen in person on the campus in Buffalo or on Skype.
Tuition and Financial Aid
The tuition fees for undergraduate programs at the Buffalo campus of Medaille College are $26,252 per academic year. However, if the student chooses to go part time, the tuition rate is $925 per credit hour.
These costs are not inclusive of room and board. Students have several options to choose from for room and board. Single rooms coast $13,550 per academic year. Double rooms cost $12,460 per academic year. Triple rooms cost $11,240 per academic year.
Medaille College awards nearly $43 million in financial aid each year. Medaille College offers the following forms of financial aid to enrolled students:
Grants
Scholarships
Loans
Work Study Programs
Student Experience
The college is located in Buffalo, the second largest city in the state of New York. Buffalo offers many opportunities compared other cities in the state, yet, it offers a small town feel compared to New York City itself. As a result, students who attend colleges in Buffalo tend to stay in the area because of the burgeoning economic and cultural economic opportunities with a comfortable pace of life.
Medaille College has created a program that offers students a chance to learn through hands-on practical experiences. This practical experience is a part of the focus on student success at the college. To help support this goal of providing academic success to every student, the school provides guidance through several well-established institutions. These departments include Career Planning, the Advisement Center, the Academic Support Center and Disability Services.
The sports management program at Medaille College is the perfect example of the academic approach taken by Medaille College. This program prepares students for a global and in-demand industry by teaching both classroom theory and practical experience in the field. Students benefit from a choice of practical focuses in the program including:
Coaching
Sport law
Stadium management
Sport psychology
Marketing and promotion
Strength and conditioning
All of these focuses are a part of a program that is a part of the Division of Management and Leadership. The program is also accredited by the International Assembly of Business. Students can also choose to become an accredited coach with the programs New York State coaching certification.
All of the classroom experience culminates in an internship where, with the help of supervisors and professors, students can make the connections they need to make it in a high-pressure, face-paced industry.
In this and many other programs, students have the chance to begin a life that is full of opportunity. The close-knit atmosphere at the college helps students realize that they have what they need to succeed and provides the educational support they need to get where they want to go.
Some of the other programs offered by the college include:
Accounting
Business Administration
Communication
Education
English
Liberal Studies
Criminal Justice
Psychology
Veterinary Technology
The faculty and support staff at the Medaille College help to provide the guidance and mentorship that students need to graduate their degree on time. If a student struggles or feels as though they are falling behind at any point during the program, they can work with their faculty and advisors to help develop a success plan to help keep them on track to get their degree as quickly as possible.
The college is proud of an education program that is practitioner-based and it also offers a program where college experiences meet career preparation. With this focus, the college offers faculty who are practicing their field. This makes their advice valuable not only on the degree program but it stands up when students leave the college as well.
The Medaille Advantage is not that students have academic and extra-curricular opportunities at school. It is that students are treated as individuals and not as an enrollment number. Students who are looking for one-on-one personal attention are the students who would most benefit from the experiences offered by Medaille College.