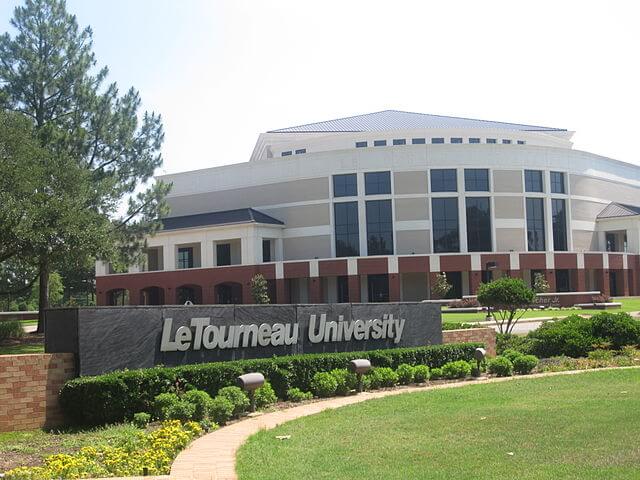 LeTourneau University was first opened in February 1946 as LeTourneau Technical Institute by prolific inventor Robert Gilmour LeTourneau and his wife, Evelyn Peterson. The all-veteran academy originally offered high school and college tradeskill programs. When the founders' son, Richard H. LeTourneau, became President in 1968, the East Texas institute expanded into a private, Christian bachelor's institution with a $17.6 million endowment. Belonging to the CCCU, LeTourneau inspires around 2,700 Yellowjackets for exhibiting "Christ-like character" in primarily STEM fields. Occupying 162 urban acres, LETU is located in Longview, America's 370th "Best Green City, just 30 miles from Louisiana. LeTourneau also teaches non-traditional students in McKinney, Plano, Houston, and online.
For 2017, the U.S. News ranked LeTourneau University as the West's 27th best regional college, 15th most veteran-friendly school, and fourth top value with 77 percent retention. On Niche, LETU was graded B+ overall as America's second "Best Online College" and 55th "Best College with No Application Fee." Kiplinger's Personal Finance ranked LeTourneau as the country's 62nd best private college based on cost. In the master's category, Washington Monthlycrowned LeTourneau University the 364th best institution nationwide. College Factual included LETU in the top 15 percent of schools for gender diversity and management education. According to the Houston Business Journal,LeTourneau also reaps Texas' fifth highest ROI.
LeTourneau University Accreditation Details
Reaffirmed through 2026, LeTourneau University holds Level III accreditation without public sanctions from the Southern Association of Colleges and Schools (SACS). This regional agency has reviewed LETU's five academic divisions for quality and federal Title IV eligibility under the U.S. Department of Education. LeTourneau is licensed by the Texas Higher Education Coordinating Board (THECB). Management courses are also approved by the International Accreditation Council for Business Education (IACBE).
LeTourneau University Application Requirements
Getting into LeTourneau University isn't easy with the "more selective" admission process only admitting 45 percent of applicants in Fall 2015. Sports management majors need to have graduated with a high school diploma, finished a homeschooling program, or received a GED/HiSET. Before matriculating, curriculum prerequisites like four units of English, three units of math, and three units of science must be fulfilled. Freshmen are admitted with a cumulative secondary GPA of 3.59. Good grades in rigorous coursework should be accompanied by a minimum ACT score of 20 or SAT CR&M score of 1030. Upholding the Honor Code and Behavioral Expectations is also essential.
Current undergrads interested in the B.S. in Kinesiology concentration could transfer with at least 12 college-level or ACE credits. Courses earned at regionally accredited colleges must have been graded "C" or higher for three-credit transfers. Foreign transcripts can be evaluated via World Education Services, Inc. International transfers whose first language isn't English must score at least 71 on the Internet-based TOEFL or 590 on the TOEIC. Competitive transfers generally have a post-secondary GPA of 2.50 or better. Having already taken core courses like English composition, speech communication, college algebra, and human anatomy is suggested for accelerated learning.
LeTourneau University has rolling admission, but the absolute final deadlines are December 15th for Spring, April 24th for Summer, and August 7th for Fall enrollment. Prospective applicants must create LetNET account for submitting the free online application with:
• Transcript requests for each school attended
• Official scores for SAT, ACT, CLEP, and AP
• One to two letters of recommendation
• Completed statement of faith
• Tests of English as a foreign language
• Resume of work and academic experiences
Tuition and Financial Aid
Traditional, full-time undergrads at LeTourneau pay a flat-rate tuition of $27,930 each year with mandatory fees for $550. Summer tuition costs less at $355 per credit. Residential students need to budget $9,770 annually for housing and meal plans. Total Fall and Spring enrollment costs roughly $38,950. This figure doesn't factor in the estimated $1,550 for books and $1,254 for personal expenses. Online undergrads in programs like the BBA spend $9,585 to $12,825 each year. Getting into graduate degrees, such as the Master of Strategic Leadership, will cost $18,450 yearly on average.
Even though only 66 percent of LETU undergrads earn financial aid, the average package gifts $12,939. Pursuing the B.S. in Kinesiology: Sports Management Concentration could be cheaper with institutional awards like the Freshman Academic Scholarship, Church Matching Grant, Heritage Scholarship, and Rhonda Brock Memorial Endowed Scholarship. Lone Star State residents may obtain College For All Texans aid like the Tuition Equalization Grant. Low-income learners often receive the Federal Pell Grant and FSEOG Grant. Undergrads could borrow money with Direct Subsidized/Unsubsidized, Perkins, PLUS, Texas College Access, and private loans from Elm Resources. Federal Work-Study part-time jobs also pay at least $7.25/hour.
Student Experience
Rooted in Biblical studies, LeTourneau University attracts students from 30 countries and 48 religious denominations for pursuing vocations in 60+ majors. At the Longview campus, the B.S. in Kinesiology program offers four concentrations: Exercise Science, Sports Management, Sports Ministry, or Sports Communication. The 128-credit curriculum blends coursework from the School of Arts and Sciences with the IACBE-accredited School of Business for sports industry preparation. Sports management hopefuls could also pursue LETU's Bachelor of Business Management wholly online. Those with a minimum 3.65 GPA could join the Honors College for an extra $1,000 scholarship. Courses are highly engaging and personalized with the 14:1 student-faculty ratio.
Studying sports management extends beyond the LeTourneau classroom into the state-of-the-art, 75,000-square foot Solheim Recreation and Activity Center. Majors gain access to the Conrad-Vernon Field, Davis Tennis Courts, and LETU Soccer Field. Each year, students help run the Men's and Women's Basketball Camps for teens aged 13 to 19. Faculty-led kinesiology research takes place habitually in the Glaske Center for Engineering, Science, and Technology. Beyond campus, sports management undergrads have interned with the Dallas Stars, Boys and Girls Club, Pine Cove, Parke Way, Longview ISD, and more. Exchange programs can send students abroad from Scotland to Ecuador and Australia.
Seventy-three percent of LeTourneau Yellowjackets live on-site, so campus life is buzzing with over 50 student clubs. Future sports managers could enjoy participating in the Powerlifting Club, Outdoor Club, Parkour and Free Running Club, Athletics in Action, and Sigma Beta Delta Honor Society. Students could also join the Texas Association for Health, Physical Education, Recreation and Dance (TAHPERD). The Student Activities Council will host annual events like the Starlight Soiree, Hootenanny, and Valentine parties. Cheering on the 13 NCAA Division III varsity teams is another pastime. In 2014, LeTourneau University baseball team won the American Southwest Conference Championship.