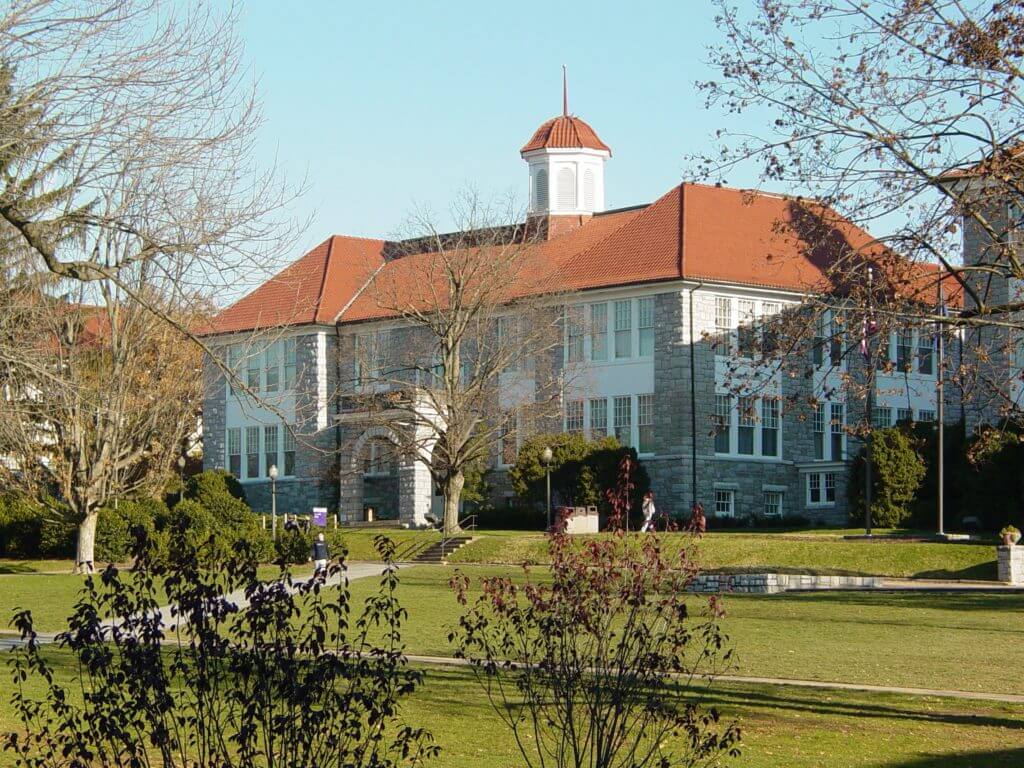 Located in Virginia, James Madison University opened in the early 1900s as a normal school for women. Normal schools were a common type of institution during this era that offered classes for future teachers and awarded graduates certificates or diplomas in lieu or degrees. Some of the programs that the college later introduced were similar to those offered by community colleges and junior colleges today. The university became a full college during the 1920s and expanded beyond simply teaching classes. It adopted the name James Madison University to reflect the former American President of the same name. Madison owned a house near the location of the campus.
Both the main campus and the graduate school operated by JMU received recognition from major organizations and publications. Forbes included JMU within the top 200 of best colleges in the country, while Washington Monthly picked its graduate school as one of the top 70 best graduate schools in the nation. U.S. News & World Report ranked JMU at number seven on its list of best colleges within the region and honored its graduate program as one of the top 10 in the country too. JMU also received recognition as one of the top party schools in the United States from Playboy and as one of the most conscientious schools in the country by the Princeton Review.
James Madison University Accreditation Details
After bringing in a doctoral level psychology program, James Madison applied for and received accreditation from the American Psychological Association. The APA accredited both its psychology program at the doctoral level and the internship that all advanced psychology students must complete. It also sought accreditation for some of the other degree programs that it offers like those in occupational therapy, nursing, interior design and music. James Madison has accreditation from several key organizations as well, including the National Council for Teacher Education, Council for Accreditation on Counseling and Related Education Programs and Accreditation Board for Engineering and Technology, which accredits its programs in computer science, engineering and integrated science and technology programs. James Madison University has its primary accreditation from the Southern Association of Colleges and Schools.
James Madison University Application Requirements
James Madison University is a smaller college, which means that it typically receives more applications than it can accept. Approximately 65% of all students who apply will receive acceptance into the university, but those who ensure they follow the right steps and submit all required documents can better their chances of receiving one of those letters. Though the university recommends that students take honors or advanced placement (AP) courses in high school, it accepts students who follow a college prep curriculum, too. Those students take four years of math, three years of foreign language and life science and four years of both English and social sciences classes. The transcripts they submit as part of the application process must show that they took all these classes. JMU admissions counselors look closely at the grades students earned in those classes, too.
All students must also request that the testing board associated with either the SAT or ACT mail an official copy of their scores to JMU. In addition to filing the online application, James Madison encourages students to file a secondary school report, letter of recommendation and a personal essay. The report will come from a teacher and talk about some of the student's accomplishments. Those who have a lower grade point average or lower test scores may want to submit these optional forms.
Tuition and Financial Aid
A full time JMU student will take 12 credit hours of courses every semester. Those students pay around $5,200 for their classes alone. The fees charged by the university will add a few hundred extra dollars to their entire cost. This tuition rate only applies to Virginia residents though. Non-residents, which are students coming from outside of Virginia, will see their tuition rates increase to around $13,100 a semester. The cheapest meal plan and dorm room on campus will add $4,800 to the total amount. Part time students will face tuition rates based on the number of classes or credit hours they take.
Though the cost is high, James Madison offers a variety of financial aid packages, too. The university charges less than most state schools do, which is why Kiplinger's called it one of the most affordable colleges in the country. New students can apply for scholarships every year, and JMU awards more than 400 scholarships to new students every year. Those scholarships range in size from around $250 to $500 a year up to those that cover 75% or more of a student's expenses. JMU also encourages students to fill out the FAFSA to see if they qualify for grants, loans and other financial aid from both the state and federal government.
Student Experience
Those who love sports may have an interest in the sports management program offered by James Madison University and its Hart School of Hospitality, Sport and Recreation Management. The undergraduate program is suitable for those who want to work as athletic coaches, trainers and instructors. This 120 credit hour undergrad program features courses like human resources in recreation management, introduction to sport media and management in fitness settings. Students also have the chance to take a practicum course or do an internship. JMU recommends that its sport management students join organizations like the Association of Outdoor Recreation and Education, SRM Major's Club and National Recreation and Parks Association.
James Madison University also offers a graduate sports management program that lets students enroll in the campus recreation or sport and recreation track. The campus recreation track deals more with issues that students may face when working on college campuses. They take courses on leadership in the recreation profession, fiscal management, sports facilities management and research methods. Those enrolled in the sport and recreation track program will take classes like legal aspects of sport management, recreation and sport leadership, sport facilities and sport and recreation marketing. They will also need to complete an internship and either write a thesis or take several electives. James Madison University has a handful of assistant positions available to sport management grad students that will cover the total cost of their tuition and give them a monthly or annual stipend for other expenses.