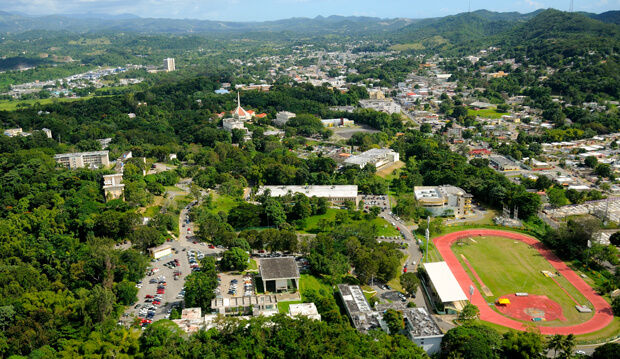 The Inter American University of Puerto Rico System in Puerto Rico began as a single campus in 1912, growing by leaps and bounds over the next century to become one of the commonwealth's largest private providers of higher education. Today, the UIPR's San German campus serves students throughout the western and southwestern parts of the island. The campus, located between the cities of Ponce and Mayaguez, primarily caters to the local population in this more remote part of the island. Its programs, however, are still on par with the prestigious options offered by the main and Metro campuses of the university system, giving students access to top-notch professors, accreditations, and professional experiences that will help them succeed professionally after they graduate.
Inter American University of Puerto Rico – San German Accreditation Details
The entire Inter American University of Puerto Rico system, with all of its various campuses, has achieved regional accreditation by the Middle States Commission on Higher Education of the Middle States Association of Colleges and Schools. This regional accreditation is the same one achieved by universities in states like Pennsylvania, New Jersey, the District of Columbia, and others. Alongside this regional accreditation by a CHEA-recognized body, UIPR's San German campus has been certified by the Consejo de Educación Superior de Puerto Rico. This statewide body acts as a supplement to regional accreditation, verifying the academic rigor, prestige, and ethical operation of universities within the commonwealth. It's an essential mark of approval for all schools in Puerto Rico.
The sports management program at the school, which is part of the Inter American University of Puerto Rico College of Business, has achieved programmatic accreditation from the Network of International Business Schools. This unique accrediting body focuses on the "internationalization" of business studies and lends its accreditation to schools that blend traditional business education with elements of international business practices and skills. Students in the sports management program, and in all UIPR College of Business programs, benefit by gaining a greater understanding of how business functions on a global scale.
Inter American University of Puerto Rico – San German Application Requirements
Undergraduate applicants to the Inter American University of Puerto Rico's San German campus begin the process by submitting their online application to the university and paying the required application fee. Supplemental application materials must then be mailed to the San German admissions office in order for admissions counselors to evaluate the student's likelihood of success at the institution. UIPR San German requires students to submit, at a minimum, their high school transcript and SAT scores for admissions consideration.
Students may also opt to send one or more letters of recommendation to boost their chances of admission, and may schedule an interview with an admissions counselor at the school's discretion. There are no minimum GPA or SAT scores required in order to be considered for admission to an undergraduate degree program at the San German campus, but students who wish to be considered for the upcoming academic year must complete their application, including the submission of all supplemental materials, no later than May 15 before the start of the next academic year.
Tuition and Financial Aid
Undergraduate tuition at the Inter American University of Puerto Rico's San German campus is highly affordable, especially by American standards. The school's current per-credit rate is $201. For full-time students, this means that tuition will cost approximately $6,030 per academic year when enrolled in 15 credits per semester. The school charges $2,700 for room and board if students wish to live in on-campus housing. Books, transportation expenses, and technology expenses, all raise the cost of attendance, depending on the student's housing and enrollment choices.
The Inter American University of Puerto Rico in San German is regionally accredited by a CHEA-recognized body within the U.S. Department of Education. As a result, students from Puerto Rico and the United States are eligible for federal financial aid programs that can help reduce the cost of attendance and make tuition more affordable according to a student's demonstrated need. Students must submit the FAFSA by the school's February 15 priority deadline each year. The FAFSA will qualify students, based on their demonstrated need and cost of attendance, for programs such as Pell Grants, Stafford Loans, Perkins Loans, and PLUS Loans.
Student Experience
UIPR's College of Business is the top draw at many of its campuses, including the San German location in the western part of the commonwealth. Within the College of Business, one program stands out as unique and highly competitive: the sport management program. This unique program blends the traditional business curriculum with coursework that focuses on unique managerial challenges within the modern sports organization. Students first learn the fundamentals of business, including the concepts of financial accounting, managerial finance, marketing, administration, and interpersonal communication. Then, they pursue a concentration that adapts these core skills to the world of organized athletics. Students will focus on advanced sports marketing, sports finance, talent management, facilities management, and other skills that are essential to the successful leadership of collegiate and professional teams.
Puerto Rico's small size and strong athletic tradition bodes well for students in the undergraduate sport management program. Despite San German's relatively remote location on the western side of the island, the College of Business maintains a robust internship program that works across all UIPR campuses to find students a professional experience during their final year of enrollment. This internship, typically within a professional or semiprofessional Puerto Rican athletic organization, allows students to both apply classroom theory and see these skills at work on a daily basis. In addition to being an excellent learning experience for sport management students, internships serve as the foundation of a strong professional network that builds connections within some of the commonwealth's most beloved baseball, basketball, and soccer organizations.
Students who complete the sport management program should keep in mind that the strong academic foundations of this degree prepare students for even further study of business concepts. Many of UIPR's students opt to return to the institution, at the San German campus or elsewhere, to pursue their Master of Business Administration degree. In fact, the university offers one of the commonwealth's best EMBA programs, with advanced sport management courses that help students continue their learning process well into their managerial career. This makes the Inter American University of Puerto Rico – San German a strong fit for aspiring managers and lifelong learners alike.