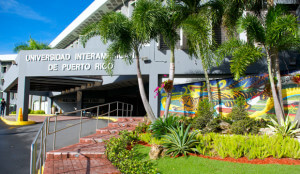 Since its founding in 1912, the Inter American University of Puerto Rico has been committed to excellence in education for Puerto Rico's students. The private university has founded with a Christian background and, during its earliest years, focused primarily on faith-based and liberal arts education. As UIPR grew throughout the 20th century, however, it expanded into programs like law, medicine, sports administration, and much more. The university also grew into a full-fledged system, with campuses located throughout the commonwealth. The Metro campus of Inter American University of Puerto Rico, located in Rio Pedras, is situated in a thriving neighborhood of San Juan. The university's proximity to Puerto Rico's largest city and commercial hub allows students in all programs to maximize their networking and career potential both during and after enrollment.
Inter American University of Puerto Rico – Metro Accreditation Details
Despite its location off the coast of Florida, the Inter American University of Puerto Rico is regionally accredited by the Middle States Commission on Higher Education, a division of the Middle States Association of Colleges and Schools. This regional accreditation, recognized by the Council on Higher Education within the U.S. Department of Education, allows Puerto Rican students, and students from the United States, to receive federal financial aid funds like Stafford Loans, Pell Grants, PLUS Loans, and much more. These financial aid programs help to reduce the cost of tuition at UIPR, even though Puerto Rico is technically not one of the 50 U.S. states.
In addition to its regional accreditation, UIPR Metro is certified by the Consejo de Educación Superior de Puerto Rico. This commonwealth body reviews the degree offerings and academic rigor of each institution located in Puerto Rico and, much like a regional body, certifies programs to offer degrees to students. Within Puerto Rico, the Consejo de Educación Superior de Puerto Rico's seal of approval is a key indicator of program and university quality.
Inter American University of Puerto Rico – Metro Application Requirements
Application requirements at the Inter American University of Puerto Rico's Metro campus are quite stringent. All students must submit an online application, along with the required application fee, to begin the process of admissions to an undergraduate degree program. The university requires submission of official high school transcripts, which must list the student's cumulative grade point average. The university requires a minimum high school GPA of 2.0 in order for students to be considered candidates for admission. UIPR also requires the submission of SAT scores as part of the admissions process, with a minimum score of 400. Students who do not meet both of these minimum qualifications will not be considered for admission to the school, but they may complete remedial coursework at another Inter American University of Puerto Rico campus and transfer to the Metro campus once they have proven their academic ability.
Graduate students to UIPR programs will face different requirements based on their degree of choice. Across all programs, the graduate application requires online submission, payment of an application fee, and submission of a personal statement, resume, and official test score from the GRE or GMAT. Each program, like the prestigious executive MBA at UIPR Metro, may require more supplemental materials in order to be considered for admission.
Tuition and Financial Aid
Because Inter American University of Puerto Rico's Metro campus is a private institution, it charges the same tuition rate to both resident and non-resident students. At the undergraduate level, the university charges a highly affordable rate of just $178 per credit hour. The full-time cost of attendance for a full academic year at the undergraduate level is just $5,920 before fees. Full-time graduate students pay slightly more tuition, at $5,967 per academic year.
Student Experience
The Inter American University of Puerto Rico is one of Puerto Rico's oldest private institutions, which has allowed the school to develop some highly unique degree programs. Perhaps the most interesting degree program offered to today's students is the sports management program offered through UIPR's College of Business. The program, which combines essential business management skills with concepts unique to working within in a large athletic organization, teaches students fundamental skills that will allow them to excel as business leaders in collegiate and professional athletic settings. The program focuses first on the core business administration skills that any leader needs to know: accounting, finance, economics, marketing, communication, and general management. This business core, which is standard across all degree options within the College of Business, is just the beginning.
The sports management concentration asks students to take general business concepts and adapt them to the unique structure and function of an athletic organization. As such, courses include talent management and recruiting, sports training, sports marketing, and sports administration. These courses give students the context needed to succeed in an off-campus internship with one of Puerto Rico's largest athletic teams or professional organizations. This internship, a requirement of all programs within UIPR Metro's College of Business, is an essential way to help prepare students for professional success as they inch closer to graduation with the Bachelor of Science degree. Combined with the school's unique, online alumni network, it sets the stage for excellent career prospects.
In addition to an excellent program in sports management, students at the Inter American University of Puerto Rico's Metro campus will benefit from the school's excellent location in the greater San Juan metropolitan area. The school is located outside the central business district of San Juan, but is close to transit connections that make a trip into the heart of the city both fast and easily accessible. This proximity to San Juan is a great resource for students who are looking to build their professional network or experience the unique culture of Puerto Rico, especially for students who come to UIPR from outside the commonwealth. UIPR's faculty take full advantage of this excellent location. Many of them are sports managers and administrators at Puerto Rico's largest teams and organizations, ranging from its thriving baseball organization to its basketball teams.
UIPR Metro is one of the largest and most prestigious university campuses in Puerto Rico, with a rich heritage that stretches back more than a century. The sports management program at the school, and virtually all of its other programs, benefit from an excellent location, a strong and rigorous academic tradition, and a commitment to affordable tuition for all. As a result, Inter American University of Puerto Rico – Metro is a top choice for both Puerto Rican residents and students from all around the world.