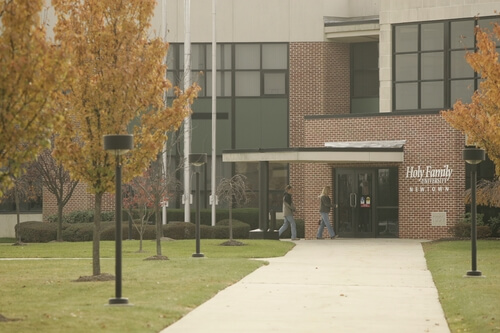 Holy Family University was initially founded in 1954 by the Sisters of Holy Family of Nazareth as an affiliate of the Catholic University of America. It became the newest Roman Catholic school added to Philadelphia alongside Saint Joseph's University, La Salle University, and Chestnut Hill College. Following the motto "Teneor votis," Holy Family stands as an accredited, four-year private liberal arts institution. Each year, Holy Family University enrolls more than 2,200 students across its four academic schools. Sprawling over 47 suburban acres, HFU is located in the Torresdale neighborhood of Pennsylvania's largest city. Two northeast extension sites are available in Newtown and Bensalem.
According to the U.S. News, Holy Family University is the 125th best regional college and 88th top school for military veterans in the North for 2016. Holy Family is recognized for having the Commonwealth's lowest net tuition price. Money magazine ranked Holy Family fourth in America's "25 Colleges That Add the Most Value." Washington Monthly crowned Holy Family University as the Northeast's 17th best bang for the buck. Holy Family was also the 81st best master's institution for social mobility, research, and service. College Choice named HFU the 45th top Catholic university in the United States for a freshman retention rate of 77 percent.
Holy Family University Accreditation Details
Last reaffirmed in 2011, Holy Family University is regionally accredited by the Middle States Commission on Higher Education (MSCHE). This is one of six regional agencies recognized by the U.S. Department of Education. Holy Family is approved by the Pennsylvania Department of Education, New York State Regents, and Veterans Administration. In particular, sports management programs in the School of Business are accredited via the Accreditation Council for Business Schools and Programs (ACBSP).
Holy Family University Application Requirements
For an average acceptance rate of 73 percent, Holy Family University has implemented selective admission criteria one must exceed. First-year freshmen must be graduating from an accredited high school with a diploma or GED equivalent. At least 16 units of college-prep secondary coursework is mandatory. Four units of English and three units of mathematics are suggested. A full year of Algebra I and II and Geometry is required. On average, HFU freshmen have a high school GPA of 3.12. Applicants under 21 must submit satisfactory SAT or ACT scores. Admitted students achieve a mean SAT score of 1409 and ACT score of 19.
Around 300 undergraduate transfers are accepted annually to finish the bachelor's degree. Any transfer students must have completed at least 12 credits at a regionally accredited college. Holy Family has a Community Bridge program for students who hold an associate degree to maximize credit transfer. Generous scholarships are reserved for transfers maintaining a college GPA of 2.5 or higher. International students studying on F-1 visa must score at least 213 (computer) or 550 (paper) on the TOEFL. For graduate applicants, HFU requires a bachelor's degree or higher from an accredited institution. Preference is given to those with an undergraduate GPA over 3.0. The Regular MBA mandates three years of work experience too.
Holy Family University accepts signed online and paper applications on a rolling basis. Sports management majors can apply by submitting:
• $25 non-refundable application fee
• Official high school or post-secondary records
• College entrance exam scores (SAT or ACT)
• At least one letter of recommendation
• Copy of visa or permanent resident card (if applicable)
• Brief, one-page personal statement
Tuition and Financial Aid
Full-time undergraduates at Holy Family University pay $14,381 per semester. If studying part-time, students are charged $615 per credit hour taken. Undergraduates must afford the general fee of $494 each semester. There's a $27 co-op internship fee billed per course. Housing is estimated to cost $3,570 for double occupancy or $4,410 for single. Standard meal plans add $3,218 extra per semester. Total annual cost of attendance is approximately $45,392. Graduate students at HFU will pay $736 per credit hour with a $137 general fee each semester. Full-time graduate scholars afford an average of $12,996 each year.
The NCES reports that 74 percent of full-time Holy Family students earn assistance. Financial aid packages have an average worth of $17,992. Institutional awards are numerous, including the Alumni Association Scholarship, Campus Ministry Award, Dean Anthony Akel Scholarship, and Gibson Student-Athlete Scholarship. Holy Family Grants range from $200 to $14,500 based on financial need. Some students could qualify for the Federal Pell Grant or FSEOG Grant. In-state residents may apply for the Pennsylvania State Grant, NETS Program, or Chafee Training Grant. Federal Work-Study (FWS) jobs are offered in the Athletics Fitness Center. Military members could be eligible for tuition benefits under the Yellow Ribbon Program. If needed, loans can be borrowed using the Stafford, Perkins, or Direct Grad PLUS programs.
Student Experience
Holy Family University infuses Catholic values and ethics into a bachelor's curriculum divided into 41 majors. For a Bachelor of Science in Business Administration, students can select the Sport Marketing-Management (SPMM) major. Undergraduates learn to apply marketing tactics and knowledge on consumer behavior to effectively manage sports organizations. Careers are unlocked in sports sales, marketing, facility management, event planning, public relations, advertising, and more. After graduating, students could continue for the 30-credit Master of Business Administration (MBA) with a concentration in Finance or Human Resources. There are two tracks for experienced and new professionals. Small class sizes are available thanks to the student-faculty ratio of 13:1.
Experiential learning is abundant at Holy Family due to its location in Philadelphia. Sports marketing-management majors benefit from partnerships with the Eagles, Flyers, 46ers, Riversharks, and Phillies. Students build real-world experience through co-ops and internships to achieve a high job placement rate of 87 percent. Aspiring sport managers can help manage the campus' Albert and Carolyn Smith Cardio Room, Campus Center Gymnasium, or Tiger Field. There's a seminar-style Honors Program to participate more in service learning and independent research. HFU Abroad also arranges trips around the globe from Scotland and Turkey to China and Australia.
Campus life can't be dull at Holy Family with the over 30 student-lead organizations. Students could join the Business Society, Cheerleading Squad, Rotoract Club, Student Government Association, Tiger Vision, and more. Athletes compete on 14 varsity sports teams for the NCAA Division II Central Atlantic Collegiate Conference. The women's basketball team is especially known for its nine CACC championship titles from 2000 to 2015. Intramural clubs are offered in slow-pitch softball, flag football, skiing, badminton, and other fun sports. Holy Family University provides a supportive, faith-based learning environment for excelling in sports management.