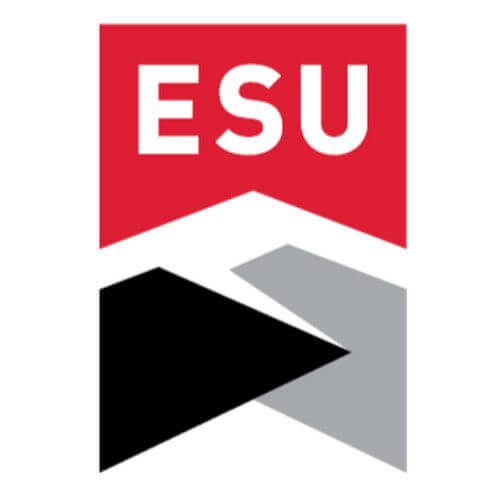 East Stroudsburg University opened its doors in 1893 as the East Stroudsburg Normal School. Initially, the school offered two-year programs in elementary and science education. It was privately owned until 1920, when ownership was transferred to the Commonwealth of Pennsylvania and the name changed to East Stroudsburg State Normal School.
In 1927, the school gained the right to offer four-year degrees and the name was changed to State Teachers College at East Stroudsburg to reflect the new curriculum offerings. The school began offering a Bachelor of Science in Education as well as a Bachelor of Science in Health Education that year. By 1960, the school was offering liberal arts and science curricula, prompting the state to change the name of the college to East Stroudsburg State College. The school gained university status in 1983.
The school is one of 14 institutions operated by the Pennsylvania State System of Higher Education. It is an innovative and entrepreneurial university that emphasizes quality and collaboration. The school offers challenging and contemporary curricula designed to engage and equip students to think critically. The school promotes diversity and views teaching as the primary focus, providing varied opportunities for research as well as involvement in public service.
East Stroudsburg offers 56 undergraduate and 24 graduate degree programs with an enrollment of more than 6,800 students.
Resource: 50 Most Affordable Urban Schools for Sports Management 2015
East Stroudsburg University Accreditation Details
East Stroudsburg University is accredited by the Commission on Higher Education of the Middle States Association of Colleges and Schools. Accreditation indicates that the university meets or exceeds standards set forth by the agency that indicate excellence in education. In addition, specific programs are accredited by the following organizations:
Accreditation Commission for Education in Nursing
Accreditation Commission for Programs in Hospitality Administration
American Society for Biochemistry and Molecular Biology
American Speech-Language-Hearing Association
Commission on Accreditation of Allied Health Education Programs
Commission on Accreditation of Athletic Training Education
Computing Accreditation Commission of ABET, Inc.
Council on Education for Public Health
Council on Social Work Education
National Recreation and Park Association
East Stroudsburg University Application Requirements
Students who will attend college for the first time are considered freshmen at East Stroudsburg University. Students must complete an online application and pay the applicable fee. An official high school transcript or GED test results must be submitted as well as SAT or ACT scores. There are no letters of recommendation or essays required.
Students who have attended a college or university after high school graduation regardless of the number of credits earned are considered transfer students at East Stroudsburg University. Students must complete an online application and pay the applicable fee. Official transcripts from all colleges and universities attended must be submitted as well as high school transcripts if the student has not completed a degree program.
Graduate students must complete an online application and provide official transcripts from all colleges and universities attended. Students must submit professional letters of recommendation and a one-page statement of professional goals. A resume must be submitted as well as any graduate examination scores required by the program they plan to enter.
Tuition and Financial Aid
Undergraduate tuition at East Stroudsburg University is $1,040 per course for full-time students who are taking 12 or more credits and $87 per credit hour for part-time students. Graduate tuition for full-time students taking nine or more credits is $952 per course or $65 per credit hour for part-time students.
Financial aid is available and 85 percent of all students who attend East Stroudsburg University receive some type of aid. Aid is available in the form of grants, loans, scholarships and work-study employment based on financial need and academic performance. All eligible applicants are automatically considered for scholarship opportunities. In order to qualify for financial aid, students must complete the Free Application for Federal Student Aid (FAFSA).
Student Experience
East Stroudsburg University offers a Bachelor of Science in Sport Management, a Master of Science in Management and Leadership in Sport Management, a Master of Science in Sport Management, as well various undergraduate minor options. These programs prepare students for professional careers in the sports management industry in positions ranging from professional sports teams to community recreation departments.  Undergraduate and graduate students are required to complete an internship and many students take advantage of their location to intern with teams in New Jersey, New York, and Philadelphia.
East Stroudsburg University prides itself on their commitment to multicultural competence, student engagement as well as collaboration between campus and community. In addition to the rigorous curriculum provided to students, there is the opportunity to develop additional leadership skills through the many student organizations available. Students may join organizations related to their field of study, their ethnicity or hobbies they enjoy.
There are five sororities and six fraternities on campus providing additional opportunities for involvement on and off campus. Members of Greek organizations play a proactive role at the university, engaging in many community service activities that help strengthen not only the campus, but also surrounding communities.
Faculty at East Stroudsburg is very accessible with a ratio of 22 students to one faculty member. This low student-to-faculty ratio allows students to work one-on-one with professors and other staff members in many projects, including world-renowned research ventures.
The campus sits on 268 acres in the East Stroudsburg Borough and in Smithfield Township. The Student Activity Association owns an off-campus student recreation center, Stony Acres, located near Marshalls Creek that consists of a lodge and lake.
East Stroudsburg University is home to the Warriors, offering students the opportunity to compete in men's, women's and club sports. Male students compete in baseball, basketball, cross country, football, soccer, wrestling as well as track and field. Female students compete in basketball, cross country, field hockey, golf lacrosse, soccer, softball, swimming, tennis, volleyball along with track and field. For those who prefer less competitive sports, the school offers many clubs geared toward the athletically minded.
The university offers a Lesbian, Gay, Bisexual, Transgender, Queer and Ally (LGBTQA) Program Center to offer programming, resources and services to all students, faculty and staff. The center provides students with a safe, friendly atmosphere in which to study, relax or socialize. The center is located in Shawnee Residence Hall and is open Monday through Friday from 9 AM until 4 PM. An Ally Program is available and is designed to educate all members of the community on LGBTQ issues. The program is offered throughout each semester and lasts 60 to 90 minutes. It provides information on terms that are common in the LGBTQ community as well as on oppression of those who identify with that community. There is also an explanation of the differences between domestic partners, civil unions and marriage. It is the goal of the program to educate students as well as the community on issues that affect LGBTQ students in an effort to better the university.
East Stroudsburg University offers rigorous academics as well as a thriving student life for those who live on- and off-campus. The student body and faculty are diverse, allowing the university to offer programs, clubs and organizations that are designed for inclusion rather than exclusion.