This program appears in our ranking of 50 Most Affordable Selective Colleges for Sports Management.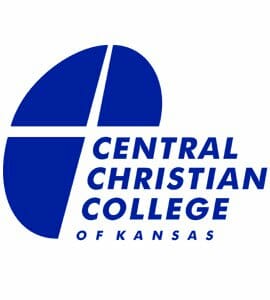 Central Christian College of Kansas offers a 128-credit hour Bachelor of Arts in Sports Management program that begins with ten credits of foundation skills including the First Year Seminar, College Writing and Reading, College Writing and Research and Principles of Speech. Following that segment, the liberal arts component of the program includes 24 credit hours in the four goal areas: science and math courses fulfil the Fit Mind; history and social science courses address the Fit Heart; Perceiving the Arts, a humanities course, and a wellness course satisfy the Fit Body portion; and philosophy and world view courses fill the Fit Soul component. There is a Capstone Experience, a 43-credit hour Sports Management core that includes courses such as Introduction to Sport Management, Sport Law and Sport Marketing, and several electives. All students in the program take practicum and an internship.
Classes at Central Christian College are small, most have less than twenty students, and the student-to-faculty ratio is 12:1. One of the most unique facets of an education at this school is the sense of community that pervades the school culture. Another thing cited in student reviews is the Christian focus of all classes. Professors are reported to be accessible and friendly.
McPherson, Kansas, where the school is located, has a sports complex where students can get involved with high school and community teams, and the college belongs to the National Association of Intercollegiate Athletics. Students in the Sports Management program may also serve internships through the Kansas City Sports Commission and Foundation. The internship is full-time over the course of a semester and is unpaid, but students network with high-profile sports figures and can attend several athletic events.
About Central Christian College of Kansas
This private, coeducational school was founded in 1884 in Nebraska as Orleans Seminary, affiliated with the Free Methodist Church. The school offered elementary school courses through high school. In 1914, the school was moved to McPherson, Kansas, and began offering two years of college courses. In 1991, the Higher Learning Commission accredited Central to award bachelor's degrees and in 1999 the school officially became Central Christian College. The US News and World Report ranks the school as # 62 through #80 in Regional Colleges Midwest. Courses are divided into four areas that meet the learning outcome of all Central Christian College programs: Fit Heart, which is social responsibility; Fit Souls, which translates to spiritual responsiveness; Fit Minds, meaning students are rationally competent; and Fit Bodies, which denotes that they are professionally astute.
This is a small college. The undergraduate enrollment is 1,013. Student reviewers state that the school is diverse and that the sense of community embraces that diversity. Some students reported feeling uncomfortable in the strong Christian culture, but most felt welcomed and secure. More than 85 per cent of the students live on campus in college housing. The school offers degrees in 69 areas of study. Many of these programs are presented in an online format. The Sports Management degree is only offered traditionally, on-campus.
Central Christian College of Kansas Accreditation Details.
The college is accredited by the Higher Learning Commission, North-Central Association of Colleges and Schools. The Sports Management program is not specially accredited, but the curriculum used is approved by the National Association for Sport and Physical Education and the North America Society for Sport Management.
Central Christian College of Kansas Application Requirements
Students applying to the college should submit application forms by the end of their junior years or the beginning of their senior years. The application must include a transcript sent by the high school. After admission, the official transcript with date of graduation must be submitted to the college. In addition, the student should arrange for the transcripts from any post-secondary work he or she has taken to be sent to Central. Students must make arrangements to take the SAT or the ACT and have those results sent to the college as well. Applications must include two personal reference statements. Students must submit a $200 refundable deposit with their forms. The deposit is refundable by June 1st for the fall semester and by January 1st for the spring semester. After acceptance, students will receive requests for additional forms such as the Community Expectations Contract, the Housing Questionnaire, the Medical History form, Athletic Physical Certification, Verification of Insurance, or other forms.
Central Christian College of Kansas Tuition and Financial Aid
Tuition at Central Christian College of Kansas is $26,652. That figure includes fees, books and other educational materials. Housing and meal plans cost $8,308 per year and the school estimates another $2,570 in personal expenses, other fees and transportation. That brings the total for undergraduate study at the school to $35,530 per year.
Students who need assistance to pay their school debt should begin by completing a Free Application for Federal Student Aid (FAFSA) form. This government program awards grants and loans to qualifying students. After receiving notification of their loan or grant amounts, students should begin applying for other financial assistance. Central offers several scholarships. Eligibility for these is determined by the transcripts submitted and by the FAFSA report. Only one Central Christian College scholarship is awarded to a student each year. The institution also offers many grants. Central Christian College awards special opportunities to qualifying students in the Central Work Program. Students work from 15 to 20 hours a week, and their wages are applied to their debts. Most students in the program graduate debt-free or nearly without debt.
In addition to these, students can, and should, apply for outside scholarships. There ae several websites that list these opportunities. Students must use caution and never give out any personal information, never pay for a "guaranteed-or-your-money-back" scholarship, and never respond to a solicitor who says they have won a scholarship through a contest they never entered. Scholarship information is available without charge. Corporations often fund scholarships to students who intend to study in certain areas. If a student exhausts all scholarship and grant money, he can apply for student loans. These carry lower interest rates and deferred repayment options. Although payments on the principle are deferred, however, the interest accrues from the date of the loan inception. Students can find a list of approved private lenders on the Central Christian College of Kansas website.
Learn more about Central Christian College of Kansas at the Sport Science and Health program website.