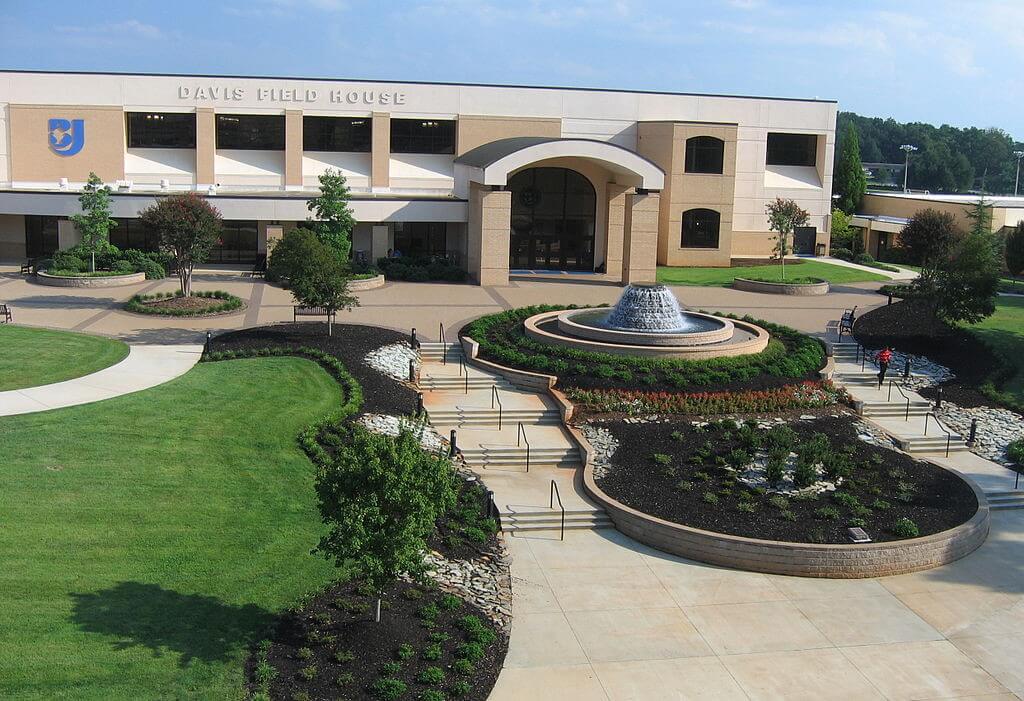 Students looking for a good all-around school that also emphasizes faith and religion may find themselves drawn towards Bob Jones University. Founded in 1927 by Bob Jones himself, BJU is a Protestant private college. Jones established the college after seeing the number of college students rejecting their religious backgrounds after going away to school. BJU has a strict code of conduct that all students must agree to follow before enrolling. The code forbids the use of profanities, requires that all students be in their rooms by 11 pm and that students dress in a modest way. All students living on campus must also attend regular church services. Bob Jones University is one of the only colleges that also requires students use the King James Bible in all their religious studies classes.
Despite those strict rules, the university offers a number of extracurricular opportunities and activities for students. Its intramural sports program allows students to play team sports like water polo, volleyball and basketball. There is also an activity program designed for students who are not married. The program offers different activities that let students get to know each other better in a safe environment. Though not nationally ranked for its academics, Bob Jones University does have a good reputation as one of the top Protestant colleges in the country.
Bob Jones University Accreditation Details
Bob Jones University has accreditation from the Transnational Association of Christian Colleges and Schools. Though the university did lose its accreditation at one point, its board quickly implemented new programs designed to restore its accreditation. It worked hard to set itself apart from for-profit schools that operated as diploma mills and to provide its students with the strong foundations that they needed for future success. Many schools have regional accreditation, which comes from a smaller organization that has ties to a national organization, but BJU has national accreditation. The university also has program accreditation that applies to its engineering program, which awards graduates with a BS degree. This program accreditation comes from the Accreditation Board for Engineering and Technology, Inc., which also goes by the name ABET.
Bob Jones University Application Requirements
BJU introduced a new online application as a way to help students quickly complete all the required steps for enrolling. The system asks that students spend around 60 minutes filling out each step and section in that application. It asks them about their parents, the high school they attended, any extracurricular activities they did and their grades. Students also have the option of registering an account with the site, which lets them pause and return to the application as many times as they would like. The university must receive the completed application prior to the start of the next semester. If the application arrives after the deadline, students will need to pay a $50 processing and late fee.
New students will need to submit three letters of recommendation after completing the application. BJU requires that one letter come from religious community leaders or members who are not directly related to the student. They must also submit one letter from a high school teacher or guidance counselor and one letter from an adult who knew the student for a minimum of six months but is not related to that student. The university accepts students who come from home school programs, but those students will need to show that they completed a traditional high school study program.
Tuition and Financial Aid
The estimated cost of attending Bob Jones University is around $22,000 a year. This includes room and board costs and the cost of taking between 10 and 18 credits of work each semester. Part-time students pay $740 per credit and a program fee based on the number of classes they take. Students who enroll in one of the music programs may face additional fees for renting an instrument to use in their classes, and there are additional fees for students who decide to drop or add classes after the semester starts. Any student who needs to keep a car on campus must also pay for a parking permit.
Though the cost of attending the university is a little high, students who complete the FAFSA by March will receive an award letter by the beginning of April that shows them all the financial aid they will receive for the coming year. The university bases the amount of aid on the number of classes the student takes, where the student is in his or her program and the amount of need the student has. Students can get more than $6,000 in grants and a large amount in scholarships. Bob Jones University students also qualify for federal loan programs and can make money working on campus in one of the work-study positions available.
Student Experience
Bob Jones University launched its sports management program for students who wanted to work in administrative and management positions within the sports industry. This unique program requires that students take a number of religious studies courses that teach them how they can carry and use their faith with them in a professional setting. Students can help out in the intramural sports offered on campus or do internships working for professional sports agencies. BJU requires that all students do an internship during their senior year and spend a minimum of 240 hours working in the field. The university also allows students to gain a certificate in one of two areas as part of their studies. They can earn a certificate in ASEP coaching principles or become a Red Cross certified first responder.
This program requires that students take between five and seven courses every semester and that they complete two semesters of work every year. The first year students spend in the program typically focuses on core courses required for graduation from BJU, including fundamentals of speech, composition and literature, biblical messages and history of civilization. Students will take a few management classes in their first two years before taking more advanced courses in their last two years. Advanced courses include coaching principles, sports marketing, law and ethics of professional working and at least one practicum. Bob Jones University offers a practicum in coaching for sports management students who want to coach amateur or professional athletes after earning a Bachelor of Science from the university.