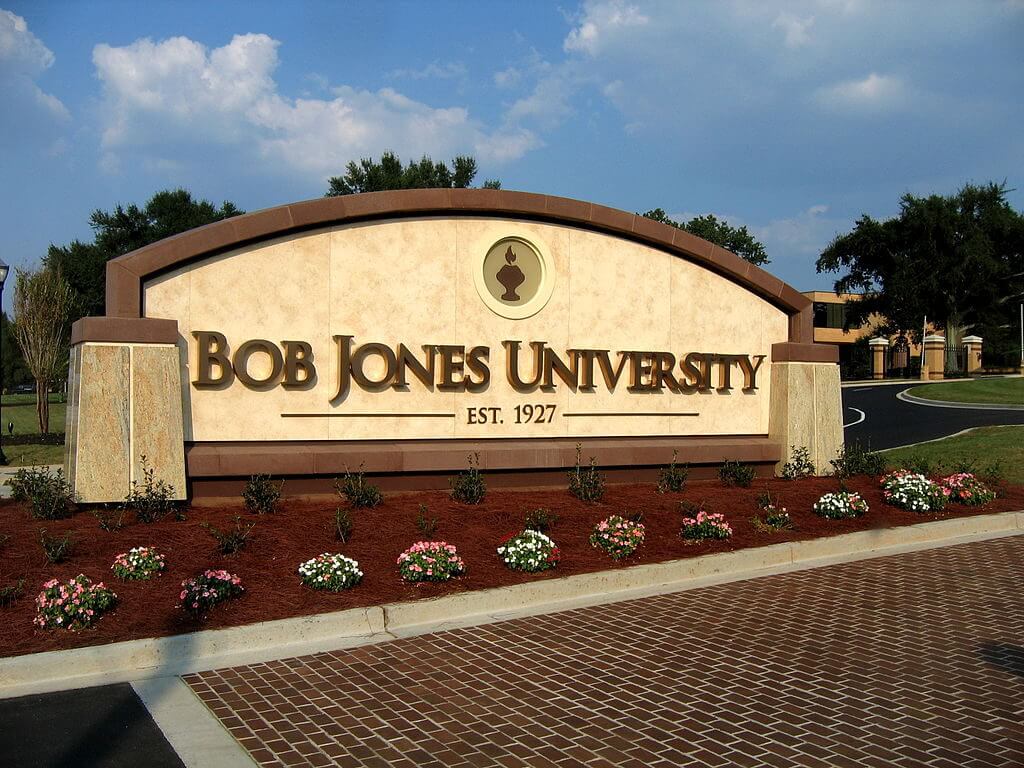 Bob Jones University is one of the most prominent and prestigious religious institutions of higher learning in the United States. Established in 1927, the college opened because of the efforts of Bob Jones, Senior himself. Jones, who was a Christian evangelist, saw children of religious familes going to secular colleges and abandoning their beliefs. The man worked with others to establish a unique college that would allow students to study the Bible and use their religious beliefs while in the classroom. Though Jones later retired, his children and grandchildren still work for the university today.
Students attending BJU must agree to attend church services and repeat the BJU Creed up to four times every week. Like other religious institutions, the university also has a long series of rules in place that all students must follow. Its rules of conduct forbid students from watching films and television shows that violate their religious ethics. Students cannot engage in homosexual activities, steal, cheat or use any type of alcohol or illegal substance. The university also has dress code that requires males to wear button up shirts and slacks and women to wear dresses or skirts during certain hours of the day. While some view BJU as restrictive, the university has a good reputation. Forbes ranked it as one of the best schools for undergrads, and the Educate to Career College Ranking Index called it a good value.
Related Resource: 50 Most Affordable Small Southern Colleges for a Sports Management Degree 2016 (Bachelor's)
Bob Jones University Accreditation Details
Regional accreditation is what the U.S. Department of Education looks for in good colleges. While Bob Jones University does not have regional accreditation, it does have national accreditation, which comes from the Transnational Association of Christian Colleges and Schools (TACCS). TACCS is one of the leading organizations responsible for accrediting religious institutions of higher learning. The only issue you may face is that colleges with regional accreditation may not accept any of the credits you earned at BJU if you decide to transfer schools later. It also has specialty accreditation for its BS in engineering program from the Accreditation Board for Engineering & Technology, Inc. (ABET).
Bob Jones University Application Requirements
Though BJU accepts students from all religious denominations, it requires that all applicants apply for admission first. Most students apply during their senior years, but the university encourages students to fill out the application at the end of their junior years or in the summer before senior year starts. The deadline for the fall semester is usually around the middle of August, but those who apply earlier may receive more financial aid. Those who apply after the deadline are subject to a $50 late fee.
The application asks for general background information, including where you went to high school, where you currently live, your name, social security number, home address and a contact number. Though BJU does not charge an application fee, it does ask that you send verifying documents to the campus, including your official ACT score and your official high school transcript. If you took any advanced placement classes or gained any college credit in high school, you'll need to submit proof of those classes or credits too. While Bob Jones University does not ask for letters of recommendation, it will ask you to supply the names and contact information for three references. The university will contact those references when going over your application.
Tuition and Financial Aid
The total cost of attending Bob Jones University is around $22,000 a year. This includes a tuition rate of around $7,400 that lets you take between 10 and 18 credit hours of courses each semester. It also includes basic fees and the cost of living in a campus residence hall. To earn a spot in a campus dormitory and to continue living in that room, you must take a minimum of 12 credit hours of classes each semester. You'll face additional fees for adding or dropping classes later in the semester, taking music lessons or buying a parking pass.
BJU encourages students to apply for scholarships early on in their academic careers. BJU offers academic excellence scholarships for those who have a GPA of 3.0 or higher an an ACT score above 21. These scholarships award students up to $5,500 a year. Other scholarships are available for the children of alumni, those currently in or retired from the military and those who meet financial requirements. There are grants available from both the state and federal government for qualifying students and loans too. Students can also apply for a job and work on campus. BJU lets students make more than $3,000 a year for working up to 20 hours a week in a campus job. The combination of loans, grants, scholarships and working on campus can cover many of your expenses.
Student Experience
Bob Jones University offers a number of opportunities for students enrolled in its Bachelor of Science in Sport Management program. The university is a member of the National Christian College Athletic Association (NCCAA) and allows students to participate in athletic teams or attend games to support other students. Both male and female students can play soccer, basketball or tennis, and the university has its own cross country teams too. Many of its sport management majors volunteer to help those teams to gain additional experience.
In addition to the basic sport management program, BJU offers two certifications for students. They can earn a first responder certification from the Red Cross or a coaching principals certification that abides by the regulations put in place by the ASEP. Students typically take a minimum of five courses each semester. They take gen ed courses on math, science, humanities and English that provide them with the strong foundation of skills they need for the more advanced courses.
The university also requires that sport management students take a combination of business courses and religious studies courses. You'll take classes on religious doctrines at the same time that you take classes on business ethics and business marketing. Students must also take a sport management internship during the final semesters of their senior years. Bob Jones University can help you find an internship working for college sports program, but it can also help you find an internship working for a professional athletic team or organization in South Carolina or a neighboring state.