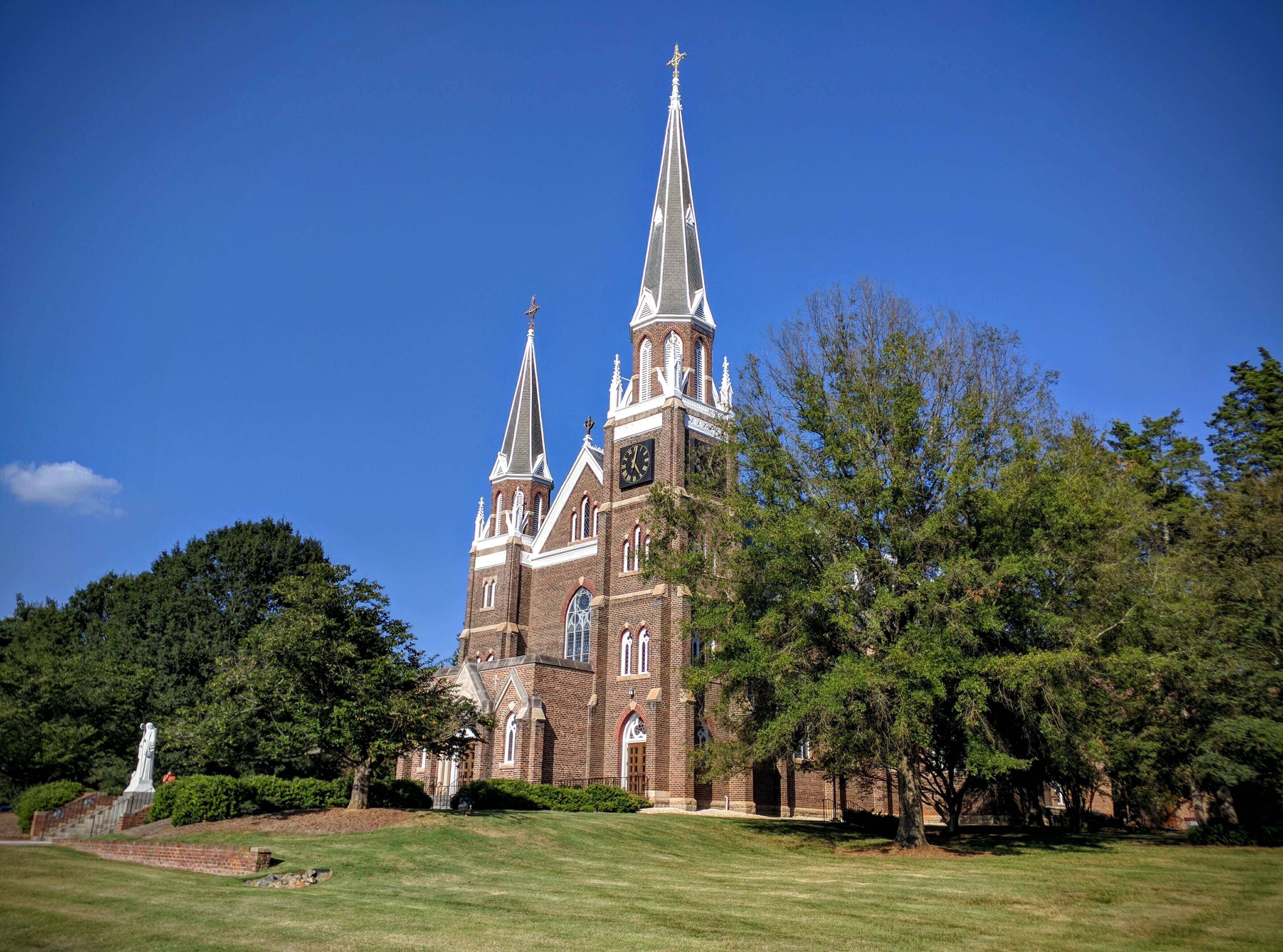 Belmont Abbey College was established by Benedictine monks in 1876 and named for Saint Mary on land donated by Father Jeremiah O'Connell. Visited by Saint Katharine Drexel in 1904, the all-male ministerial academy grew under the Diocese of Raleigh. Known for its Mary Help of Christians Abbey Basilica, Belmont developed into the private, co-educational Catholic liberal arts institution of today in the 1970s. Endowed for $8.02 million, BAC now teaches 1,493 Crusaders and employs 75 full-time faculty. Belmont Abbey College is located in a Gaston County suburb just 15 miles west of Charlotte, North Carolina. The Abbey has produced alumni like NASCAR driver Jordan Anderson, MLB player Hal Haid, and soccer forward Tony Suarez.
According to the U.S. News, Belmont Abbey is the South's 10th best regional college and 15th top value school with average retention at 63 percent. On Niche, BAC stands as America's 154th "Best Catholic College" and 160th "Safest College Campus." Washington Monthly ranked the Abbey as the 198th best baccalaureate institution nationally. The publication also placed Belmont Abbey College as the Southeast's 281st best bang for the buck. First Things magazine designated BAC as the "#1 School on the Rise Filled with Excitement." PayScale recognized BAC for a median 20-year net ROI of $190,000. Belmont Abbey was endorsed in the Cardinal Newman Society's Guide to Choosing a Catholic College too.
Belmont Abbey College Accreditation Details
Continuously since 1957, Belmont Abbey College has reaffirmed its Level II regional accreditation from the Southern Association of Colleges and Schools Commission on Colleges (SACSCOC) every decade without public sanctions. Through the next evaluation in 2020, the Abbey's 17 bachelor's programs, including the B.A. in Sport Management, will have Federal Title IV eligibility under the U.S. Department of Education.
Belmont Abbey College Application Requirements
Belmont Abbey College has reviewed applications from 33 U.S. states and 20 countries for a "selective" average acceptance rate of 68 percent. Freshmen must be graduating with a high school diploma after a 16-unit college-prep curriculum, including four English units. Finishing a homeschool program or passing the GED with a minimum 450 score is also acceptable. On average, Belmont Crusaders have a cumulative GPA of 3.16 in grades 9-12. Admitted first-year students also report a mean SAT score of 1090 and ACT score of 22. Application review is holistic, so extra-curriular involvement, character, and service are also considered.
Current undergrads at other regionally accredited colleges could transfer into the B.A. in Sport or Motorsports Management majors after at least one full-time semester (12+ credits). Transfers who've finished an Associate of Arts from the North Carolina Community College system could receive a maximum of 64 credits. Each course must be graded "C" or better for transferability. Advanced Placement or CLEP credits need scores above the 50th percentile to count. Most competitive transfers hold a college GPA of 2.75 or greater. International students need to prove English fluency with a minimum TOEFL score of 213 (computer-based) or 550 (paper-based).
Belmont Abbey College operates rolling admission for traditional students to apply until mid-August. The Loughridge Center is the exception with adult deadlines of August 1st for Fall and December 1st for Spring. Applicants must create a ZeeMee profile online and submit the following:
• Free online admission application
• Typed, one-page biographical essay
• Transcript requests from all institutions
• Official standardized testing reports
• Letters of recommendation (optional)
Tuition and Financial Aid
Regardless of NC residency, BAC undergrads studying full-time (12-18 credits) are charged $18,500 annually. Part-time learners will pay $617 per credit taken. Residential students budget $3,900 to $6,508 each year for dorm housing. Unlimited meal plans with $100 flex dollars also cost $4,446 annually. International students are billed an extra $2,500 fee. The Abbey suggests reserving $1,200 every two semesters for textbooks. Total annual cost of attendance is $32,954 for on-campus or $23,600 for off-campus living.
The NCES reports that 88 percent of full-time Belmont Crusaders share $10.29 million in financial aid annually with an average package amount of $7,475. Sports management majors could qualify for institutional awards like the Abbey Merit Scholarship, Trustee Scholarship, Saint Thomas More Scholarship, Felix Hintemeyer Catholic Leadership Award, and Business Leadership Institute Fellowship. Federally, students with low EFC could claim the Pell Grant and FSEOG Grant. BAC majors can cautiously borrow Federal Perkins and Stafford loans or be covered under Parents PLUS loans. The Yellow Ribbon School offers full veterans benefits. Federal Work-Study jobs are available with campus employment for at least $7.25/hour. Tar Heel State residents may also obtain the North Carolina Student Incentive Grant or North Carolina Education Lottery Scholarship.
Student Experience
Belmont Abbey College offers three bachelor's majors guided by the tenets of Catholicism that could be useful for entering the multi-billion sports industry. The B.A. in Sport Management is a 13-course major that develops principled professionals for leading contemporary sports clubs with courses like facilities management and sports marketing. The B.A. in Motorsport Management focuses on the business functions needed to organize speedways in North Carolina's famed racing industry. Lastly, the B.A. in Business Management has traditional and non-traditional tracks for adults aged 23+ to receive well-rounded acumen for managerial decision-making. BAC has an average class size of 17 for close interaction with experienced business professors.
Studying in the Charlotte Metro places Belmont Abbey in the heart of sports action with teams like the Carolina Panthers, Charlotte Hornets, and Charlotte Bobcats playing nearby. Motorsport management majors continually secure internships with the NASCAR Hall of Fame, Charlotte Motor Speedy, Earnhardt Ganassi Racing, and more. Service learning is one of the Abbey's hallmarks with possible placements like the YMCA and Charlotte Athletic Club. Business majors receive must-read access to The Wall Street Journal. Other experiential learning options include conducting research with the Honors Institute Fellowship, spending 5+ weeks abroad from Germany to Japan, and working in the state-of-the-art Wheeler Athletic Center or Reidy Tennis Center.
Campus life at the Abbey is active with 49 percent of Crusaders living on-site and running 40+ student organizations. Sports management enthusiasts could join the Catholic Athletes for Christ, Motorsports Club, Student Government Association, Ultimate Frisbee Club, Delta Epsilon Sigma, and more. Staying fit is encouraged in the 1,200-square-foot Strength & Conditioning Facility, which has three new power rack systems. Each year, students enjoy the Crawfish Boil, Abbey Got Talent Competition, and President's Ball. Athletes also compete for 28 varsity teams from bowling to lacrosse in the NCAA Division II Conference Carolinas. Belmont Abbey College claimed conference championships in three sports in 2012.