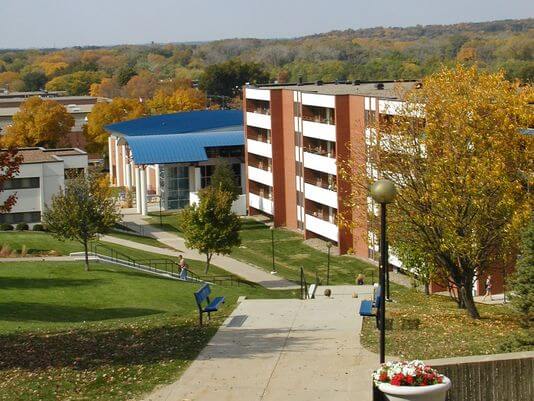 AIB College of Business was founded in 1921 by college roommates, Ray Hansen and Everett O. Fenton. The original name of the college, American Institute of Business, was chosen so that it would appear near the top of any alphabetical listing, including the telephone book. The two men started the school in a vacant room in what was then the Des Moines University Science Hall. With $30 in used furniture and a chair they "borrowed" from the college, they began without a lease or any knowledge of the college where they were located. After five months, the fledgling college was discovered and they were "politely asked to move."
The college initially began as a teacher placement agency, sending instructors to teach typing and other classes in small Iowa towns. At the time, many small towns required that teachers be unmarried and, in the town where Fenton's future wife, Elsie, was sent to teach, it was suggested that teachers be seen in church." In the first few years, the school was housed at several locations, starting with the Shops Building at Eighth and Walnut. The school then moved to the Republic Building at Fifth and grand Avenues.
In 1924, students were requesting to come to Des Moines for their education and the school became a residence school, enrolling 50 students. In 1925, the school moved to the Victoria Hotel at Sixth Avenue and Keo Way in order to establish a location where students could live.
In the 1930s, the school began a Court Reporting Program, which grew to become the most respected in the United States. Initially, students were taught to record court proceedings using Gregg shorthand, but in the late 1930s, Fenton ordered stenography machines from his friend, Bob Wright, Sr., a decision that indicated the progressiveness of AIB.
In 1935, the school had outgrown its location in the Victoria Hotel. Fenton considered two locations for the new campus. The first was in the downtown Des Moines business district at 10th Street and Grand Avenue in the former Polyclinic Hospital. The other option was an attractive insurance office at 21st Street and Grand Avenue. The downtown location was chosen as the insurance office seemed too far "out in the country."
The college was reorganized as a non-profit institution in 1941. The bylaws stated that, if the college ever closed, all property and proceeds from the sale of property must be donated to another educational entity. During World War II, AIB had a contract with the United States government to train 1,800 women in stenography and typing. Over 1,200 women underwent the training and were sent to Dayton, Ohio for service before the war ended.
In order to provide additional student housing, Fenton Hall East, dedicated to E.O. Fenton, was built at the intersection of Fleur Drive and Bell Avenue. The female students housed there traveled to classes downtown on AIB buses. In 1972, the college moved to the Fleur Drive and Bell Avenue location, holding classes and placing offices in the Administration Building. Fenton Hall West was completed in 1977 and dedicated to Elsie Fenton, the wife of E.O. Fenton. In 1981, Wells Hall, dedicated to Ralph Wells, an accounting instructor who taught at AIB for 36 years, was completed, adding classrooms to the school.
In 1983, AIB acquired an apartment complex on the southwest corner of the campus. One building in the complex was named Merk Hall in honor of Merk Realty's financial support of the college. Dalton Hall was dedicated to Darrell and Frances Dalton who had served as houseparents for 19 years and were known as "Dad and Mom" to the students they served.
In 1985, two buildings near the center of what is the current campus were purchased from the Open Bible College and, in 1989, the school purchased the Fleur apartment complex as well as the adjoining land. One of the buildings was named for Clarence Davidson, who had been an instructor at the college for 23 years.
A partnership with Graceland College of Lamoni, Iowa, in 1995 allowed students to pursue bachelor's degrees on the AIB campus. In 2006, AIB began offering a bachelor's degree in Accounting and Business Administration, ending their partnership with Graceland.
Today, AIB College of Business is a vibrant and innovative leader in higher education, dedicated to developing students as ethical, productive and engaged citizens. However, in early 2015, AIB announced that their school would close and that the campus would be gifted to the University of Iowa.
AIB College of Business Accreditation Details
AIB College of Business is accredited by the Higher Learning Commission of the North Central Association of Colleges and Schools. Accreditation indicates that the college meets or exceeds standards set forth by the accrediting agency that demonstrate excellence in education. In addition, accreditation shows that the school strives to improve their programs in order to provide students with high quality education.
AIB College of Business Application Requirements
Because AIB College of Business will be closing on June 30, 2016, admissions are not being accepted. The campus will be gifted to the University of Iowa.
AIB College of Business Tuition and Financial Aid
Full-time tuition per term at the AIB College of Business is $5,100 and part-time tuition is $2,550. Tuition is available in the form of scholarships, grants and private loans in order to help students afford their higher education. Students must complete the Free Application for Federal Student Aid (FAFSA) in order to qualify.
AIB College of Business Student Experience
AIB College of Business offers a Sports and Event Management degree that prepares students for careers in sports and events. Students are provided knowledge in selling, marketing, customer service, hospitality management, media relations and other areas that relate to sports and events. The program also requires an internship that provides hands-on experience with local and regional sporting or event management organizations.
All students at AIB are required to complete 25 hours of community service. There are many student organizations and clubs available at AIB for students to achieve their required community service. Students enrolled in the Sports and Event Management program often join the Sports & Event Management Association (SEMA) which works to help members succeed in the sport and event management industry through field experience, volunteering and networking. AIB also offers Career Services for students and alumni to help them understand their career options, gain career-related experience and establish a pathway to a satisfying career.
The college is located in Des Moines, one of the most vibrant downtowns in the Midwest. There are ample opportunities for dining, shopping and nightlife throughout the area. For those interested in a career in sports, the Iowa Cubs Principal Park Stadium is a premier destination for people in the area. Adventureland Amusement Park, the Iowa State Fair, the Court Avenue District, Jordan Creek Town Center and Gray's Lake offer opportunities for students in the Sports and Event Management program as well.
For 95 years, AIB College of Business has offered excellence in higher education. AIB College of Business offers both traditional and online courses that provide students with flexibility in scheduling their studies so that those with family, work and social obligations are able to achieve their higher education goals.