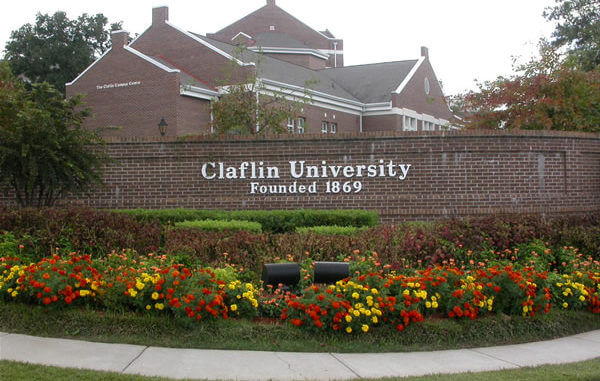 Claflin University is a historically black school with a rich history and an eye to the future. It was founded just after the American Civil War in 1869 by Methodist missionaries determined to offer education to the freedmen and their children. In an atmosphere of segregation it empowered students to succeed. It still does. Claflin encourages activism and global mindsets among its students along with community service. The university has four schools that contain 35 undergraduate programs, two graduate programs including the MBA and an MS in Biotechnology and professional studies. There are 1,925 undergraduates in the student body, 64 percent of which are female. Classes are small and the student-to-faculty ratio is 13:1. Although the school's ranking in the US News and World report listings of National Liberal Arts Colleges is not published, it ranks ninth among Historically Black Colleges and Universities.
Claflin University Accreditation Details
Claflin University is institutionally accredited by the Southern Association of Colleges and Schools. The Association of Collegiate Business Schools accredits the Bachelor of Science in Business Administration and in Organizational Management. Music programs are accredited by the National Association of Schools of Music and Chemistry programs are accredited by the American Chemical Society.
Claflin University Application Requirements
If you are applying to Claflin as an undergraduate, you may fill out the online application or print it out and send it through regular mail. You will need to submit a non-refundable application fee of $30. Your high school should send your official transcript to the school, including class ranking and your GPA. You should also submit your application packet which contains forms for other documentation such as teacher recommendations. The agency that administered the SAT or the ACT, whichever test you took, should send those results to Claflin as well. Graduate students must submit the graduate application and fee as well as their transcripts from all college work completed. They must also submit three recommendations, a resume and a statement of purpose. There are forms for all of these in the application packet. In addition, graduate students must have their official GMAT scores sent to Claflin.
Tuition and Financial Aid
The tuition for a full-time 12-credit student at Claflin is $7,764. There is a charge of $1,899 per semester for housing and $2,567 for a meal plan. Fall semester cost of attendance at Claflin is $12,545 and spring semester is $12,493. In addition, there are various other charges including a $60 orientation fee. If you are applying as a full-time graduate student taking nine credit-hours per semester, your tuition is $5,157. Housing costs for graduate students are $2,991. Meal plans cost the same as for undergraduates. There are additional fees as well. Part-time graduate students pay tuition of $573 per credit-hour. An online student taking 12 credits pays $6,360 for tuition plus a $155 technology fee per semester, or $530 per credit-hour.
Nearly all students at Claflin receive some type of financial aid. If you need help paying for your education at the university, your first step is to complete a FAFSA form. Not only does the federal government use this information to award grants, loans and work-study opportunities, but many other funding sources also refer to the FAFSA in awarding their assistance. There are three important dates to remember in applying for financial aid at Claflin. The deadline for fall applications is April 15, the deadline for the spring semester is October 15 and the summer session deadline is March 15. Applicants should go online to the net-cost calculator to get an approximation of the actual cost of attending Claflin. If there are any special circumstances such as the death of a parent or exceptional financial hardships that affect your ability to pay tuition at Claflin, you should notify the school as they can make arrangements to assist you.
South Carolina has several scholarships and grants available to students. For instance, the Palmetto Fellow Scholarship administered by the South Carolina Commission on Higher Education awards substantial funds to some high school seniors of high merit. The state also has a Life Scholarship and a Hope Scholarship that are awarded on the basis of merit and financial need. Claflin has several scholarships awarded for academic merit as well. In addition to these, there are departmental awards and privately-funded opportunities that have various requisites. These can be found through independent search of the Internet or through scholarship websites. Student loans are another way to finance your education, though you should be careful to only borrow what you need. While grants and scholarships do not have to be repaid, loans do. Student loans are special financial tools that carry lower-than–average interest and allow you to defer payments until after graduation. Some loans, however, accrue interest from their initiation dates.
Student Experience
Claflin is an urban school. Students have access to recreation, shopping and entertainment. As a smaller university, however, there is also a feeling of community in the student body that makes Claflin unique. Another unique feature of the school is its commitment to community service while focusing on a global perspective. Claflin University encourages its students to espouse a spirit of activism and change. This duality of purpose is evident in the Sports Management program as well as many others.
Sports Management at Claflin is an interdisciplinary degree between the Sports Management and the Business Administration programs. If you major in Sports Management, you will have the advantage of small classes with strong peer relationships as well as the opportunity of internships at organizations such as the Atlanta Falcons, Atlanta Braves, Indianapolis Colts, Cal Ripken Baseball and others. Your classes will focus on events management, marketing and promotion, facility management, sport law, professional ethics, finance, communication and other aspects of managing a sport facility or organization. You will have the opportunity to do research with faculty members, attend sport management conferences and to plan and execute a real-world sport event.
Claflin University builds on its history of inclusiveness to create an environment of diversity and involvement that makes the university a great place to grow your mind and plan your career.